What happens after a player gets cut?
by
September 01, 02012
Print This
Last week, NFL teams had to trim their rosters from 90 down to 75. In the next few days they'll take it all the way down to 53. That's 37 football men locked out of the party. But most often it doesn't end right there. In fact its a slow burn, a gradual acceptance of your fate; whereby the closer you were to making the team, the harder it is to give it up, because you know you belong.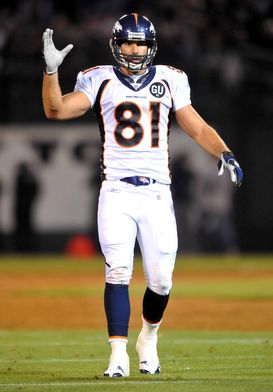 US PRESSWIREFormer Bronco Nate Jackson.
Football players are resilient. They know how to push through the pain and the doubt. They've been told no before, and they didn't listen. That stubborn belief in their own natural ability propelled them to greatness at the college level and onto an NFL preseason roster; where they ran into a buzzsaw. The NFL is about much more than just believing in your football skills. Your NFL team is a corporation: assets, dividends, profit margins, marketing, advertising. It's show business. And it leaves good players in the dust every year.
After getting cut, the question for the lifelong football player is: do I move on or keep trying? In my six year NFL career, I was cut four times -all of them under very different circumstances.
The first time was after my first training camp with the 49ers in 2002. I had a shoulder injury from college that didn't pass the physical. The only way I was allowed on the field was if I signed a waiver for my shoulder. If I injured it again, I could be released with no medical treatment. Of course I dislocated it in camp, and they cut me.
I had surgery on my own, rehabbed it on my own and lived at home with my parents during what would have been my rookie year. After the season was over, the Niners signed me back.
I went through the off-season and mini-camps, and halfway through training camp I was traded to the Denver Broncos for a conditional 7th round pick. I only had two weeks to make an impression.
The day after the last preseason game, cut day, I waited by the phone. It rang. It was the Broncos. They wanted me to come in to the facility. I was being cut from the team, but they wanted me on the practice squad. I cleared waivers and signed a practice squad contract the next day. And since I wasn't on the active roster, the 7th round pick never changed hands.
I lasted six years in Denver, until Mike Shanahan was fired immediately following the 2008 season, and Josh McDaniels was hired in his place. A few weeks after the new hire, I got a call from my agent. "The Broncos are releasing you today", he said. "Didn't they call you?" No they didn't. It turned out the GM called my parents' home phone and left a message instead. My phone call to Coach McDaniels went unreturned.
Nate Jackson played six seasons for the Broncos. He is a freelance writer and is currently writing a book about life in the NFL, to be published by Harper Collins.