When in doubt, punt
by
August 21, 02012
Print This
There was this punter named Rohn Stark. He played back in the eighties and nineties. He did his job very well. He played sixteen years and went to the Pro Bowl four times. He was a good athlete—a former decathlete at Florida State, in fact. Rohn Stark knew he had it pretty good, being a punter and all, because he never did anything to draw attention to himself. He just punted well.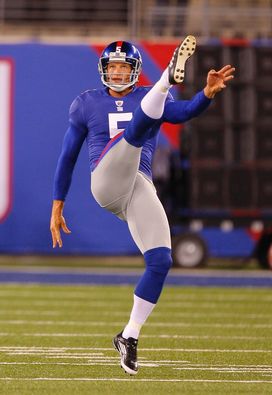 US PRESSWIREGiants punter Steve Weatherford posted a video of a 'hazing' incident in the Giants' locker room.
Giants punter Steve Weatherford is also a pretty good athlete. He punts pretty well, too. He was an accomplished decathlete at the University of Illinois. He also has it pretty good. He was part of a Super Bowl team last year.
Weatherford is the topic of today's discussion because he's drawn attention to himself. Actually he's drawn attention to a pair of teammates. Weatherford shot a film and made it public. In this film Giants cornerback Prince Amukamara does his best impression of a sack of potatoes while tackle Jason Pierre-Paul carries Amukamara on his shoulders and dumps him into the cold tub. After this footage was made public, semi panic ensued. Everyone was talking about it to the point where statements had to be made.
Giants defensive end Justin Tuck said it was "all about love" and that the Giants in no way condoned bullying, which is a very real problem in this country. Giants coach Tom Coughlin seemed pissed (when doesn't he?) not that the incident had occurred, but because it was yet another thing he had to talk about. That and the fact some of the language in the clip was "inappropriate."
Now here we are—all of us— talking about the Giants locker room rituals. I'll tell you what I know about the topic of locker room hazing. It's stupid. It's not demeaning to anyone. It's not anywhere close to bullying. It's just stupid. Oh, and people will wonder why Amukamara was being hazed in the first place. He is after all, in his second year with the team. The official rule on hazing (yes, there are rules) is that a player is a rookie until the third game of his second season, and until then is subject to all the treatments afforded a rookie. Sure, hazing can be cute and creative, and for some teams it's a traditional rite of passage not to be taken lightly. But it's mostly stupid.
That said, the practice of dunking a teammate, or hiding his clothes, slashing his tires, and assorted high-jinx done in the privacy of a locker room should remain in the locker room. Unless Steve Weatherford's point of view was akin to George Holliday's point of view (look it up) or he's an aspiring film maker, Weatherford really had no reason to share this. It was better left where it was.
Think of it like Gabby Douglas' hair. It's not really an issue when executed or discussed within the confines of a particular community. But once it escapes and is allowed to migrate on big old clumsy wings into the blogosphere and beyond, it becomes an issue.
Then people like Tom Coughlin, or worse, you and I, have to dissect the language used in the clip. Pierre-Paul is heard using the N-word. And folks like me have to explain, once again, that sometimes black folks direct that word towards one another. And yes, it's strange considering some black folks don't like the word, while others do like the word and think we should "reclaim" it and divest it of its power. Then I have to explain the fact that black folks are not a monolithic people so we don't always agree on everything and blah, blah, blah… Before we know it, we've gone completely off topic and we're hoping we left bread crumbs along the way that will allow us to get us back to the topic at hand.
And what was that topic? Oh yeah, Twitter. A few weeks ago Marvin Lewis said that his Bengals team was "not mature enough for social media." I don't know the members of Lewis' team all that well, but I'm inclined to believe him. I believe him because I'm not convinced that any player these days has the foresight to use social media in a way that doesn't cause a ruckus for his team and for himself.
Pardon me while I step down from this soapbox…
It's good to share our thoughts and to have those thoughts sprout into full blown discussion. It's one of the perks of walking upright. But some discretion is needed, and in certain instances so is a little more time. Time. Sooo last century, right?
A couple of years ago I blasted Maurice Jones Drew, Darnell Dockett, and Deion Sanders for taking Jay Cutler to task for the knee injury incurred during the NFC Championship Game. I couldn't decide if I was more annoyed that football players would really question the integrity of a guy who was so close to playing in the Super Bowl, or if I was bothered that they did it via twitter accounts. I think it was the latter because in that instance, these guys vehemently condemned a fellow player without the courtesy of any medical intelligence, which was equal to a brain fart. Excuse you, gentlemen.
Once again, we're off topic. What was my point in all this?
Oh yeah, punters should be seen and not heard.
Alan Grant was a four-year starter and all-conference player for Stanford University. He played five years in the National Football League with the Indianapolis Colts, San Francisco Forty Niners, Cincinnati Bengals, and Washington Redskins. He has written for ESPN the Magazine and The Postgame, and appears frequently on radio and television.