February 17, 2014 -
Dave Miller
10 players to watch at the 2014 NFL Combine
The eyes of the football world turn to Indianapolis starting on Saturday, as the NFL Scouting Combine commences.
Here are 10 players that have piqued my interest as we inch closer to one of the league's marquee offseason events.
Alabama quarterback AJ McCarron: The 6-4, 214-pounder did not participate in Senior Bowl activities, so this is the first time that NFL scouts will really get to be around the former Crimson Tide national champion for a significant amount of time. We'll see if he throws in Indy or if he rests on his career numbers in Tuscaloosa. There are differing opinions on McCarron's NFL future, but I believe he has a chance to have a similar beginning of a career to that of Cincinnati Bengals QB Andy Dalton. Although McCarron might be more accurate as a passer, especially on his deep throws.
Auburn offensive tackle Greg Robinson: Robinson has a chance to continue to move up draft boards with a strong showing at Lucas Oil Stadium. While Texas A&M's Jake Matthews is perhaps the more known O-Line commodity nationally, Robinson has a chance to be the first offensive tackle taken if scouts believe he has the goods to be a strong pass protector. We already know he is a dominant run-blocker based off of his fantastic 2013 season at Auburn.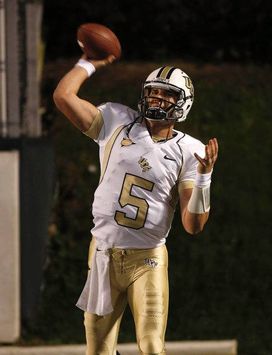 US PRESSWIREHow high will Blake Bortles go in this year's NFL Draft?
Central Florida quarterback Blake Bortles: Can Bortles be the first selection in this year's draft? It is uncertain as to whether or not he'll throw in Indy, but new Houston Texans head coach Bill O'Brien knows his quarterbacks. And he also will be able to get the inside scoop on Bortles from UCF head coach George O'Leary, who was the head coach at Georgia Tech when O'Brien was on that staff. O'Brien also witnessed UCF beat his Penn State squad last year. Bortles has deceptive athleticism and nice touch on his throws. Even if O'Brien likes him as a future franchise signal-caller, it might be hard for Houston to not select South Carolina defensive end Jadeveon Clowney or possibly even trade the pick.
Florida State wide receiver Kelvin Benjamin: The 6-5, 234-pounder has a size-speed combination that will make NFL scouts drool. But the knock on him has been a propensity to drop passes. However, so often in 2013 he resembled a beast at the receiver position, and I expect the drops to be corrected and not remain a major issue moving forward. He is unquestionably raw, but he could be a red-zone weapon at worst if he adapts to the NFL game.
Ohio State running back Carlos Hyde: The 6-foot, 242-pounder almost single-handedly turned the Northwestern football season upside down with his strong second-half performance in a comeback win over the Wildcats at Ryan Field last fall. The battering ram finished with over 1,500 yards and averaged over 7.0 yards per carry in 2013, but he won't test well when it comes to his speed. However, he is deceptively athletic and could immediately help a team next year that has a featured back in place.
Michigan State cornerback Darqueze Dennard: There are questions about Dennard's speed, especially when you compare him to Oklahoma State corner Justin Gilbert. But anyone who saw Dennard play during his time with the Spartans knows how much of a shutdown corner he has been. He is very physical, but will his 40-yard-dash time cause him to slide down draft boards? If it does, one NFL team will be very lucky to get him.
Missouri defensive end Michael Sam: Unfortunately, Sam will be hounded by the press for non-football reasons. But as I mentioned before the Senior Bowl, the pass-rush specialist doesn't have great power and size against the run. But he led the SEC in sacks (10.5) and tackles for loss (18) in 2013. A lot of scouts believe that he will need to make the switch to outside linebacker in a 3-4 scheme. He's a bit of a tweener, so it's always interesting to gauge the stock of those types.
Oregon tight end Colt Lyerla: The interview process should be a fascinating one for the former Duck, who has run into off-the-field issues, including cocaine possession. The Combine will be the first time he has been around the game in awhile since leaving Eugene, but his talent and athleticism cannot be argued.
Eastern Illinois quarterback Jimmy Garoppolo: The FCS signal-caller was the talk of the Senior Bowl after his strong week in Mobile, so we'll see what Garoppolo has in store for an encore. The Tony Romo/Joe Flacco comparisons have been made, but lost in that talk is the fact that Garoppolo has a real chance to prove his worth at the same event that will also be hosting the biggest names from this past college football season. It's another spotlight moment for the former EIU QB.
West Texas A&M defensive end Ethan Westbrooks: The Division II product has a tough road to prove that he is worthy of a pick because he is coming from a smaller school. But he has good quickness for his 6-3, 264-pound frame, and he performed very well in the East-West Shrine Game with two sacks and as a disruptor in the backfield against the run.
Other players to monitor
Texas A&M QB Johnny Manziel: While he won't throw in Indy, Johnny Football will be monitored wherever he goes as was the case at this past season's SEC Media Days. Cameras and tape recorders will be all around him. Perhaps a nugget or two will come out of his interviews with NFL teams as well.
South Carolina DE Jadeveon Clowney: The former Gamecock has flirted with the idea of running a 4.4 in the 40. That sounds insane for a player his size, but he is a physical freak.
Kent State RB Dri Archer & South Carolina WR Bruce Ellington: There have only been nine players at the NFL Combine to run the 40-yard-dash in under 4.3 seconds. Archer and Ellington have a chance to pull off the feat this year.
Dave Miller, the college football editor and writer for the National Football Post, is on Twitter @Miller_Dave.