April 12, 2012 -
Dave Miller
10 players to watch during Saturday's spring games
Spring football concludes for many of the nation's FBS teams this weekend, and more spring games/final scrimmages are scheduled for the following two Saturdays. Once April concludes, all eyes turn toward the fall.
Here are 10 players to watch this weekend when you are flipping between final spring contests.
Nebraska QB Taylor Martinez: Nebraska's dual-threat quarterback improved as a passer and as a game manager in 2011, but he still has a long ways to go to make this offense more balanced. He acknowledged that improper footwork led to his unconventional throwing motion, and he has been working on that issue throughout the offseason. He continued to refine his technique with live reps this spring as the junior enters his second season in coordinator Tim Beck's offense. His career completion percentage is below 60 percent, so that number has to be higher if the Cornhuskers want to develop a sound aerial attack to complement a dangerous ground game led by running back Rex Burkhead. Specifically, Martinez needs work on his deep ball throws. In terms of his running ability, he always poses as a threat. However, he did look tentative running the Huskers' zone read game last fall. Can he put it all together in his third year as a starter?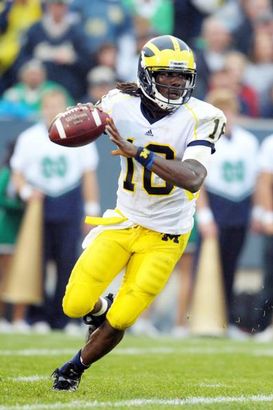 ICONDenard Robinson hopes improved footwork can help him improve as a passer in his final season.
Michigan QB Denard Robinson: "Shoelace" will enter his final season in Ann Arbor with a year of the Al Borges offense under his belt. Robinson is unquestionably a rare talent who can carry a team when an offense is stifled. But he threw 15 interceptions last season, a number that can't be duplicated if this team wants to return to a BCS game. Borges expects Robinson to improve as a passer, especially his completion percentage and his footwork, but he also expects him to still run when the opportunities arise. Striking a healthy balance is always the challenge. And when "Shoelace" isn't running, the Wolverines will rely on Fitzgerald Toussaint, who emerged as the lead back in 2011. On Saturday, let's see how comfortable Robinson looks in the pocket.
Oklahoma WR Trey Metoyer: Sooners quarterback Landry Jones looked lost last season when star receiver Ryan Broyles went down with injury, so the veteran signal-caller will need to adjust to life without his clutch receiver this season. Trey Metoyer, a former five-star recruit from the Class of 2011, could emerge as a top option for Jones after having a strong spring. He signed with OU last year but didn't qualify. Now, he could be the playmaker on the outside that this offense needs with the loss of Broyles. He could be a major contributor immediately.
Baylor QB Nick Florence: Baylor football was put on the national map last season because of Heisman Trophy winner Robert Griffin III, who will most likely be the No. 2 overall pick in April's NFL Draft. The follow-up act for this team will obviously be very difficult, but new starting quarterback Nick Florence took over for RGIII in 2009 when he was lost for the season. And Florence played well this past season in the win over Texas Tech when Griffin III was knocked out. He doesn't have Griffin's running ability, but he is an accomplished passer. Can he play consistently well for 12 weeks?
Florida State RB Mario Pender: The early enrollee freshman has received plenty of reps and plenty of praise this spring from the FSU coaching staff, and that's huge for a team that struggled on the ground in 2011. With last fall's leading rusher Devonta Freeman sidelined by a lower back injury, James Wilder, Jr. suffering a felony arrest, and top 2010 back Chris Thompson working his way back from injury, Pender will be in the spotlight and have a chance to assert himself as lead-back material even as a freshman.
CONTINUE TO PAGE 2 FOR MORE PLAYERS TO WATCH THIS WEEKEND