November 18, 2013 -
Dave Miller
10 takeaways from Week 12
Subscribe to the "Against the Grain with Dave Miller" podcast in iTunes
Let's take a look at my ten biggest takeaways from college football's Week 12 slate.
The new BCS standings: Alabama and Florida State remained Nos. 1 and 2 in the newest BCS standings, while Baylor moved up to No. 4 and is closing in on No. 3 Ohio State. Oregon is the top one-loss team, as the Ducks checked in at No. 5. Auburn, Clemson and Missouri are ranked sixth through eighth, respectively. Meanwhile, Oklahoma State moved up two spots to No. 10, and the Pokes will have a chance to continue to move up with a win this Saturday against Baylor. South Carolina dropped one spot to No. 11 after its close win over Florida, and No. 12 Texas A&M fell a spot after its bye week. Michigan State moved up three slots, including over UCLA, to check in at No. 13. The Bruins are No. 14, and Fresno State is No. 15. The Bulldogs remain the top non-AQ team and are in line to get a BCS bowl bid. The Bulldogs would earn a spot if they finish in the Top 16 and remain ahead of the American Athletic Conference champ. UCF fell one spot to No. 18, while Louisville also dropped a spot to No. 21. Northern Illinois closed the gap on Fresno State, but it may be tough for the Huskies to catch the Bulldogs. The most striking aspect of the new BCS standings could be the very thin margin between Ohio State and Baylor. The Buckeyes lead the Bears by just .0013 points. Baylor's average computer ranking is tied for third, while Ohio State's is fifth. The Bears could eventually pull ahead in the human polls because of their stronger schedule.
The most amazing catch ever?: It is easy to be hyperbolic week to week in the world of college football. But Auburn's miracle 73-yard touchdown pass from Nick Marshall to Ricardo Louis off of a deflected football on fourth and 18 with 25 seconds left was one of the most improbable late-game plays we have seen in a long time. The deep pass rescued the Tigers and kept their SEC and BCS national title hopes alive, as the Gus Bus kept rolling with a 43-38 victory over Georgia on Saturday night on The Plains. The Tigers had blown a 27-7 lead, however, which is obviously cause for concern. However, the Tigers survived in a step up in competition, and they showed once again that they have the scheme and the talent offensively to give Alabama a game on November 30 in the Iron Bowl, with the winner earning a trip to Atlanta for the SEC Championship game.
The 'SC resurgence: Time to take the "interim" tag off of Trojans head cach Ed Orgeron? Well, there's very little chance that athletic director Pat Haden tabs the former Ole Miss head coach and longtime Trojans assistant to be the face of USC football next year and beyond. But there's no question that he is the current face of USC football — and that's a great thing for a program that knocked off Stanford 20-17 on Saturday night on a last-minute field goal at the Coliseum. For the first time in a very long time, USC fans stormed the field as if the team had just clinched a spot in a BCS title game. And while 'SC won't be playing for a national title this season, the turnaround under Orgeron has been quite remarkable with a roster that beat Stanford with 50-some healthy scholarship players. This doesn't one bit resemble the team that was embarrased by Arizona State less than two months ago, a loss that cost Lane Kiffin his job. Orgeron has clearly won over the fan base and likely even some top boosters even more than he has during his time as top assistant and recruiting guru, but would Haden make him the guy? I still believe Orgeron, who is 5-1 this year, will remain on the staff no matter who is brought in, whether it is Kevin Sumlin, James Franklin, Jack Del Rio or someone else. But Orgeron is also rehabbing his head-coaching image after his three tough seasons at Ole Miss, so he could land a smaller-profile gig somewhere else. Or, Haden may just do the unthinkable — and perhaps the right thing? — and make him the permanent head coach.
The 2014 Heisman Trophy race: Is it too early to start promoting UCLA's Myles Jack as a serious contender next season for the sport's most prestigious individual honor? The Bruins linebacker and now star running back recorded four rushing touchdowns in Friday night's win over Washington one week after recording 120 yards on just six carries. The freshman's two-way star performance almost forces head coach Jim L. Mora to continue to get him touches even when UCLA's health improves in the backfield.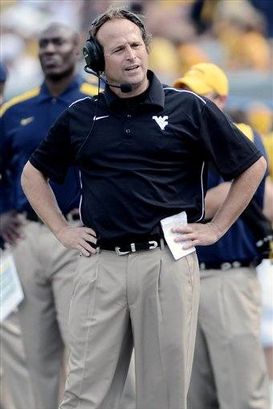 Can Dana Holgorsen have a bounceback season in 2014?
Dana on the spot: We knew coming into this season that West Virginia was going to have an uphill battle this year after losing Geno Smith, Tavon Austin and Stedman Bailey as well as having some depth issues across the board as it continues to settle in the Big 12. But I don't think a lot of people envisioned the Mountaineers' season being this rough, setting up a very important year in 2014 for Dana Holgorsen. The 'Neers lost to Kansas, which snapped its long Big 12 losing skid, so WVU will be home for the holidays for the first time since 2001.
Not just a basketball school anymore: What David Cutcliffe has been able to accomplish in Durham is remarkable. The Blue Devils crashed the Top 25 party for the first time since 1994 after taking care of Miami (FL) 48-30. The win allowed the Blue Devils to control their own destiny in the ACC Coastal division. Duke moved to 8-2 and has a chance to reach 10 wins with games at Wake Forest and at North Carolina remaining before possibly playing Florida State in Charlotte for the ACC title. Duke has won six straight, including victories over Virginia Tech and the Hurricanes, and a strong ground game as well as improved defense have been the catalysts.
Baylor isn't going anywhere: The Bears fell behind 20-7 to Texas Tech in the opening frame on Saturday night in Arlington, but that was nothing for Art Briles' squad. The Bears improved to 9-0 by outscoring the Red Raiders 56-14 the rest of the way. And with Texas falling to Oklahoma State, the Bears appear to be the class of the league. A win at Oklahoma State would definitely carry a ton of weight in voters' minds. And the two human polls comprise two-thirds of the BCS formula. One could argue that a win in Stillwater would be equivalent to FSU's win at Clemson. But how much of the gap between FSU and Baylor can get made up even if the Bears pass Ohio State? By the way, Bears quarterback Bryce Petty is a legit contender for the Heisman.
The best back you may not know: Boston College senior Andre Williams could record the best season by a college running back since 2007, when Central Florida's Kevin Smith led the nation in rushing at 183 yards per game. After recording 339 yards and two touchdowns in a 38-21 win over NC State, Williams is averaging 181 yards per contest and has passed the 200-yard mark four times this season. He has three of the Top 10 rushing performances in the FBS this season, and he also had succes s against FSU's strong defense when the teams met earlier in the year, as he rushed for 149 yards against the Seminoles. Williams may not be a burner, but he's shifty and very physical. Steve Addazio should get some coach of the year votes for getting BC to 6 wins already, and Williams should get some Heisman consideration as well.
Wisconsin is more than just Running Back U: We have known about the Badgers' strong history of producing prolific running backs, but their defense has played very well all season as well. Indiana was averaging over 43 points and over 500 yards per game entering their matchup, but the Badgers completely shut down the IU attack in a 51-3 win. Kevin Wilson's squad was shut out in the first half and recorded just 224 total yards of offense. Gary Andersen has done a wonderful job in his first year in Madison, and a big reason for the success the Badgers have had this year is because of their underrated defense, led by players such as Chris Borland, Brendan Kelly and Sojourn Shelton. Coordinator Dave Aranda has a really good unit that is hoping to help lead the Badgers to a BCS at-large berth.
Leach on the cusp: It appeared that Washington State would be unable to get bowl-eligible once again under Mike Leach, but the Cougars snapped a three-game losing streak with a win at Arizona and could be headed to the postseason for the first time since 2003. Connor Halliday hit Isiah Myers for a 25-yard tie-breaking touchdown with 2:15 to play to give the team the win. Halliday completed 39 of 53 passes for 319 yards and two touchdowns, and it was the junior's seventh 300-yard passing of the season. Wazzu needs to take care of business next week when Utah comes to Martin Stadium or snag a win in the Apple Cup the following week to get bowl-eligible.
Dave Miller, the college football editor and writer for the National Football Post, is on Twitter @Miller_Dave.