October 15, 2012 -
Dave Miller
10 thoughts on Week 7
Here are ten thoughts from the Week 7 slate of action.
1. The Stoops swagger is back on the Oklahoma defense. It is clear that the arrival of Mike Stoops has transformed this OU defense into a real force again after bottoming out last year. The Sooners dominated the Longhorns at the point of attack throughout the contest on Saturday in Dallas. And the play of the secondary, one of the weaker spots for this OU team, has greatly improved since head coach Bob Stoops brought his brother back to Norman. And it appears that the Sooners have distanced themselves from their trip-up at home to Kansas State. That contest against Notre Dame will arguably be the biggest nonconference home game of the Bob Stoops era.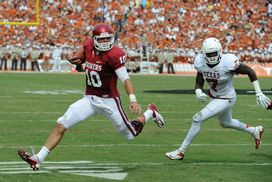 US PRESSWIREBlake Bell and the Sooners overwhelmed the Texas defense on Saturday.
2. Texas is one of the worst-tackling teams in the nation, and the 'Horns clearly miss linebacker Jordan Hicks. That has been evident the last few weeks in their losses to Oklahoma and West Virginia and their late victory over Oklahoma State. OU was able to produce its longest rush (95 yards by Damien Williams) and longest pass (73-yard catch by Trey Millard) in the history of the Red River Rivalry. It was 36-2 at halftime, as backup quarterback Blake Bell was unstoppable out of the Belldozer package. The Longhorns had a Top 10 unit in run defense nationally last year and is now No. 103.
3. Despite playing with a decimated offensive line, LSU took care of South Carolina in Death Valley. And the Tigers are nicely positioned in the "Best 1-loss team" category. Les Miles saw his team produce over 250 rushing yards against a strong run defense, and the battered line did a good job on Jadeveon Clowney and the Gamecocks' front. Meanwhile, South Carolina star tailback Marcus Lattimore was limited to 35 yards on the ground. So much for the talk that the Tigers were overrated.
4. West Virginia's defense is awful, and the Mountaineers were unable to survive a subpar day from quarterback Geno Smith. But Baylor's defense is really atrocious. The Bears allowed a TCU team without Casey Pachall to roll to a 49-21 win. Backup QB Trevone Boykin recorded five scores, and the Bears continue to let teams consistently convert on third down. Keeping an already below-average defense on the field for an extended amount of time is a recipe for disaster.
5. And then there's Ohio State's defense. After containing Le'Veon Bell and Michigan State on the road, the Buckeyes have allowed 87 points the past two weeks and have been ravaged by injuries and inexperience. The team's leading tackler this past week against Indiana was Zach Boren, who switched from fullback to linebacker last Tuesday. They rank 10th in the Big Ten in points allowed and eighth in yards allowed. The good news for Buckeye fans is that Urban Meyer will continue to restock the cupboard on the recruiting trail, and he'll eventually have a stout defense to complement a productive offense.
6. If it wasn't already back on the national map, Notre Dame's win over Stanford confirmed its re-entry onto the national scene. And Brian Kelly's team proved once again that a two-quarterback system can work. Everett Golson can make every throw, and his escapability adds another dimension to this offense. However, he is sloppy with the football and isn't mentally ready to play a full 60 minutes. That's why Tommy Rees is the perfect tonic for the offense when it stalls, especially in crunch time.
7. Florida didn't falter in its trap game at Vanderbilt. Although the offense went just 2-for-11 on third downs and failed to convert one in the second half, the Gators received a phenomenal game from the ever-maturing Jeff Driskel. After Vanderbilt cut its deficit to 24-17 late in the fourth quarter, Driskel kept the ball on an option and dashed 70 yards for a score to give the Gators breathing room. The dual-threat rushed for 177 yards, which is a school record for rushing yards by a QB, and UF now has a showcase SEC East showdown with South Carolina on tap.
8. Texas Tech may indeed have found the right man to lead its defense. After seeing such porous units during his time in Lubbock, Tommy Tuberville brought in Art Kaufman, who has transformed a unit that ranked No. 117 in scoring defense last year into one that is Top 10. Geno Smith struggled to complete more than half of his passes as the Red Raiders smoked West Virginia.
9. The Rutgers defense is for real. Opponents have yet to be able to convert a fourth-down conversion against the Scarlet Knights this fall, and linebacker Khaseem Greene -- the reigning Big East defensive player of the year -- is an absolute stud. He had 14 tackles, forced three fumbles, intercepted a pass and had 1.5 sacks as the Scarlet Knights became bowl eligible for the seventh time in eight seasons with a win over Syracuse.
10. Did you ever think that as we enter Week 8 Ole Miss would be sitting at 4-3 in Hugh Freeze's first season with the Rebels, while Auburn's Gene Chizik would be dealing with so much noise at 1-5 and an 0-4 mark in the SEC?
The Plus-One
Sonny Dykes will be able to parlay his strong season at Louisiana Tech into a bigger job, possibly as early as this offseason. The Bulldogs' 59-57 loss to Texas A&M was one of the best games of the weekend, but the loss likely ended Tech's chance of being a BCS buster. Still, Dykes is fielding one of the more exciting teams in the nation after his success running Arizona's offense.
Email dave.miller@nationalfootballpost.com or follow me on Twitter at Miller_Dave