October 29, 2012 -
Dave Miller
10 thoughts on Week 9
Here are ten thoughts from the Week 9 slate of action.
1. First, here are my thoughts on the latest BCS standings.
2. Take a look at Louisville's remaining schedule. The Cardinals defeated Cincinnati 34-31 in overtime on Friday night, moving them to 8-0. The team's next three contests are a home game against Temple, a road tilt against Syracuse and a home matchup with UConn. The Cardinals then finish with a game at Rutgers on November 29. A Big East title may gain a date in the Orange Bowl against a team such as Florida State, but what if the Cards run the table and finish the season 12-0? If teams such as Notre Dame, Kansas State and Oregon suffer a loss, is a national championship game berth possible? Not likely because of the current system, but it certainly would make for a great story. And a possible ticket for Charlie Strong to replace John L. Smith at Arkansas.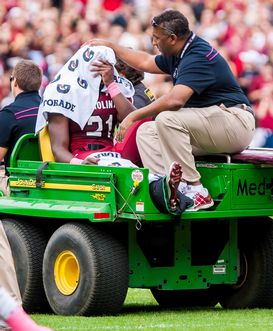 US PRESSWIREMarcus Lattimore suffered yet another heartbreaking season-ending injury on Saturday.
3. There's not much more to say regarding Marcus Lattimore's injury except the fact that Tennessee players followed the South Carolina team onto the field to surround him while he remained on the ground in pain showed how the junior tailback is one of the most-respected players in college football.
4. It doesn't matter who starts at quarterback for Texas next week, David Ash or Case McCoy. Giving up 234 rushing yards to Kansas is inexcusable and something that is beyond the Jordan Hicks injury at linebacker.
5. Raise your hand if you thought that Hugh Freeze would have more than three wins in his first season at Ole Miss? The former Arkansas State head coach has the Rebels at 5-3 and could get a sixth win with a home game against Vanderbilt and could give Mississippi State trouble in the season-ending Egg Bowl.
6. Giovani Bernard continued to prove that he is one of the best players in America, though he continues to go under the radar. The North Carolina tailback, who had 135 rushing yards and two touchdowns on 23 carries, returned a punt 74 yards for the go-ahead touchdown with 13 seconds left to stun rival North Carolina State 43-35 and end a five-year losing streak in the series. The Wolfpack have never beaten UNC six times in a row.
7. There is increasing noise that Paul Johnson could occupy an even hotter coaching seat than once thought. With athletic director Dan Radakovich moving into the same role at Clemson, it will be interesting to see who replaces him and how that affects Johnson's status. The Yellow Jackets are 3-5, have lost three of four after their blowout loss to BYU and the program has been spiraling downward since its loss to Iowa in the Orange Bowl a few years back.
8. Todd Grantham finally was able to get his defensive unit to put together a studly performance in Georgia's win over Florida in the World's Largest Outdoor Cocktail Party. The Bulldogs forced six turnovers, and Jarvis Jones is beyond studly at linebacker. Jones, who had four sacks in last year's victory over UF, finished with 13 tackles, three sacks and two forced fumbles on Saturday.
9. Unless Oklahoma State or TCU can make him look human (because it won't happen at the hands of Baylor or Texas), Collin Klein is going to win the Heisman Trophy. The Kansas State dual-threat quarterback threw for 233 yards and two touchdowns, and he had 83 yards and two more scores on the ground in a rout over Texas Tech. Meanwhile, Notre Dame's Manti Te'o is unquestionably going to get invited to New York City for the ceremony as well after yet another strong performance against Oklahoma. And while we're at it, Marqise Lee should be there, too. The USC wideout's 345 receiving yards in the team's loss to Arizona were a Pac-12 record and also were the fifth-most in FBS history. The play-calling at USC is sometimes head-scratching, as the team's offensive talent is not being maximized as it should.
10. A 63-21 loss to an SEC newcomer (Texas A&M) at Jordan-Hare Stadium? That's not going to work for Auburn, which may have no choice but to cut the cord on the Gene Chizik era.
The Plus-One
A week after it looked as if Michigan and Wisconsin were on a collision course toward the Big Ten Championship game, the Wolverines and Badgers lost to Nebraska and Michigan State, respectively. The Badgers are still in line to make it to Indy, but the Cornhuskers now could be the opponent. However, Bo Pelini's squad does have to travel to Michigan State and has a home game left against Penn State.
Email dave.miller@nationalfootballpost.com or follow me on Twitter at Miller_Dave