August 29, 2010 -
Dave Miller
2010 Pac-10 Preview
NFP Director of College Scouting Wes Bunting contributed to this preview.
Click here to see 2010 Big East Preview
Click here to see 2010 ACC Preview
Click here to see 2010 Big 12 Preview
USC: There's some concern about the Trojans offensively because Matt Barkley and the rushing attack haven't been up to par in a couple recent scrimmages. I'm not buying the panic, however. Under head coach Lane Kiffin, Barkley will thrive — much like former Tennessee signal-caller Jonathan Crompton, who was built into a draftable prospect by Kiffin last season. Barkley had a strong spring and he will have playmakers all over the field. Replacing the popular Pete Carroll was always going to be tough, but Kiffin knows the campus and the program, and the offensive and defensive schemes will be similar to what the players have been used to in the past. The defensive line is filthy, and the unit will be leaned upon to help out a secondary that must replace all four starters — though Shareece Wright returns from academic ineligibility. I think the Trojans play with a chip on their shoulders after all the off-the-field drama. If they do stumble, though, I wonder if the NFL prospects don't lose their focus, as there will be no postseason for the squad.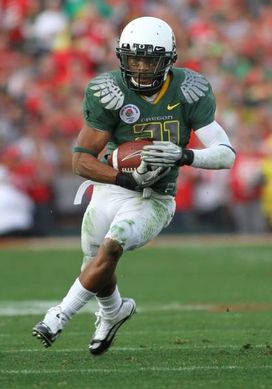 ICONLaMichael James rushed for 1,546 yards and 14 touchdowns on 230 carries in '09.
Oregon: Even without Jeremiah Masoli under center, Oregon remains one of the top contenders for the Pac-10 title. Could the Ducks have been in contention for a national championship if Masoli had not been kicked off the team? Quite possibly, because the team is loaded with talent everywhere. But the Ducks should still get steady play under center from sophomore Darron Thomas, who beat out senior Nate Costa for the starting job. Masoli brought the "it" factor to the most important position on the field, however. Can Thomas have that same moxie? It sounds crazy for a Pac-10 team to have high expectations for a defensive unit, but the Ducks boast a deep secondary that returns four starters and capable backups. I'm not sleeping on Chip Kelly's squad even without a Heisman contender under center. Remember, they still have LaMichael James rushing the rock.
Arizona: I don't love the idea of Arizona employing co-coordinators on both sides of the ball, but the Wildcats haven't seemed to run into any problems in their preparations for the season. But how will they respond to the first bit of adversity this fall? Quarterback Nick Foles leads a very talented offense that also features 6-4, 210-pound Juron Criner, one of the best wide receivers in the Pac-10. Nic Grigsby leads a deep backfield that also features Keola Antolin, who was the Wildcats' leading rusher in '09. Can Grigsby actually stay healthy? While 'Zona has plenty of talent on offense, the defense must replace seven starters — including all three linebacker spots. The secondary should be steady, but the team will need big contributions from defensive ends Ricky Elmore and Brooks Reed as pass rushers. Mike Stoop's Wildcats have been thinking all offseason about their disastrous Holiday Bowl outing against Nebraska. It's a motivated team — which is a dangerous thing for opposing Pac-10 teams.
Stanford: Heisman Trophy finalist Toby Gerhart rushed for 1,871 yards and 28 touchdowns last season, taking the pressure off of young quarterback Andrew Luck. You just don't replace that production. The Cardinal will employ a committee in the backfield likely until a back is able to break from the pack. But how will the loss of Gerhart affect Luck, who has shown that he has NFL starting talent. He'll have a solid offensive line to work behind and good receivers to throw to, and he is expected to take the next step in his development and live up to the confidence shown in him by head coach Jim Harbaugh. Meanwhile, hopes are high that new defensive coordinator Vic Fangio will have success with his hybrid 3-4 after the Cardinal defense finished ninth in the Pac-10 last season. The blitz will be a major part of the defense's identity in Palo Alto, but the secondary — which allowed 23 touchdown passes and a 63 percent completion rate in '09 — remains an issue. Still, this season is all about Luck.
Oregon State: It seemed like Oregon State was dealing with personnel losses on defense all throughout the offseason, whether it had to do with injuries or players leaving the team. Depth on the line and middle linebacker remains an issue. Three sophomores are battling for the starting job at MLB. Will the knee of senior defensive tackle and All-America candidate Stephen Paea hold up for a full season? On offense, sophomore quarterback Ryan Katz possesses the big arm and mobility to lead this offensive attack, highlighted by all-conference playmakers Jacquizz and James Rodgers. But Katz will surely see the blitz early and often this fall — starting with the season opener against TCU. As always, head coach Mike Riley will do another great coaching job in Corvallis and keep the team in the conference race all season.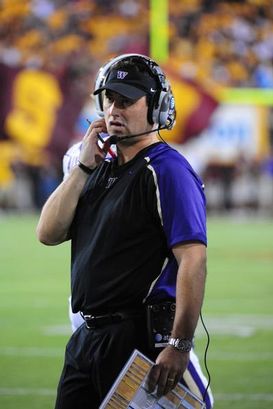 ICONSteve Sarkisian is off to a good start in Seattle.
Washington: What else can we say about the job that Steve Sarkisian has already done in Seattle? Washington is poised for big things offensively this fall, led by the potential top pick in the 2011 NFL Draft, quarterback Jake Locker. Nine offensive starters return to the unit, including running back Chris Polk, who ran for over 1,000 yards in '09. The team's top three wide receivers are also back — Jermaine Kearse, Devin Aguilar and James Johnson, who combined for 131 catches, 1,881 yards and 16 touchdowns last season. The Huskies will have no problem lighting up the scoreboard in 2010. Ten starters return to coordinator Nick Holt's defense, but keep an eye on the health of defensive ends Kalani Aldrich and Everette Thompson. Their presence will be needed, especially against the league's best offenses.
UCLA: Much of the talk surrounding UCLA throughout the offseason was about the team employing a variation of Nevada's "pistol" offense — dubbed "the revolver," which features the shotgun formation with a single running back and elements of the spread-option. It has had its peaks and valleys in spring and fall camp, but the Bruins are intent on displaying their many weapons offensively this fall. But the major question now is whether sophomore quarterback Kevin Prince will be healthy enough to line up under center against Kansas State in the opener. Prince hasn't practiced in about three weeks while dealing with a small tear in a back muscle. Fellow sophomore Richard Brehaut would step in if Pr ince isn't ready. Wide receivers Nelson Rosario and Taylor Embree, along with transfer Josh Smith and tight end transfer Joseph Fauria, will be legitimate threats for whoever is under center. The Bruins replace six starters on defense — including three who earned first-team all-conference honors — but the unit brings back a lot of speed that will at least be able to help make up for some mistakes while it takes time to gel.
California: Senior quarterback Kevin Riley will get one more chance to make good on the confidence shown in him by head coach Jeff Tedford. While he has 22 starts under his belt over three seasons, too many times he has faltered after showing flashes of brilliance. Despite losing left tackle Mike Tepper to the next level, four starters return to the offensive line and running back Shane Vereen will pick up where Jahvid Best left off, which should provide Riley with enough chances to look down the field. But who will catch the football in Berkeley besides Marvin Jones? Can highly touted freshman Keenan Allen make an immediate impact? On defense, new coordinator Clancy Pendergast will make the Golden Bears more aggressive — with lots of blitzes and stunts. And with senior defensive end Cameron Jordan, Pendergast will have a new leader on the line following the departure of Tyson Alualu.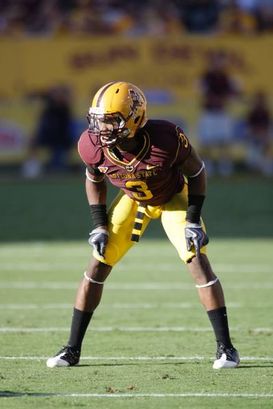 ICONOmar Bolden is part of a fast ASU defense.
Arizona State: Sun Devils head coach Dennis Erickson will make his decision Monday on the team's starting quarterback — either Michigan transfer Steven Threet or sophomore Brock Osweiler. Threet may have moved ahead in the competition, but expect both quarterbacks to see action this fall. Neither has instilled much confidence in the coaching staff. No matter who is under center, he may have a tough time staying on his feet playing behind a questionable offensive line, which now has to replace veteran guard Jon Hargis in addition to two other starters from last season. Hargis was lost for the season with a knee injury. While the Sun Devils lost seven starters from an impressive defense, they exhibited their depth last season and have enough speed to remain a playmaking unit. Cornerback Omar Bolden, defensive tackle Lawrence Guy and linebacker Vontaze Burfict are names to keep an eye on in perhaps a make-or-break year for Erickson.
Washington State: Despite entering just his third season, head coach Paul Wulff could be on the hot seat because of the success that in-state counterpart Sarkisian is having in Seattle. The Cougars are coming off an encouraging offseason, however, as the staff is optimistic about its improved depth. However, defensive tackle could be an area of concern. Quarterback Jeff Tuel saw action as a true freshman before suffering a season-ending knee injury. If you take into account how little talent the Cougars had on the offensive side of the ball and the poor pass protection, the kid held his own quite admirably. Top receiver Jared Karstetter returns, but expect the Cougars to play a lot of freshmen this fall at wideout. Washington State finally is building back its depth, but will Wulff be there to see it through?
Follow me on Twitter at Miller_Dave or send your college football questions to dave.miller@nationalfootballpost.com
Click here to purchase the Total Access Pass / Fantasy Draft Guide from the NFP.