April 25, 2011 -
Dave Miller
2011 WWE Draft preview
When I'm not covering all things college football for the NFP, I get to cross over into the world of sports entertainment, pop culture and many other realms to bring readers a variety of content on our site's Daily Jolt page.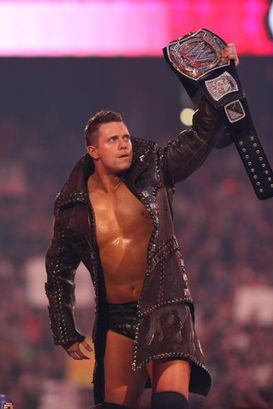 ICONWWE champ The Miz has done a nice job with his run on Raw.
On this Monday afternoon, let's take a look at the WWE Draft, which will take place live on Monday Night Raw on USA Network at 9 p.m. ET. Superstars, Divas and announcers from both Raw and Smackdown are eligible to be selected for either brand.
With the abrupt retirement of Edge two weeks ago, the Smackdown roster has a major void, specifically on the babyface side of things. Add in the fact that The Undertaker doesn't appear regularly on Friday nights because of age and numerous injuries, it has left the show in the hands of stars like Rey Mysterio, The Big Show, Christian and Kane. It's not likely that Vince McMahon will go a full year with those as his go-to faces on Smackdown.
So, a big name from Raw has to get drafted to the 'B' show, right?
It'd be great to see John Cena return to the show that made him famous, but I can see Randy Orton changing brands as a more realistic option. If one of those two stars is moved, it would at least create some fresh matchups or feuds we haven't seen in awhile.
WWE could also elevate a mid-card face to main event status, but Smackdown really does need a new top dog with Edge gone. Triple H could be a default option, but would he resume a full-time schedule? I wouldn't mind seeing him get one last run, but many fans feel much different.
Keep an eye on Alberto Del Rio and Christian, too. I can certainly see both moving to Raw. Could WWE champion The Miz be on the move? I don't think it's likely, but you never know. Maybe the 'E' really wants to shake things up.
At the end of the night, how will the WWE landscape be reshaped? To all members of the WWE Universe, feel free to post your Draft predictions in the Comments section below.
Follow me on Twitter at Miller_Dave
The Daily Jolt is a section of the National Football Post that serves as a one-stop shop for all things football, sports, pop culture, everyday life and more.
The section's editor, Dave Miller, also writes the Against the Grain college football column for the NFP. When he isn't putting coaches on the hot seat, he can often be found daydreaming of being the next winner on The X Factor.