November 14, 2011 -
Dave Miller
2011-12 Bowl Projections
It's about that time again: bowl projection season.
As we get deeper into November, teams will be competing for a limited number of BCS berths, more glamorous bowl games and that needed sixth win.
Rutgers in the Orange Bowl? It could happen…
Keep in mind:
• After the No. 1 and 2 teams from the final BCS standings are placed in the title game and replaced by teams from their conferences in the respected bowl games, the BCS at-large selection takes place. The order for 2011-12 is Fiesta, Sugar and Orange.
• For many bowls, committees are not obligated to choose in order of conference standings. So ACC No. 4 does not necessarily mean the team with the fourth-best record in the ACC. Ticket sales, fan travel, etc. go into a lot of these matchups. And conference politics likely will be in play for outgoing Big 12 members Texas A&M and Missouri.
• The highest-ranked non-AQ gets an automatic BCS berth if it finishes in the top 12 of the final BCS standings. But a second one does not get an automatic spot, so Boise State will be shut out.
• It appears that there are going to be a lot of bowl-eligible teams this season — perhaps too many, which is odd because of the large number of bowl games. Expect some teams to be unhappy because they weren't granted postseason berths.
* Replacement team for a conference that does not have enough bowl-eligible teams.
** The Champs Sports Bowl can select Notre Dame instead of a Big East team once in the four-year period stretching from 2010-13.
BCS bowls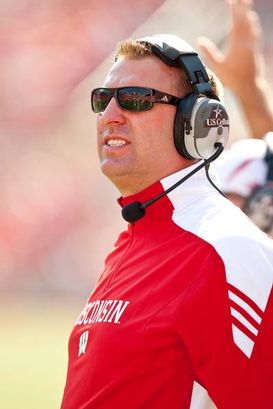 ICONAre Bret Bielema's Badgers headed back to Pasadena?
Jan. 2 Rose: Wisconsin (Big Ten champ) vs. Oregon (Pac-12 champ)
Jan. 2 Fiesta: Oklahoma (Big 12 champ) vs. Stanford (BCS at-large)
Jan. 3 Sugar: Alabama (SEC champ) vs. Houston (BCS at-large)
Jan. 4 Orange: Virginia Tech (ACC champ) vs. Rutgers (Big East champ)
Jan. 9 BCS national championship: LSU (BCS No. 1) vs. Oklahoma State (BCS No. 2)
The other bowls
Dec. 17 New Mexico: San Diego State (MWC No. 4) vs. Ball State (Army*)
Dec. 17 Idaho Potato: Nevada (WAC) vs. Temple (MAC No. 3)
Dec. 18 New Orleans: Louisiana-Lafayette (Sun Belt No. 1) vs. Northwestern (C-USA*)
Dec. 20 Beef 'O'Brady's: Tulsa (C-USA) vs. Pittsburgh (Big East)
Dec. 21 Poinsettia: Boise State (MWC No. 2) vs. Louisiana Tech (WAC)
Dec. 22 Maaco: TCU (MWC No. 1) vs. Utah (Pac-12 No. 5)
Dec. 24 Hawaii: Hawaii (WAC) vs. Illinois (C-USA*)
Dec. 26 Independence: Wyoming (MWC No. 3) vs. North Carolina (ACC No. 7)
Dec. 27 Little Caesars: Ohio (MAC No. 2) vs. Purdue (Big Ten No. 8)
Dec. 27 Belk: West Virginia (Big East No. 3) vs. Miami (ACC No. 5)
Dec. 28 Military: Wake Forest (ACC No. 8) vs. Air Force (Navy*)
Dec. 28 Holiday: Arizona State (Pac-12 No. 3) vs. Baylor (Big 12 No. 5)
Dec. 29 Champs Sports: Notre Dame (Big East No. 2**) vs. Florida State (ACC No. 3)
Dec. 29 Alamo: Washington (Pac-12 No. 2) vs. Texas (Big 12 No. 3)
Dec. 30 Armed Forces: Marshall (C-USA) vs. BYU (BYU)
Dec. 30 Pinstripe: Cincinnati (Big East No. 4) vs. Texas Tech (Big 12 No. 7)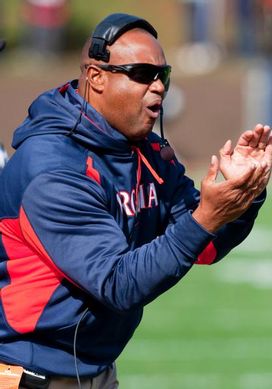 ICONMike London is primed to take Virginia back to the postseason.
Dec. 30 Music City: Virginia (ACC No. 6) vs. Vanderbilt (SEC No. 7)
Dec. 30 Insight: Texas A&M (Big 12 No. 4) vs. Michigan State (Big Ten No. 4)
Dec. 31 Meineke Texas: Penn State (Big Ten No. 6) vs. Missouri (Big 12 No. 6)
Dec. 31 Kraft Fight Hunger: California (Pac-12 No. 6) vs. Toledo (Army*)
Dec. 31 Sun: Georgia Tech (ACC No. 4) vs. UCLA (Pac-12 No. 4)
Dec. 31 Liberty: Southern Miss (C-USA No. 1) vs. Mississippi State (SEC No. 8)
Dec. 31 Chick-fil-A: Clemson (ACC No. 2) vs. Florida (SEC No. 5)
Jan. 2 TicketCity: Iowa (Big Ten No. 7) vs. SMU (C-USA)
Jan. 2 Capital One: Georgia (SEC No. 2) vs. Nebraska (Big Ten No. 2)
Jan. 2 Outback: Michigan (Big Ten No. 3) vs. South Carolina (SEC)
Jan. 2 Gator: Ohio State (Big Ten No. 5) vs. Auburn (SEC No. 6)
Jan. 6 Cotton: Kansas State (Big 12 No. 2) vs. Arkansas (SEC)
Jan. 7 BBVA Compass: Syracuse (Big East) vs. Tennessee (SEC No. 9)
Jan. 8 GoDaddy.com: Northern Illinois (MAC No. 1) vs. Arkansas State (Sun Belt No. 2)
Email dave.miller@nationalfootballpost.com or follow me on Twitter at Miller_Dave