December 12, 2011 -
Dave Miller
2012 Heisman candidates
Baylor quarterback Robert Griffin III claimed the Heisman Trophy on Saturday evening in New York City after an often-breathtaking 2011 season.
We know that Stanford's Andrew Luck likely won't be back next year, and I think it's safe to assume that Griffin III and Trent Richardson won't be returning to Baylor and Alabama, respectively, either.
So let's take a look at some of the best-positioned candidates for the 2012 hardware. We'll start with the other two finalists from this year, though I think they'll have a tougher time getting back to New York next year.
Montee Ball, RB, Wisconsin: Ball could declare for April's NFL Draft, but let's assume that he'll return for his senior season. All he does is score touchdowns, and he ranks fourth in the nation in rushing at 135.3 yards per game. If he is able to find the end zone twice against Oregon in the Rose Bowl, he will break former Oklahoma State star Barry Sanders' FBS record for single-season total touchdowns of 39. He may be in a numbers-friendly offense, but there's no denying Ball's impact on this Badgers squad.
Tyrann Mathieu, DB, LSU: Mathieu is finishing just his sophomore season, but he's played like an upperclassman throughout his career on the national stage. He has been the most valuable defensive player on LSU's team despite not being the best cover man, and his punt returns sparked the Tigers in back-to-back late-season games against Arkansas and Georgia. He will be trying to live up to lofty expectations next season because of his incredible campaign this year, but how can we ever doubt the "Honey Badger?" He will, however, need to make similar impacts as both a returner and a defender.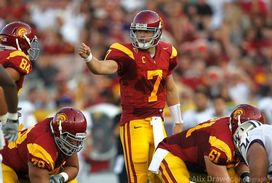 ICONMatt Barkley was in total command of the USC offense this fall.
Matt Barkley, QB, USC: I argued in my final NFP Heisman Watch that Barkley deserved a spot in New York after his fantastic junior season. He wasn't the reason that 'SC lost to Stanford, and his only "off" game was the road loss at Arizona State. While the Trojans aren't in the postseason because of NCAA sanctions, Barkley led a BCS-level squad this fall. The major question is whether he returns for a final campaign and bypasses the NFL Draft after completing 69.1 percent of his throws for 3,528 yards and 39 touchdowns against 7 interceptions. He'll have the best receiver combination in the nation in Robert Woods and Marquise Lee, and a ton of starters return on both sides of the ball. My feeling is that he comes back and the Trojans are a preseason Top 5 team in 2012.
Collin Klein, QB, Kansas State: RG3 won it this season, so why can't another dual-threat quarterback from the Big 12 claim the award next year? Klein may have had the most dominant under-the-radar season in recent memory, rushing for 1,099 yards and 26 touchdowns and throwing for 1,745 yards and 12 scores this fall. While the Wildcats' defense was their calling card this year, Klein was often a one-man show offensively. He will get the chance to perhaps claim Big 12 offensive player of the year in 2012 and state his case for an invite to New York.
Denard Robinson, QB, Michigan: Robinson has had no problem generating early-season Heisman hype the last two seasons. But can he sustain that strong play for an entire campaign? He'll have one more chance to put it all together in 2012, but he needs to be able to limit his turnovers (namely the interceptions) and stay on the field (he gets banged-up easily). The Wolverines don't have to necessarily go to a BCS bowl game again — look at Baylor and RG3 — but he must make strides in the passing game to go along with what should be strong rushing numbers. If he can do what he did this year against Ohio State more often — he completed 14 of 17 passes for 167 yards and three touchdowns and had 170 yards and two scores on the ground — he will be in this race all season.
CONTINUE TO PAGE 2 FOR MORE 2012 HEISMAN TROPHY CANDIDATES