November 06, 2012 -
Dave Miller
2012-13 Bowl Projections
As we enter the second weekend of November, there's no better time to take a look at some possible postseason matchups for the 2012-13 bowl season.
I will revisit these projections throughout the rest of the season as I try to determine where your team may or may not be headed for the holidays. But for now, let's have some fun and look at some potential matchups in December and January.
Projections subject to change
Key
* Replacement team for a conference that does not have enough bowl-eligible teams.
Notes
The champions of specific conferences are contractually committed to certain bowls — unless they are No. 1 or No. 2 in the final BCS standings…
ACC = Orange; Big Ten = Rose; Big 12 = Fiesta; Pac-12 = Rose; SEC = Sugar
If a bowl loses a host team to the title game, then the bowl gets first choice at a replacement team. The rest of the selection order for 2012-13 is: Fiesta, Sugar and Orange.
If BYU is bowl-eligible, it will play in the Poinsettia Bowl.
If Army is bowl-eligible it will play in the Military Bowl.
If Navy is bowl-eligible, it will play in the Kraft Fight Hunger Bowl.
Non-BCS bowls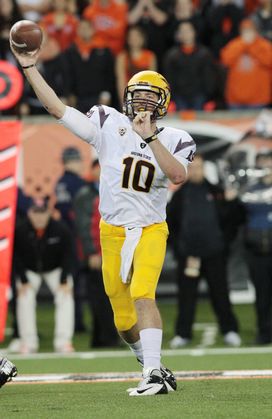 US PRESSWIRETaylor Kelly and the Sun Devils could draw a matchup against Nevada.
Dec. 15 New Mexico: Nevada (MWC No. 4/5) vs. Arizona State (Pac-12 No. 7/WAC)
Dec. 15 Famous Idaho Potato: Utah State (WAC) vs. Northern Illinois (MAC No. 3)
Dec. 20 Poinsettia: San Diego State (MWC No. 2) vs. BYU (BYU)
Dec. 21 Beef 'O'Brady's: Tulsa (C-USA) vs. *Bowling Green (Big East No. 6)
Dec. 22 New Orleans: Louisiana-Monroe (Sun Belt No. 1) vs. SMU (C-USA)
Dec. 22 Las Vegas: Boise State (MWC No. 1) vs. Arizona (Pac-12 No. 5)
Dec. 24 Hawaii: Fresno State (MWC/WAC) vs. Marshall (C-USA)
Dec. 26 Little Caesars: Toledo (MAC) vs. *Western Kentucky (Big Ten No. 8)
Dec. 27 Military: *Kent State (ACC No. 8) vs. *Middle Tennessee (Army)
Dec. 27 Belk: Cincinnati (Big East No. 3) vs. Duke (ACC No. 5)
Dec. 27 Holiday: UCLA (Pac-12 No. 3) vs. Texas Tech (Big 12 No. 5)
Dec. 28 Independence: *Ball State (SEC No. 10) vs. *Louisiana Tech (ACC No. 7)
Dec. 28 Russell Athletic: Rutgers (Big East No. 2) vs. Miami, FL (ACC No. 3)
Dec. 28 Meineke Car Care of Texas: Minnesota (Big Ten No. 6) vs. Baylor (Big 12 No. 6)
Dec. 29 Armed Forces: East Carolina (C-USA) vs. Air Force (MWC)
Dec. 29 Kraft Fight Hunger: Washington (Pac-12 No. 6) vs. Navy (Navy)
Dec. 29 Pinstripe: Pittsburgh (Big East No. 4) vs. TCU (Big 12 No. 7)
Dec. 29 Alamo: USC (Pac-12 No. 2) vs. Oklahoma State (Big 12 No. 3)
Dec. 29 Buffalo Wild Wings: West Virginia (Big 12 No. 4) vs. Northwestern (Big Ten No. 4/5)
CONTINUE TO PAGE 2 FOR MORE BOWL PROJECTIONS, INCLUDING THE BCS MATCHUPS