December 02, 2012 -
Dave Miller
2012-13 Bowl Projections
With the entire bowl slate scheduled to be released on Sunday evening, let's take a look one last time at the possible postseason matchups for the 2012-13 bowl season.
Key
* Replacement team for a conference that does not have enough bowl-eligible teams.
Notes
The champions of specific conferences are contractually committed to certain bowls — unless they are No. 1 or No. 2 in the final BCS standings…
ACC = Orange; Big Ten = Rose; Big 12 = Fiesta; Pac-12 = Rose; SEC = Sugar
If a bowl loses a host team to the title game, then the bowl gets first choice at a replacement team. The rest of the selection order for 2012-13 is: Fiesta, Sugar and Orange.
If BYU is bowl-eligible, it will play in the Poinsettia Bowl.
If Army is bowl-eligible it will play in the Military Bowl.
If Navy is bowl-eligible, it will play in the Kraft Fight Hunger Bowl.
- Teams in bold have already accepted bowl bids
Non-BCS bowls
Dec. 15 New Mexico: Nevada (MWC No. 4/5) vs. Arizona (Pac-12 No. 7/WAC)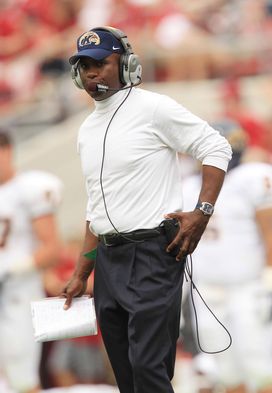 US PRESSWIREDarrell Hazell and the Golden Flashes could have a date with Utah State.
Dec. 15 Famous Idaho Potato: Utah State (WAC) vs. Kent State (MAC No. 3)
Dec. 20 Poinsettia: San Diego State (MWC No. 2) vs. BYU (BYU)
Dec. 21 Beef 'O'Brady's: UCF (C-USA) vs. *Ball State (Big East No. 6)
Dec. 22 New Orleans: Louisiana-Lafayette (Sun Belt No. 1) vs. East Carolina (C-USA)
Dec. 22 Maaco: Boise State (MWC No. 1) vs. Washington (Pac-12 No. 5)
Dec. 24 Hawaii: Fresno State (MWC/WAC) vs. SMU (C-USA)
Dec. 26 Little Caesars: Toledo (MAC) vs. *Western Kentucky (Big Ten No. 8)
Dec. 27 Military: *Ohio (ACC No. 8) vs. *San Jose State (Army)
Dec. 27 Belk: Cincinnati (Big East No. 3) vs. N.C. State (ACC No. 5)
Dec. 27 Holiday: UCLA (Pac-12 No. 3) vs. TCU (Big 12 No. 5)
Dec. 28 Independence: *Iowa State (SEC No. 10) vs. *Louisiana-Monroe (ACC No. 7)
Dec. 28 Russell Athletic: Rutgers (Big East No. 2) vs. Virginia Tech (ACC No. 3)
Dec. 28 Meineke Car Care of Texas: Minnesota (Big Ten No. 6) vs. Baylor (Big 12 No. 6)
Dec. 29 Armed Forces: Rice (C-USA) vs. Air Force (MWC)
Dec. 29 Kraft Fight Hunger: Arizona State (Pac-12 No. 6) vs. Navy (Navy)
Dec. 29 Pinstripe: Pittsburgh (Big East No. 4) vs. West Virginia (Big 12 No. 7)
Dec. 29 Alamo: Oregon State (Pac-12 No. 2) vs. Texas (Big 12 No. 3)
Dec. 29 Buffalo Wild Wings: Oklahoma State (Big 12 No. 4) vs. Michigan State (Big Ten No. 4/5)
CONTINUE TO PAGE 2 FOR MORE BOWL PROJECTIONS, INCLUDING THE BCS MATCHUPS