August 03, 2012 -
Dave Miller
2012's 5 toughest schedules
As we get closer and closer to the start of the 2012 college football season, let's take a look at the five most difficult schedules in the country.
1. Notre Dame: No team has a more challenging slate, which is why I've maintained that the Fighting Irish could potentially be even better this fall than last year yet not have the record to show for it. Head coach Brian Kelly's squad does not play any FCS programs, of course, and the easiest games on the schedule aren't even cupcake city: the season opener against Navy in Ireland; Purdue, which could be a Big Ten sleeper; at Boston College; and against Wake Forest, which is led by one of the more underrated coaches in America, Jim Grobe. ND will go up against five teams that could flirt with a BCS bowl at the end of the year: at Michigan State, Michigan, Stanford, at Oklahoma and then the regular-season finale at potential No. 1 USC. And don't forget that Miami and BYU are also on the fall slate. Challenging indeed, especially for a team that will have a new starting quarterback for Week 1.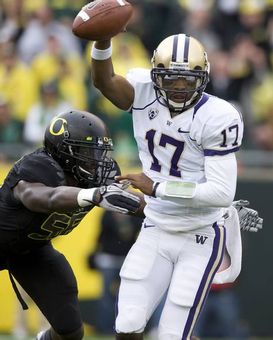 Can Keith Price and the Huskies navigate a difficult 2012 slate?
2. Washington: It's a given that new coordinator Justin Wilcox is going to at least make this Huskies defense tolerable in 2012. His success at Boise State and Tennessee should breed confidence in the program. But it will be very difficult to see significant progress early in the season because of such a brutal start to the year, which begins with a sneaky San Diego State squad. But Week 2 is the real test: a trip to Baton Rouge to face LSU, which claimed the top spot in the USA Today Coaches' poll, which was released Thursday. Portland State will provide a breather after the tilt with the Tigers, but a three-week stretch will really test head coach Steve Sarkisian's bunch: physical and tough Stanford, at lightning-fast Oregon and host to USC. Those are the three best teams in the Pac-12, and Sarkisian's squad has to face them all in a row. And though it gets a bit easier in the second half, road trips loom.
3. Ole Miss: First-year Rebels head coach Hugh Freeze better load up on wins early, because there may not be many on the team's schedule once they move past September. Ole Miss begins 2012 with three straight home games, although Texas is one of the opponents. And a Manny Diaz-led defense will pose major problems for an offense that will be in its infancy. The next week, however, the Rebels play Tulane to end a month that could conceivably net three wins, with the lone loss coming against the Longhorns. But, boy, does the slate get brutal after the opening month. Ole Miss will have to travel to Alabama, Arkansas, Georgia and LSU. Those are arguably the four best teams in the SEC. Freeze's squad also has to contend with league newcomer Texas A&M, as well as Auburn and Mississippi State in the Egg Bowl. While Freeze is compiling a really strong Class of 2013, 2012 could be a rough debut campaign in Oxford.
4. Kansas: Another head coach whose first year could be rough is Charlie Weis at Kansas. The Jayhawks won just two games in 2011, and it will be difficult to squeeze out many more victories than that this fall despite the arrival of former Notre Dame quarterback Dayne Crist as well as some other transfers from major programs and the JUCO ranks. After the opening two contests against South Dakota State and Rice, Kansas won't get a breather, playing 10 straight games against better teams. Even a road trip to Northern Illinois will be a chore. Visits to Kansas State, Oklahoma, Baylor and West Virginia are also on deck. Who said the Big 12 was in shambles? After a few tumultous offseasons, the league is as strong as it has ever been.
5. Oregon State: If Mike Riley and Oregon State want to bounce back from a couple of very disappointing seasons, it will take a lot of things to break the right way this fall. After the opener against Nicholls State, the Beavers host a Wisconsin program that has made back-to-back Rose Bowl appearances. And a visit to BYU is one of the more underrated tough nonconference games in the nation. While the Beavers will not have to contend with USC this year, Stanford, Washington, Oregon, Utah and Cal are on the slate. And the offenses of Washington State and Arizona State will be tough to defend.
Email dave.miller@nationalfootballpost.com or follow me on Twitter at Miller_Dave