August 29, 2013 -
Dave Miller
2013 American Athletic preview
With the kickoff to the 2013 college football season occuring tonight, let's take a look at the first of the National Football Post's conference previews.
Here are the major storylines playing out in Mike Aresco's American Athletic Conference:
No, this isn't Conference USA. Well, it kind of is, right?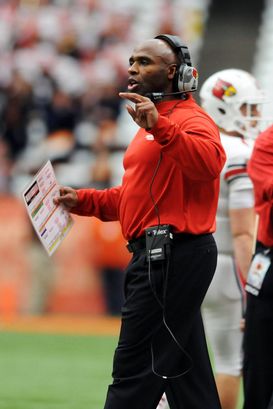 US PRESSWIRECharlie Strong and the Cardinals are moving to the ACC after this season.
Because of conference expansion/realignment, the Big East is now just a basketball league — a shell of its former self, of course, but at least it still exists on the hardwood as should always be the case. On the football side of things, however, the league was raided by other conferences — and will continue to get raided, as Louisville will be moving onto the ACC and Rutgers will be headed to the Big Ten after this year. The American will then counter with Tulsa, East Carolina and Tulane in 2014, and Navy will arrive in 2015. So this new conference still won't have its new true identity for a few more years. Although, it's quite apparent that this is C-USA 2.0 — which isn't necessarily a bad thing. It just means that it is no longer a power league, and it hurts that Boise State and San Diego State elected to remain in the Mountain West. The Power 6 is down to the Power 5, but teams in the American still will have access to the College Football Playoff in 2014 and beyond along with smaller leagues like C-USA, the MAC, the MWC and Sun Belt. But it will undoubtedly be more difficult to get entrance. This year, however, Louisville has a chance to give the league one last BCS gift if the Cardinals could navigate an easy schedule.
Sustainability
All kidding aside about this conference being C-USA 2.0, Aresco's main priority is to make sure this league remains stable moving forward, which starts and ends with not losing any more members. It hurts that Louisville, which is the odds-on favorite to win the league, is moving to the ACC. And Rutgers, which has been on the upswing in recent years, is departing as well. But there should be no looking back anymore. Creating stability and sustaining longevity is the priority, and then the league could think about adding the remaining few schools that could add more relevance (i.e. BYU, Boise State, etc.).
Louisville's parting gift?
Charlie Strong's squad, fair or not, is essentially carrying the expectations for the entire league. The Cardinals have 10 returning starters on defense, led by safety Hakeem Smith. It's an experienced squad, but it has to deal with very high expectations after the Sugar Bowl win over Florida. But keep in mind that this is a team that had some very close wins over inferior opponents last year — including winless Southern Miss and 3-win South Florida. The Cardinals also lost to UConn. So the possibility of a slip-up even against a weaker schedule is prevalent. But any team with Teddy Bridgewater has a chance to win every game, especially when the third-down and red-zone efficiency was so high last year. New weapons in Florida tight end transfer Gerald Christian and Auburn running back transfer Mike Dyer just add to the options for Bridgewater on offense.
If not Louisville, who else?
Cincinnati: All five starters on the offensive line return, along with quarterback Brendon Kay. And the linebacker crew is very good.
Rutgers: The Scarlet Knights lost so much good talent on defense, but they return quarterback Gary Nova and running back Savon Huggins on offense. But the road schedule is tough. Head coach Kyle Flood has a lot of young talent, though, so don't discredit this squad.
UCF: The Knights return 10 starters on offense, including quarterback Blake Bortles, running back Storm Johnson and wide receiver Breshad Perriman. With the exception of a game at Louisville, the conference road schedule is not terrible.
Can the league make a mark in nonconference play?
The American has some marquee nonconference matchups early in the year...
Temple at Notre Dame, Aug. 31
UCF at Penn State, Sept. 14
Maryland at UConn, Sept. 14
Michigan at UConn, Sept. 21
SMU at Texas A&M, Sept. 21
Miami (FL) at USF, Sept. 28
South Carolina at UCF, Sept. 28
UCF is an intriguing new member of the American. George O'Leary has done a great job with the Knights, so Penn State must be on guard. USF is also a candidate to surprise in Willie Taggart's first season. UConn would be gracious to split with Maryland and Michigan.
The league's best players
Teddy Bridgewater, Louisville QB
Aaron Lynch, South Florida DE
Brandon Coleman, Rutgers WR
Blake Bortles, UCF QB
Lyle McCombs, UConn RB
Greg Blair, Cincinnati LB
Hakeem Smith, Louisville S
Yawin Smallwood, UConn LB
DeVante Parker, Louisville WR
Kenneth Acker, SMU CB
American Athletic preseason power rankings
2013-14 Preseason Bowl Projections
Dave Miller, the college football editor and writer for the National Football Post, is on Twitter @Miller_Dave.