August 30, 2013 -
Dave Miller
2013 Big 12 preview
With the opening weekend of the 2013 college football season here, let's take a look at the third of the National Football Post's conference previews.
Here are the major storylines playing out in Bob Bowlsby's Big 12 Conference:
Is Texas back?
There's no question that the Longhorns have the best talent in the league. But they did last year, too, and they were unable to win the league. Nineteen starters return from a 9-4 squad — with all four losses coming in league play. Head coach Mack Brown is entering his 16th and possibly most important season. While his seat may not be as hot as some think because I think he has more support from school administrators than some may think, he must produce a strong season because this could be the most talented Longhorns team since 2009. Are they a darkhorse BCS title contender?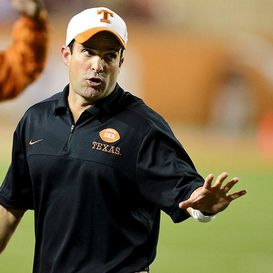 US PRESSWIREManny Diaz is looking to turn around a Longhorns defense that was horrid in 2012.
David Ash is the most experienced returning starting quarterback in the league, and he has playmakers at both running back and receiver (top four rushers and five of top six receivers from 2012 return). But can the up-tempo offense work? There will be rough patches because it takes more than one offseason to fully get comfortable with such a change in tempo. Defensively, coordinator Manny Diaz gets Jackson Jeffcoat and Jordan Hicks — the team's two best and most experienced defenders — back from injury, but can this poor-tackling unit bounce back in a big way? The defense gave up the most points and total yards in school history, so the hope is that the veteran leadership it gets back in Jeffcoat and Hicks will help. Last year, missed tackles was the main culprit to the defense's demise after a strong 2011. Injuries and inexperience led to such a porous unit. Is a rebound on the horizon?
Can Oklahoma solve its defensive woes?
Redshirt freshman Trevor Knight had an incredible offseason, winning the starting quarterback job over Blake Bell, who backed up Landry Jones the last two seasons. But while we will still see plenty of Bell in the "Bell-dozer" packages — he has 24 rushing touchdowns in 20 career games — he can also throw the football effectively. So when he enters the game now, defenses will eventually learn (because we haven't seen it yet) that Bell can move the ball through the air. He has an accomplished deep ball, so it will be interesting to see how Bell's role changes this year. He may not be the starter, but he will play. And whoever is in the game at QB will have nice weapons surrounding him such as Sterling Shepard, Jalen Saunders and Damien Williams. Defensively, though, coordinator Mike Stoops must get his unit to stop the run on a consistent basis. The problem is there are serious question marks up front. Is there enough depth? And will the Sooners be physical enough?
Is Oklahoma State the cream of the crop?
The Cowboys will score a lot of points, as usual, but will they get the turnovers that they created back in 2011? The Pokes were +21 in turnover margin in 2011, but 0 in 2012. Can linebacker Shaun Lewis and Co. make big plays? Offensively, Mike Gundy will play two quarterbacks this season — Clint Chelf and J.W. Walsh. The Cowboys head coach plans no announcement in the lead up to the opener against Mississippi State, but there is no need for one because it's the worst-kept secret in the country. It may not be a full platoon, but Chelf brings the better skill set as a passer while Walsh will be a short-yardage and goal-line situation guy because of his athleticism and ability to power his way into the end zone. The dual-threat Walsh also has a decent enough arm to be a pass option as well to keep defenses honest.
The wild card
TCU went 7-6 overall and 4-5 in conference play in its first season in the Big 12 last year, but 15 starters return to a team that should be a dangerous "out" every week in 2013. Things could have been different if Casey Pachall did not have off-the-field issues last fall, but the coaching staff has been impressed with his increased maturity this offseason. Trevone Boykin will see the field because of his athleticism, but this is Pachall's offense if he remains strong off of the field. The Horned Frogs have two really good receivers in Brandon Carter and LaDarius Brown, and Nebraska transfer Aaron Green is a very good addition at running back. But the schedule is brutal. Besides the season opener against LSU in Arlington, TX, the Horned Frogs travel to Texas Tech, Oklahoma, Oklahoma State and Kansas State. On the flip side, TCU will have the best defense in the league once again once Devonte Fields gets back on the field.
Can Bill Snyder do it again?
Jake Waters will be the starting quarterback, and he is athletic enough to keep the dual-threat legacy going in Manhattan. But he also poses a better threat through the air as well. And there are playmakers on this offense, so the Wildcats should continue to score points. Defensively, Snyder's squad only returns one starter from last year. Having a strong turnover margin has always been K-State's calling card with Collin Klein under center. Can that trend continue with a new signal-caller?
Coming home
At 34 years of age, Kliff Kingsbury is the youngest head coach in any BCS conference. How fast can the Red Raiders reach the upper rungs of the Big 12? Offensively, this will be a fast-paced, up-tempo offense. The Red Raiders will be breaking in two freshmen quarterbacks with Michael Brewer out with a back issue, so the ground game will be a major focus, especially with a talent like Kenny Williams at tailback. Keep in mind that Texas A&M ran the ball effectively last year when Kingsbury was offensive coordinator. Tech returns eight starters on defense, a unit that drastically improved last year.
The new QBs
Seven of the league's ten teams will have new starting quarterbacks, highlighted by Baylors' Bryce Petty, who bided his time with the Bears before getting his chance to start. From all of the reports out of Waco, he has a big arm and is smart and athletic. And running back Lache Seastrunk was a beast to close out 2012. All expectations are that he will have a phenomenal fall.
The league will be balanced and competitive
While the league may not have a legitimate BCS championship contender (unless Texas puts it all together this fall), it is loaded with solid teams that will be competitive most every week. Six different squads received first-place votes in the media preseason poll, with Oklahoma State being selected to win the league.
Other notes
Kansas has a niece building block on offense with former BYU starting quarterback Jake Heaps, who is looking to reclaim his 2011 form. Second-year head coach Charlie Weis will play a ton of JUCO transfers and freshmen on defense, but is a quick turnaround possible? The Jayhawks should at least be able to notch one Big 12 victory after going winless last fall.
At Iowa State, Paul Rhoads remains one of the more underrated head coaches in the country, notching at least one victory over a Top 25 squad three straight seasons. But the Cyclon es lost a lot of veteran talent from 2012.
Notable early nonconference games
LSU vs. TCU, Aug. 31
Mississippi State vs. Oklahoma State, Aug. 31
Ole Miss at Texas, Sept. 14
Oklahoma at Notre Dame, Sept. 28
Big 12 preseason power rankings
2013-14 Preseason Bowl Projections
Dave Miller, the college football editor and writer for the National Football Post, is on Twitter @Miller_Dave.