April 28, 2013 -
Dave Miller
2013 NFL Draft: Day 3 recap
Let's go inside the final day of the 2013 NFL Draft from a college perspective...
CLICK HERE for my Day 1 notes
CLICK HERE for my Day 2 notes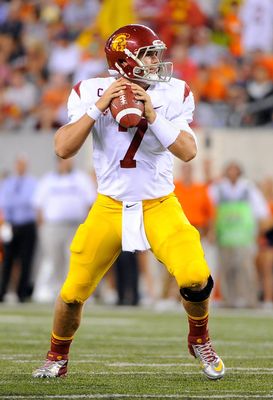 US PRESSWIREMatt Barkley was the first player selected in the fourth round of the 2013 NFL Draft.
— While he certainly didn't expect to last until Saturday, USC quarterback Matt Barkley was the first pick on the third day as the Philadelphia Eagles traded up to get him at No. 98 overall. A lot has been made of the huge sum of money the Trojans signal-caller left on the table by coming back for his senior season, but all of that is in the past as he begins his pro career for a team that has real instability under center. The major question is how he will fit into new head coach Chip Kelly's offense. It's not exactly fair to compare Barkley to former Oregon signal-callers such as Darron Thomas and Marcus Mariota because we do not yet know how Kelly will adapt his offense to the pro game. Sure, Barkley does not have the strongest arm and has limited mobility, but he provides great value at No. 98. And not many people know his game better than Kelly, who saw firsthand what Barkley can do when he had success against the Ducks in college. Barkley threw nine touchdown passes against Kelly's Oregon team the past two years. And if Kelly didn't think he could get Barkley to fit into what he wants to do in Philly, the Trojans QB obviously wouldn't have been the choice.
— The final tally of draft picks by college conference: SEC = 63 (East 32, West 31), ACC = 31, Pac-12 = 28, Big 12 = 22, Big Ten = 22 and Big East = 18. Mike Slive's conference set a league mark with those 63 selections. Or, put another way, Alabama, LSU, Florida and Georgia combined for more picks than every other conference. #SEC
— Big Ten-bound Rutgers had seven NFL Draft picks, more than any other Big Ten school. Is league commissioner Jim Delany ecstatic or depressed by that stat?
— Jacksonville may still have a rough 2013 campaign, but at least they'll be more exciting to watch after adding playmakers Ace Sanders and Denard Robinson from South Carolina and Michigan, respectively.
— Jim Harbaugh and San Francisco had quite the Saturday afternoon. After adding LSU safety Eric Reid, Florida State defensive end Tank Carradine and Auburn defensive end Corey Lemonier on the first two days, the 49ers landed explosive receiver Quinton Patton from Louisiana Tech and stud rehabbing running back Marcus Lattimore from South Carolina on the third day. The 49ers can ease Lattimore back gradually after his injury, and he could end up being a top NFL running back because his work ethic matches his talent. He will get back to being 100 percent healthy.
— Johnathan Franklin was the first running back to come off of the board on day three, as the Green Bay Packers selected the UCLA running back. Yes, Ted Thompson and Co. added Franklin to a backfield after selecting Eddie Lacy on Friday. At least for one draft, it's hard to get a more filthy backfield than what the Packers were able to put together. Of course, Green Bay made the running back position a priority after its struggles rushing the ball last season. And the Packers now could have a nice duo splitting carries in 2013.
— Random thoughts on QBs:
* Pittsburgh is a great spot for Landry Jones, whose overall makeup has been questioned not just leading up to the draft but throughout his college career. He will get to sit behind Ben Roethlisberger and not rush the Steelers into putting him on the field. He may not be an elite quarterback, but he will be productive and succeed if surrounded by skill players.
* Poor Matt Flynn. It would only be fitting if Tyler Wilson came in and eventually stole the starting job in Oakland after Flynn lost his gig to Russell Wilson in Seattle. All kidding aside, the Raiders made a nice selection with Tyler Wilson, whose toughness alone is invaluable (he got killed in some games vs. SEC powers but always played through the pain). Last season at Arkansas was a disaster for nearly everyone involved with that program. Wilson's stock falling could be the best thing that could have happened for the Raiders.
* I don't love Syracuse quarterback Ryan Nassib as an NFL starter, but you have to trust New York Giants general manager Jerry Reese and his track record. Nassib won't have to play right away, which is great for both parties. But there are mechanical issues with Nassib that must be addressed.
— My 5 best undrafted players: Tennessee Tech WR Da'Rick Rogers, Stanford OLB Chase Thomas, Tennessee QB Tyler Bray, North Carolina ILB Kevin Reddick and Arizona QB Matt Scott. Here is the list of undrafted free agents who signed up to this point.