April 26, 2013 -
Dave Miller
2013 NFL Draft: First-round recap
Let's go inside the first round of the 2013 NFL Draft from a college perspective...
— The SEC had 12 players selected in the first round Thursday night, which tied the record set by the ACC in 2006. Six of the top 13 picks were from Mike Slive's conference, including three in a row from Alabama, which runs a football factory under head coach Nick Saban. The Crimson Tide have now produced 13 first-round picks over the past four years. Of the 12 SEC players taken in the first round this year, eight were defensive players.
— The ACC had six selections and the Pac-12 checked in with five.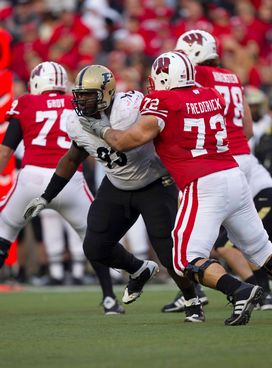 US PRESSWIREIf not for Travis Frederick, the Big Ten would have been shut out in Round 1.
— Wisconsin offensive lineman Travis Frederick was the lone Big Ten selection of the first round, as Dallas selected the guard/center at No, 31, making him the ninth offensive lineman selected in Round 1. That pick helped Jim Delany's league from getting shut out of the first round for the first time since 1953. While the Big Ten's talent gap compared to other leagues is clear, that will change. I talked to a longtime Big Ten observer on Thursday afternoon, and he told me that the league is steadily bringing in better athletes since Brady Hoke and Urban Meyer arrived at Michigan and Ohio State, respectively. He believes that other coaches are on guard and have put an emphasis on bringing in more speed to a league that often looks overwhelmed in the postseason when matched up against teams from the SEC, etc.
— How about Houston cornerback D.J. Hayden? What a comeback for someone who suffered a torn vein in his heart during practice last season, an injury that has an incredibly low survival rate. Oakland made him the 12th overall pick. Incredible.
— The most surprising player left available in my opinion is Alabama running back Eddie Lacy. While it's true that the NFL has never been more of a passing league, just watching what the Crimson Tide RB did week in and week out against the best competition makes me wonder how Lacy is still available. I thought he could have been in play for Green Bay at No. 26.
— The biggest first-round surprise for me was Chicago's selection of offensive lineman Kyle Long from Oregon. Can he play guard at the next level? It's a legitimate question for a guy whose off-the-field troubles certainly raise some eyebrows. Bears general manager Phil Emery loves workout warriors and versatile athletes, but it could be a struggle for Long playing inside. However, keep in mind that Bears offensive coordinator/offensive line coach Aaron Kromer is one of the best in the business. But he'll have his work cut out for him.
— How did Utah defensive tackle Star Lotulelei fall to Carolina at No. 14? He was the second defensive tackle taken after Missouri's Sheldon Richardson went at No. 13 to the New York Jets. Can someone be considered a steal at No. 14?
— My favorite pick of the first round was Pittsburgh's selection of Jarvis Jones, the outside linebacker from Georgia who was arguably the best defensive player in the nation last year, including Manti Te'o.
— My 5 best players available: Mississippi State CB Johnthan Banks, Kentucky G Larry Warford, Stanford TE Zach Ertz, Alabama RB Eddie Lacy and Texas A&M DE Damontre Moore.