December 08, 2014 -
Dave Miller
2014-15 Bowl Schedule & CFP thoughts
Before we take a look at the entire 2014-15 postseason slate, a few thoughts on how the College Football Playoff pairings unfolded on Sunday...
— There's no question that the Big 12 put itself in a terrible position to earn an entry for either TCU or Baylor into the inaugural playoff. The selection committee made the easy choice to go with Ohio State for its fourth playoff spot, as the Buckeyes joined Alabama, Oregon, and Florida State. A lot of college football analysts and observers believe that the Big 12 would have strengthened its case if it had a conference championship game instead of just employing a nine-game round-robin schedule. It would appear that TCU would have needed a league title game win to get in, as Baylor ended up finishing ahead of Gary Patterson's squad in the final standings. So that head-to-head win ultimately did matter. But the way the Buckeyes played Saturday night in their Big Ten title romp may have been too much to overcome no matter if the Big 12 had a title game or not. Of course, we will never know. What we do know is that chairman Jeff Long and that committee looked at conference champions first. Baylor and TCU, of course, were determined by Bob Bowlsby's league to be co-champions. Expect Bowlsby and the league's athletic directors to take a long, hard look at petitioning to have a league title game despite having 10 teams and not 12. There was a lot of chatter on social media about adding two teams to the league (Cincinnati and Memphis perhaps?), but that is unneccesary so long as the conference is successful in its petition. In fact, the Big 12 and ACC have an autonomy proposal up for vote in April, which centers on conference championship games. Ultimately, two Big 12 champions meant no College Football Playoff rep, which was a disaster for a league that saw TCU drop from No. 3 (we're told that previous rankings are thrown out each week) despite stomping Iowa State this past weekend. And that thirteenth game really mattered, and it mattered in a big way for the Buckeyes. "Ohio State's performance in a 13th game gave them a quality win against a highly ranked team that allowed them to move into that fourth spot," Long told ESPN on Sunday.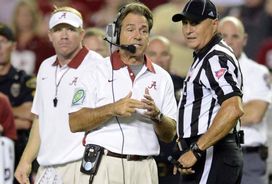 US PRESSWIRENick Saban and the Tide are in pursuit of another national title.
— Our matchups in the first-ever College Football Playoff are No. 1 Alabama vs. No. 4 Ohio State in the Sugar Bowl and No. 2 Oregon vs. No. 3 Florida State in the Rose Bowl. The only loss for the Crimson Tide came on October 4 by six points at Ole Miss, but coordinator Lane Kiffin's offense continued to help out the defense behind the play of quarterback Blake Sims, who is one of the feel-good stories of the year. Alabama looked as strong as ever in its 42-13 win over Missouri in the SEC title game, and that offense is going to need to continue to roll because Ohio State will be quite the challenge in New Orleans. The Buckeyes were able to overcome the preseason loss of expected Heisman Trophy contender Braxton Miller and out-of-nowhere Heisman contender J.T. Barrett, as third-string quarterback Cardale Jones stepped up in a big way in their dominant Big Ten title performance against Wisconsin. In the eyes of the committee, OSU's effort on Saturday night was able to negate its 35-21 home loss to Virginia Tech on September 6. Meanwhile, we will see last year's Heisman winner, Jameis Winston, against the expected winner this year, Marcus Mariota, in Pasadena. We know about the Ducks' high-octane offense, but their defense played very physical on Friday night in their Pac-12 title win over Arizona. Can that unit duplicate its effort against the lone undefeated Power Five team? The 'Noles played with fire all season, including against lower-tier teams such as NC State and Boston College, but they remain dangerous. Who would bet against Jimbo Fisher's squad at this point?
Stay with the National Football Post for all of your bowl coverage, and follow me on Twitter (@Miller_Dave) for all of the news around the college football world as we count down the days to the crowning of the very first College Football Playoff national champion.
The College Football Playoff
Semifinal—Jan. 1 Rose (Pasadena): No. 2 Oregon vs. No. 3 Florida State
Semifinal—Jan. 1 Sugar (New Orleans): No. 1 Alabama vs. No. 4 Ohio State
Championship—Jan. 12 (Arlington): The winners of the two semifinals meet
The CFP Selection Committee bowl games
Dec. 31 Peach (Atlanta): TCU vs. Ole Miss
Dec. 31 Orange (Miami): Georgia Tech vs. Mississippi State
Dec. 31 Fiesta (Glendale): Arizona vs. Boise State
Jan. 1 Cotton (Arlington): Baylor vs. Michigan State
The rest of the bowl slate
Dec. 20 New Orleans (New Orleans): Louisiana-Lafayette vs. Nevada
Dec. 20 Idaho Potato (Boise): Air Force vs. Western Michigan
Dec. 20 Las Vegas (Las Vegas): Colorado State vs. Utah
Dec. 20 New Mexico (Albuquerque): Utah State vs. UTEP
Dec. 20 Camellia (Montgomery): Bowling Green vs. South Alabama
Dec. 22 Miami Beach (Miami): Memphis vs. BYU
Dec. 23 Poinsettia (San Diego): San Diego State vs. Navy
Dec. 23 Boca Raton (Boca Raton): Marshall vs. Northern Illinois
Dec. 24 Bahamas (Nassau): Western Kentucky vs. Central Michigan
Dec. 24 Hawaii (Honolulu): Fresno State vs. Rice
Dec. 26 Quick Lane (Detroit): North Carolina vs. Rutgers
Dec. 26 Bitcoin (St. Petersburg): UCF vs. NC State
Dec. 26 Zaxby's (Dallas): Illinois vs. Louisiana Tech
Dec. 27 Military (Annapolis): Virginia Tech vs. Cincinnati
Dec. 27 Independence (Shreveport): Miami, FL vs. South Carolina
Dec. 27 Pinstripe (New York): Boston College vs. Penn State
Dec. 27 Sun (El Paso): Duke vs. Arizona State
Dec. 27 Holiday (San Diego): Nebraska vs. USC
Dec. 29 Russell Athletic (Orlando): Clemson vs. Oklahoma
Dec. 29 Liberty (Memphis): West Virginia vs. Texas A&M
Dec. 29 Texas (Houston): Texas vs. Arkansas
Dec. 30 Belk (Charlotte): Louisville vs. Georgia
Dec. 30 Foster Farms (Santa Clara): Maryland vs. Stanford
Dec. 30 Music City (Nashville): Notre Dame vs. LSU
Jan. 1 Citrus (Orlando): Minnesota vs. Missouri
Jan. 1 Outback (Tampa): Wisconsin vs. Auburn
Jan. 2 Armed Forces (Fort Worth): Houston vs. Pittsburgh
Jan. 2 Alamo (San Antonio): Kansas State vs. UCLA
Jan. 2 TaxSlayer (Jacksonville): Iowa vs. Tennessee
Jan. 2 Cactus (Tempe): Oklahoma State vs. Washington
Jan. 3 Birmingham (Birmingha m): Florida vs. East Carolina
Jan. 4 GoDaddy (Mobile): Toledo vs. Arkansas State
Dave Miller, the college football editor for the National Football Post, is on Twitter @Miller_Dave.