January 19, 2015 -
Dave Miller
2015 East-West Shrine Game notebook
The 2015 East-West Shrine Game took place on Saturday in St. Petersburg, FL, as Mike Singletary's East team defeated Jim Zorn's West squad 19-3.
College football fans were able to see some of the top players in the country one last time, while NFL personnel were able to further scout prospects ahead of the NFL Draft.
Let's take a look at some of the highlights from the showcase event at Tropicana Field.
— It was a good day to watch pass rushers show off their skill sets, which makes sense because the 2015 NFL Draft will feature a deep class of edge pass rushers, both 4-3 defensive ends and 3-4 outside linebackers. Miami (FL) product Anthony Chickillo looked very good throughout the contest, as he displayed a quick first step and looked comfortable playing as a 4-3 end. Keep in mind that the Hurricanes used a lot of 3-4 this past season. The 6-4, 275-pounder had a strong week in St. Pete, which should help his NFL Draft stock after notching just three sacks and 4.5 tackles for loss in 2014 ... LSU's Jermauria Rasco had a nice game for the East team. He likely will end up as an outside linebacker in a 3-4 scheme, but the 6-3, 252-pounder looked comfortable at end as a speed rusher ... Kentucky's Za'Darius Smith had a very good game, particularly in the first half. The 6-5, 265-pounder has good power and looked strong playing on the right side, although he may wind up at left end at the next level. Smith had seven tackles for loss and 4.5 sacks this past season, and his play on Saturday likely helped his stock despite questions about being a bit undersized.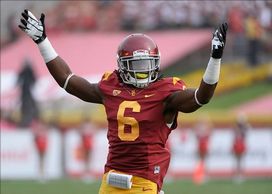 Josh Shaw had an interception and played well on special teams.
— USC cornerback Josh Shaw needed a strong game and lead-up to the draft after missing most of this past season. He showed off his press ability, which is a strength of his game. The 6-1, 200-pound physical corner had an interception in the end zone and also showed off his ability on special teams, which is always a plus for a future NFL rookie. The former Trojan, who began his career at Florida, played safety with the Gators but played corner with the Trojans and should be a solid press corner at the next level.
— Kansas linebacker Ben Heeney is an underrated NFL prospect. He won't get drafted in the early rounds, but the team that chooses him later in the draft will get a middle linebacker that can step onto a field and contribute right away because he won't get in trouble in coverage with his good quickness. And he knows how to get to the ball-carrier. He just needs to get a little stronger. But he is sound in space, and he showed that throughout his career playing against a lot of prolific passing attacks in the Big 12.
— Defensive tackle Derrick Lott made a nice impression in the game. The 6-4, 298-pound Chattanooga product, who began his career at Georgia, has good strength and nice quickness. He had a nice tackle for loss and was sound on special teams.
— This draft does not have many standout senior quarterbacks. The six signal-callers that played (Duke's Anthony Boone, Old Dominion's Taylor Heinicke, Georgia's Hutson Mason, Nevada's Cody Fajardo,
Arizona State's Taylor Kelly and South Carolina's Dylan Thompson) combined to complete just 23-of-50 passes for 209 yards and three interceptions. Speaking of quarterbacks, former Michigan signal-caller Devin Gardner is trying to transition to wide receiver. Can he be an asset on special teams until he is ready for extended play at receiver?
Quick thoughts:
— There's a lot of buzz about Blake Bell being able to successfully evolve into a solid tight end in time. Keep in mind that the former Oklahoma quarterback's father and uncle played tight end in the league. He is working hard to improve as a blocker, and he should be able to add weight to his 6-6, 260-pound frame. Speaking of tight ends, South Alabama's Wes Saxton is essentially a wide receiver playing the position and could be a nice downfield threat at the next level.
— Deon Long was a bit overshadowed in his college career by teammate Stefon Diggs, but the Maryland receiver is a good route runner and is able to make tough catches. He didn't get a lot of chances to show off his talent in the actual game, but he reportedly shined during the practices leading up to the contest.
— The guard class in this draft is not very deep, so Louisville's John Miller may have made some additional money with his play on Saturday. He is a very good run blocker who was a four-year starter. Could he make his way into the third round, where five guards were picked in last year's draft?
Dave Miller, the college football editor for the National Football Post, is on Twitter @Miller_Dave.