June 30, 2012 -
Dave Miller
5 Big East players to watch in 2012
Today, as we look ahead to the 2012 college football season, let's take a look at five players who will be on the spot in the Big East throughout the fall.
Click here for the Big 12 five players to watch, which ran on Monday.
Click here for the ACC five players to watch, which ran on Tuesday.
Click here for the SEC five players to watch, which ran on Wednesday.
Click here for the Big Ten five players to watch, which ran on Thursday.
Click here for the Pac-12 five players to watch, which ran on Friday.
Rutgers RB Savon Huggins: There is no question that Huggins has all the talent in the world. But his freshman campaign was cut short due to a knee injury, and he recorded a disappointing 146 rushing yards and 2.6 yards per carry. The former New Jersey No. 1 recruit looked nothing like the player who had a record-setting career at St. Peter's Prep in Jersey City, so he will now have to fight for carries with Jawan Jamison, who rushed for 897 yards and nine touchdowns as a redshirt freshman last season. The 6-1, 200-pound Huggins did find the end zone five times, however, and he is determined to put his rough debut campaign behind him. His success could go a long way in helping this Rutgers offense move the football, as there are major issues at the quarterback position.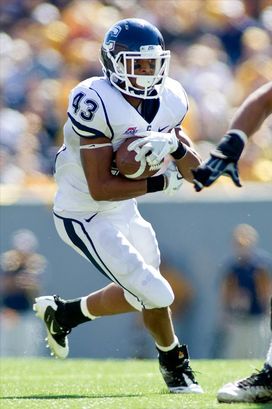 ICONLyle McCombs will try to prove that his 2011 season was no fluke.
UConn RB Lyle McCombs: Like Rutgers, the Huskies have serious issues at quarterback, and that's been the case for the past several seasons. Johnny McEntee looked lost at times on the field in 2011, so this spring he was joined by Michael Nebrich and Scott McCummings to compete for the starting gig. Early enrollee freshman Casey Cochran and junior-college transfer Chandler Whitmer joined the mix as well. And it appears that Whitmer may have the edge because of his spring performance. Still, head coach Paul Pasqualoni has to be worried about the position, so the Huskies need another big season from the 5-8, 172-pound McCombs, who is looking to repeat his 1,151-yard season from last year.
South Florida DE Ryne Giddins: When you think of South Florida, you likely think of skilled pass rushers such as George Selvie and Jason Pierre-Paul. Giddins could be the next Bull in line to carry the mantle for Skip Holtz's squad after having a very good spring. The 6-3, 262-pounder became more productive as the 2011 season progressed and could be primed to have a breakout year for USF after recording three sacks in the team's spring game. He had 5.5 sacks, 11 tackles for loss and three forced fumbles, earning second-team Big East last fall. And just think: Holtz and the Bulls will add Notre Dame star transfer Aaron Lynch in 2013. Imagine Lynch lining up opposite Giddins. That's a scary thought for opposing Big East offensive tackles.
Cincinnati WR Jordan Luallen: The former quarterback has moved to receiver, and he is also expected to be the Bearcats' Wildcat quarterback as well. The 6-3, 214-pounder saw playing time with Munchie Legaux at QB last year when Zach Collaros was injured, but his desire to contribute any way he can led to the position switch. Luallen is one of the team's best athletes, so head coach Butch Jones has to be excited that he will be able to add another skilled talent to the offense. Luallen showed his big-play potential on the ground last season when he ran for 135 yards on 22 carries.
Louisville RB Dominique Brown: Another player getting comfortable after a position switch is Dominique Brown, who moved from quarterback to running back last fall and now could win the starting job in the backfield. He finished second on the team with 533 rushing yards in 2011 and was a key part of the team's Wild Card formation. The 6-2, 221-pounder has the body to absorb big hits and pick up tough yards between the tackles, and he will see plenty of carries no matter who is the Cardinals starter, whether it is he, Corvin Lamb, Jeremy Wright or Senorise Perry.
Email dave.miller@nationalfootballpost.com or follow me on Twitter at Miller_Dave