July 04, 2012 -
Dave Miller
5 things to watch for this summer
With the Fourth of July upon us, let's set the stage for the rest of the summer across the college football landscape and talk about five stories that will be front and center.
1. How will the selection committee be formed?: As I've mentioned in this space before, I'm not the biggest fan of having a selection committee choose the four teams in the new playoff model, which will debut in 2014. However, the powers-that-be have decided that a committee is the best route to take. So who will comprise the group? If the committee is comprised of former players, coaches, athletic directors, SIDs, etc., there will be natural bias involved. That's just the reality. So expect the group to be larger rather than smaller in an attempt to negate and even out such bias. I would propose that members of the media comprise the committee because we are the ones who watch the games regularly. However, expect former college football personnel to get the call. My argument would be that the sport could have been better off by tweaking the current BCS — eliminating the Coaches' Poll, applying strength of schedule and enhancing the Harris Poll. Instead, expect a committee between 8 and 15 members. When will this committee be formed? Expect BCS honchos to discuss throughout the summer, but I wouldn't expect plans to start to get finalized until perhaps after the 2012 regular season. There is some time to spare, so this won't be a rush job.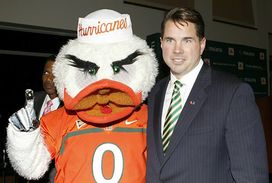 When will the NCAA decide the fate of Al Golden and Miami?
2. Miami's response from the NCAA: I've heard a variety of time frames given for the NCAA's response to Miami from its investigation into the allegations surrounding former rogue booster Nevin Shapiro and the Hurricanes program. Since North Carolina learned its fate, all eyes have been on Miami and whether head coach Al Golden and the Hurricanes will eventually be handcuffed by NCAA sanctions. It appears that Miami's case is still not close to being decided, however. But Golden and Co. should be a bit more optimistic because the program self-imposed a bowl ban. North Carolina didn't, and so Larry Fedora's squad will be ineligible for the postseason in his first year on the job. If the NCAA is able to prove a good amount of Shapiro's allegations (some have already been proven because we have seen football and basketball suspensions), look for scholarship reductions to occur. I just feel that it will be a long time before we see — if we ever see it again — scholarship limitations as excessive as what USC was given and is experiencing right now. Although the governing body may want to establish a new ceiling of penalties and make an example out of the 'Canes. Either way, I don't think the Hurricanes will learn their fate until possibly at the end of the 2012 football season. The good news for Hurricane fans is that it doesn't appear that possible sanctions on the program have greatly affected Golden's currently comprised Class of 2013.
3. Conference realignment/expansion: With major college football finally getting a playoff system — albeit one that isn't that much different from the current BCS — I expect conference expansion and realignment to come to a standstill. But, like most major issues in college football, expect the unexpected. And definitely expect to continue to hear chatter regarding Notre Dame, the further depletion of the Big East and whether or not the Big 12 is ready to get back to 12 members. However, with so many new television deals being inked and the new postseason picture coming into focus, I just don't think we'll get any real traction on further realignment until around 2014. But that won't stop the rumor mill from spinning.
4. Recruiting: I can't remember an offseason in which recruiting news has been at the forefront as much as this one. As we already know, recruiting is the lifeblood of every program. Look no further than down in Tuscaloosa, where Alabama's Nick Saban doesn't rebuild. He simply reloads. Keep an eye on your favorite team, because it's likely that its Class of 2013 already has a good number of verbal commitments. Of course, nothing is official until that signed Letter of Intent comes in next February. But a lot of high school players will be true to their word as well.
5. The police blotter: We've already seen 2011 SEC freshman of the year Isaiah Crowell kicked off of Georgia, which will hamper but not decimate the Bulldogs' backfield. Unfortunately, off-the-field issues occur in college football all of the time. Remember the fiasco LSU's Jordan Jefferson ran into last year shortly before the season began? Hopefully we don't see any more incidents, but prepare for the worst. Remember some of the things that you did in college? Keep in mind that these players might do some of the same — and more. But they are just under a brighter spotlight than we were.
Email dave.miller@nationalfootballpost.com or follow me on Twitter at Miller_Dave