June 13, 2012 -
Dave Miller
A 4-team playoff model could be on its death bed
CHICAGO — The 11 Football Bowl Subdivision commissioners plus Notre Dame athletic director Jack Swarbrick released a statement about the group's progress at the BCS meetings today in Chicago where they discussed a potential playoff system for major-college football.
"We made progress in our meeting today to discuss the future of college football's postseason. We are approaching consensus on many issues and we recognize there are also several issues that require additional conversations at both the commissioner and university president levels.
"We are determined to build upon our successes and create a structure that further grows the sport while protecting the regular season. We also value the bowl tradition and recognize the many benefits it brings to student-athletes.
"We have more work to do and more discussions to have with our presidents, who are the parties that will make the final decisions about the future structure of college football's postseason."
The group returns to Chicago next Wednesday to continue to work toward postseason change.
So what does this all mean?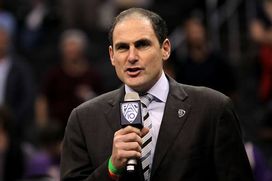 Larry Scott and his fellow commissioners are turning the playoff decision over to the college presidents.
Well, the conference commissioners will continue to narrow down and refine the playoff options next week so that ultimately the presidents will review and decide on a new playoff model. These options will be presented by the commissioners to the Presidential Oversight Committee on June 26 in Washington, D.C., where many believed a playoff model would get the stamp of approval.
But that may not be the case considering there are still many issues to work out and it's already June 13.
Each conference commissioner, of course, has a certain agenda for his league, so compromise is needed. Consensus is also ultimately needed, because majority doesn't rule when it comes to the BCS. Consensus is the only thing that matters.
Not only is it possible we won't be waking up June 27 knowing that a four-team playoff model is in place for 2014, but it's possible that the Plus-One model will be the fallback plan for the college presidents sifting through the various models they will be presented in D.C.
BCS executive director Bill Hancock did say that the status quo (the current BCS system) is not on the table. So that's good news for those who want postseason change. He would not confirm, however, if the Plus-One model was still a viable option.
It's safe to say, though, that it very much remains an option because it best protects the regular season and the bowl games, which is exactly what the majority of college football's power brokers have wanted all along.
While it's still entirely possible we end up with a four-team playoff, there are major issues to be resolved, including how those four teams are determined, whether it will be comprised entirely of conference champions, how Independents fit in as well as whether a selection committee will be used. How the revenue will be divided among the 11 conferences and Notre Dame is also an underrated but a huge issue. Notre Dame AD Jack Swarbrick did say that the four-team playoff model "continues to be our focus," but he admitted that the implementation elements of the four-team model need to be ironed out. And time is running out before the June 26 meeting with the Presidential Oversight Committee.
It's almost a guarantee that the bowl games would be part of that equation, with the national title game being bid out. But there seems to be gathering momentum that the Plus-One system is the fallback plan. And Harvey Perlman, the Nebraska chancellor, maintains that the Plus-One is the best option. It keeps ties to the Rose Bowl, Orange Bowl, Sugar Bowl, etc. And it also would help the new Big 12-SEC Champions Bowl seamlessly transition into the current postseason system.
But with all of the momentum having trended toward a four-team playoff throughout the offseason, are commissioners and presidents ready to toss all of that aside and settle for a Plus-One? That could indeed be the case. Perhaps they feel that a Plus-One is enough change — for now. Keep in mind that we are always reminded by conference commissioners that the presidents are in control. If enough presidents think that a Plus-One is sufficient, we could get be headed down that road.
No matter what model is agreed upon, it looks like an eight-year contract will be signed with a television partner. So we would be dealing with this model — whether we like it or not — for a long time.
Email dave.miller@nationalfootballpost.com or follow me on Twitter at Miller_Dave