January 05, 2012 -
Dave Miller
A case for Dooley
There's no question that things have been tumultous on Rocky Top since Phillip Fulmer's second-to-last year at Tennessee in 2007 — the last time the Volunteers won more than seven games in a season.
Fulmer's final campaign in 2008 ended without a postseason berth. Then, Lane Kiffin stormed into town and boasted that Florida's place atop the SEC East was nearing its end.
A little more than a year later, Kiffin bolted Knoxville to take the head job at USC.
Enter Derek Dooley, the son of former Georgia head coach and athletic director Vince Dooley. The former assistant to Nick Saban was hired away from Louisiana Tech on January 15, 2010, mere weeks before National Signing Day. Given an incredibly short amount of time to salvage the year's recruiting class, Dooley managed to bring a Top 10 haul to Knoxville.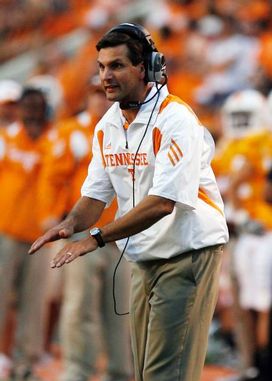 ICONDerek Dooley is 11-14 in his first two seasons in Knoxville.
But the expectations for the team weren't high for 2010, and rightfully so. With some players leaving because of the coaching change, a youthful team lacking depth started the season 2-6. However, behind freshman quarterback Tyler Bray, Dooley led the squad to four consecutive wins to close the regular season and get the Vols to the Music City Bowl, where they fell to a North Carolina team laden with NFL talent.
But this past season was a different story. And it left a bitter taste in a lot of Vols fans' mouths.
The Volunteers finished a disappointing 5-7, including a season-ending loss to Kentucky, ending a 26-game winning streak against the Wildcats. With the 6-7 mark in 2010, the Vols finished with losing records in back to back seasons for the first time since 1910-1911. That's why 2012 is so critical. However, many wonder if he should even get a third year in Knoxville.
Does Dooley need to turn it around quickly? Absolutely. Should he be on the hot seat? Absolutely not.
It's important to keep in mind that Dooley arrived at Tennessee to a roster that wasn't exactly oozing with talent and depth. Kiffin thought he had replenished the program with his lone recruiting class, but most of the players from that 2009 class have not panned out and are gone for various reasons: running back Bryce Brown, safety Janzen Jackson, receiver Nu'Keese Richardson and running back David Oku were the most highly regarded in that class, and none are still with the Vols. And there were many more roster casualties, which happens when a team hires its third head coach in as many years.
This offseason hasn't been any easier for Dooley either, as he's lost four assistant coaches, had a few recruits rescind their commitments and was criticized for how he handled receiver DeAnthony Arnett's transfer request. While I will be the first to say that he handled that situation poorly, Dooley isn't the only coach who would have put restrictions on an initial transfer request. The good news is that Dooley eventually righted his wrong. Consider it a lesson learned.
What is critical is that Dooley finds a strong replacement for Justin Wilcox, the experienced former Boise State coordinator who led a Vols defense that finished 28th nationally in total defense despite being an inexperienced and youthful group. Wilcox left for Washington to replace Nick Holt, who was fired after three seasons in Seattle. The Vols also lost Peter Sirmon, considered a rising assistant especially because of his recruiting prowess. Those losses obviously hurt. Hiring someone like Randy Shannon could help offset the loss of Wilcox, but the players must now buy into two more new coaches on the staff. And Dooley will need to find someone of Sirmon's pedigree to help on the recruiting trail.
We've seen head coaches get canned after two years on the job, most recently Turner Gill at Kansas. Unless there are off-the-field issues that are overwhelmingly negative, it's hard to understand why coaches are getting less time than ever to try to turn around a program. I understand that salaries have never been higher in the coaching ranks and that college football is big business, but coaches are only asking for what they know schools will pay. The coaching carousel, quite frankly, is getting ridiculous.
Because Dooley was able to put together back-to-back Top 15 signing classes, the Vols should be much improved in 2012. They'll return 19 starters next season. The play will be better, but this team needs better leaders and a stronger sense of team chemistry, including improved communication from its no-nonsense head coach.
Without question, Dooley has replaced Georgia's Mark Richt as the SEC head coach on the hottest seat because of the rocky first two seasons he's endured. But, given the dire state of the program he inherited, is it really fair?
Email dave.miller@nationalfootballpost.com or follow me on Twitter at Miller_Dave