June 07, 2011 -
Dave Miller
A graceless exit
Three Big Ten titles, two MVP performances in BCS victories and an undefeated mark against rival Michigan.
And still, the Terrelle Pryor legacy at Ohio State is not only incomplete. It's tainted.
The dual-threat quarterback walked away from his playing career with the Buckeyes while both the school and NCAA investigate allegations that he may have received cars and other extra benefits during his time in Columbus. Pryor had already been suspended for the first five games of the 2011 season for selling merchandise to a tattoo parlor owner.
His lawyer, Larry James, read a statement on behalf of his client in an evening phone call with The Plain Dealer.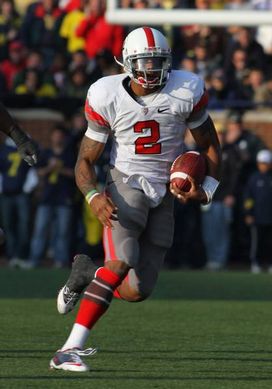 ICONTerrelle Pryor is officially done playing for the Buckeyes.
"In the best interest of my teammates, I have decided to forego my senior year of football at the Ohio State University," the statement read.
Pryor considered his options for several days, according to James, before making the decision on Tuesday evening.
While James said the decision does not mean the quarterback was facing further NCAA sanctions that could have ended his career in Columbus, there's no question that the scrutiny he was facing in light of Jim Tressel's resignation played a role in his decision. And the continued mess within the football program didn't make the choice too difficult either.
Is there any doubt that he will now test the waters of the NFL's Supplemental Draft?
Pryor finishes his three-year career with a 60.7 completion percentage, 6,177 passing yards and 57 touchdowns against 26 interceptions. He added 2,020 yards and 17 scores on the ground.
But his poor decision-making off the field will likely be the lasting memory for many fans of the 6-6, 233-pounder, who arrived on campus with great fanfare -- albeit six weeks after National Signing Day arrived.
He had image issues when he arrived on campus -- a disorderly conduct charge, a confrontation with opposing fans at a basketball game and involvement in a postgame fight. But he was in high school, and we typically write such things off as immaturity.
On the field he led the Buckeyes to great success. But the entitlement issues he possessed never went away. He was able to be late to meetings and late to practice. He didn't always have to show up for workouts. All of which, seemingly, was okay as long as the victories were racked up -- and they certainly were as the Buckeyes remained atop the Big Ten.
With a compliance department certainly not up to NCAA standards, Pryor and his teammates reaped the benefits. And when you're young, I guess there's no reason not to, right? Especially with adult supervision at a minimum.
But in terms of leadership, Pryor failed his teammates. And if, as James suggested, the rising senior signal caller was not facing further NCAA sanctions, why leave when the rest of your teammates are immersed in adversity? Why not stay and show support for a program that was so good to you for three years?
Certainly, there is plenty of blame to go around, starting with former head coach Jim Tressel and extending to school president Gordon Gee and athletic director Gene Smith. And you can include Big Ten commissioner Jim Delany, as well.
And, sure, the NCAA has become an even bigger joke than it has been in the past.
But the way Pryor is playing the "best interest of my teammates" card is even more laughable.
Email dave.miller@nationalfootballpost.com or follow me on Twitter at Miller_Dave