January 22, 2013 -
Dave Miller
A star-studded class is brewing at Ole Miss
On Monday, the National Football Post unveiled its Top 25 Class of 2013 team recruiting rankings with National Signing Day roughly two weeks away.
While these rankings are subject to change as players could commit and decommit before National Signing Day, which is on February 6, Ole Miss checked in at No. 13 on the list. And based on the momentum the Rebels currently have on the recruiting trail, head coach Hugh Freeze is primed to finish with a Top 10 haul in his first full recruiting cycle in Oxford. Quite an amazing story indeed.
Let's take a closer look at the Rebels' current crop of 2013 talent.
Already signed his Letter of Intent
DT Lavon Hooks: 6-4, 295-pounder from Northeast Mississippi CC (Atlanta, GA)
Hooks is a major addition for the Rebels, as he was one of the top-ranked JUCO players in the country. He chose the Rebels over major programs such as Auburn, Miami (FL), Nebraska, Mississippi State and Washington. And as most members of the 2013 class are stating, one of the big reasons why Hooks chose the Rebels was because of Freeze's embracing and down-to-earth personality. Hooks, who recorded 20.5 tackles for loss this past season, is fast enough to play defensive end but big enough to slide to the three technique.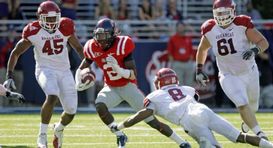 Nickolas Brassell is back at Ole Miss after serving a stint in community college.
WR Nickolas Brassell: 6-1, 200-pounder from East Mississippi CC (Batesville, MS)
The dynamic Brassell is back in Oxford after being forced to transfer out in May after becoming academically ineligible. He was one of the bright spots in a 2-10 2011 season, and he returns after finishing second on the team in catches (24) and receiving yards (336) that season. He also saw regular time at cornerback, starting one game and finishing with 14 tackles and five pass break-ups. His return gives Freeze's productive offense yet another weapon alongside Donte Moncrief, Vince Sanders and Ja-Mes Logan, players who finished with 30 or more catches and 450 or more receiving yards this past fall. Brassell could play in the defensive backfield, though all four starters return.
RB Mark Dodson Jr.: 5-10, 183-pounder from Whitehaven High School (Memphis, TN)
Dodson Jr. is an out-of-state all-purpose back whose elusiveness and versatility are his strong points. He has good vision but needs to add bulk and strength. However, he's deceptively strong when running between the tackles. A nice piece who could be used in spots, Dodson Jr. finished his prep career as the 2012 Tennessee Gatorade Player of the Year after rushing for 3,295 yards and 37 touchdowns while leading Whitehaven to the Class 6A state title.
ATH Quadarias Mireles: 5-11, 185-pounder from Hinds CC (Delray Beach, FL)
Mireles originally signed with Ole Miss out of high school in 2010, but he spent the last two years in community college. This past season he recorded 38 receptions and 828 all-purpose yards with four touchdowns. He could make an instant impact on special teams as a kick returner.
TE-Y Christian Morgan: 6-4, 250-pounder from Prestonwood Christian Academy (Plano, TX)
Morgan is a converted offensive lineman with good size who is known primarily for his blocking ability. But he is versatile enough to be a pass-catching option as well after recording 31 catches for 497 yards and five touchdowns in 2012.
Committed but not yet signed
WR Laquon Treadwell: 6-3, 195-pounder from Crete-Monee High School (Crete, IL)
Treadwell chose the Rebels over Oklahoma and Oklahoma State, and he is the top-rated player in the state of Illinois and the No. 1 receiver in the country. The addition of Treadwell is noteworthy not just because he is expected to be a significant offensive piece but he represents the changing times for this program. He is the first major national name in this class that has given his verbal. There is reason to believe that other high-profile recruits could follow in his footsteps.
DE Elijah Daniel: 6-3, 249-pounder from Avon High School (Avon, IN)
Daniel is the most recent high-profile recruit to snub top programs for Ole Miss. He held offers from major programs such as Clemson, Florida State, Georgia, Michigan, Ohio State, Oklahoma and Texas A&M.
QB Ryan Buchanan: 6-3, 203-pounder from Jackson Prep HS (Jackson, MS)
The pocket passer has vast experience working both under center and from the shotgun, and he has good mobility as well. He makes good reads and has good touch and velocity on the football. He almost has a three-quarters delivery, but it is effective. His quiet confidence seems to be contagious.
RB Kailo Moore: 5-10, 190-pounder from West Bolivar High School (Rosedale, MS)
Moore, who recently decommitted from Mississippi State after originially decommitting from Ole Miss as a junior, chose the Rebels over other major programs such as Tennessee and Alabama. He rushed for 1,234 yards and 15 touchdowns this past season and is the fourth running back to commit to the Rebels this year.
Also verbally committed: QB/DT DeVante Kincade, RB Peyton Barber, ATH Charles Williams, RB Eugene Brazley, OLB Rashawn Smith, WR Derrick Jones, OT Daronte Bouldin, DT Jarran Reed, DT Herbert Moore, OLB Marcus Robinson, OT Davion Johnson, ATH Trey Bledsoe, TE/H Evan Engram and ATH Bobby Hill.
What's next?
Freeze has already accumulated a strong 2013 class. But the haul could become even more outstanding if the Rebels are able to land the nation's best overall player, defensive end Robert Nkemdiche, and/or defensive back Tony Conner, who is a Top 5 DB nationally. Both hold the Rebels very high on their lists, and Nkemdiche's brother, Denzel, is a starting linebacker in Oxford. Additionally, their mom wants them to play together in college. Conner, meanwhile, has reportedly narrowed his decision down to either Ole Miss or Alabama. Then there is Carl Lawson, a defensive end from Georgia who seems to have a strong interest in the Rebels. While he is verbally committed to Auburn, some recruiting analysts believe that he could land at Ole Miss on Signing Day if other top-rated recruits head to Oxford. Lawson is simply one of the best defensive ends in the country.