May 26, 2013 -
Dave Miller
Academics bounce Golson from Notre Dame
Notre Dame starting quarterback Everett Golson is no longer enrolled at the school, and his departure is apparently academic-related, as first reported by the Chicago Tribune.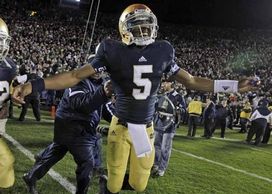 Everett Golson is no longer enrolled at Notre Dame.
The news is a huge blow to a Fighting Irish team that went undefeated in the regular season in 2012 before losing to Alabama in the BCS national championship game. The dual-threat signal-caller was expected to have a much larger role in the offense this fall. Now, head coach Brian Kelly and Co. must turn to a Plan B that no one expected to be put to use.
The 6-1, 185-pound South Carolina native started 11 games as a redshirt freshman last season, completing 187-of-318 passes for 2,405 yards and 12 touchdowns against six interceptions. He added 298 yards and six scores on the ground and finished the regular season strong after an up-and-down first few months as the starter. The Irish finished 54th in the nation in total offense, including 71st in passing offense, in 2012. However, the Irish coaching staff was excited about the young playmakers around Golson and the game slowing down a bit for the QB as he entered his second season.
Tomorrow morning at the NFP I will break down how Golson's departure affects for the starting quarterback spot in South Bend. Of course, the depth at the position already had taken a hit this offseason when Gunner Kiel transferred to Cincinnati last month. Senior Tommy Rees has 18 career starts under his belt and spelled Golson a few times last year. Fourth-year junior Andrew Hendrix and spring enrollee Malik Zaire fill out the depth chart. Zaire is certainly intriguing, but there's no question that Kelly did not expect him to enter the mix quite so soon.
It's also important to note that not a lot is known in regards to Golson's academic situation. Keep in mind that former Irish players Julius Jones and Darrin Walls are examples of players who were gone from the team for a year because of academic issues but then returned. Perhaps that could be an option for Golson, but we shall see.