July 25, 2011 -
Barry Dorey
ACC Media Days notes: Day 1
All eyes are on Pinehurst, N.C., as ACC Media Days kicked off Sunday for the 12-team conference.
League commissioner John Swofford used his opening speech to echo some of the sentiments of Mike Slive, the head honcho of the SEC who offered some major talking points on NCAA reform last week at his league's media days. Swofford acknowledged that college football is at a crossroads. And he should know, considering the problems occurring at ACC members North Carolina and Georgia Tech recently.
"It has to be about programs that win, but also about programs that play by the rules and graduate their players," Swofford said. "I think winning is really important. But if you have to cheat to win, you really haven't won at all, have you?"
For an in-depth look at Swofford's thoughts on a variety of subjects, check out his sit-down interview with Brett McMurphy of CBSSports.com.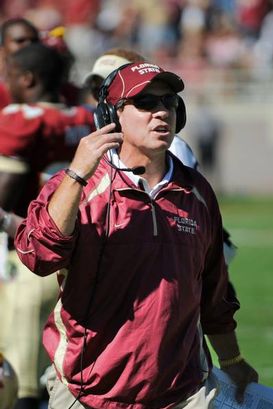 ICONThere are high expectations for Jimbo Fisher and Florida State this fall.
Regarding the league's prospects entering the 2011 season, the commish stressed that it's time for the ACC to step up and start winning some nonconference contests. Florida State and Virginia Tech are clearly the two best teams in the league, but which other teams are primed to step up? And can the league avoid becoming a national laughingstock because of bad early-season losses?
In 2010, the Hokies dropped their first two games against Boise State and FCS foe James Madison before running the table and earning a berth to the Orange Bowl. Of course, Stanford took care of business in Miami. North Carolina, faced with a depleted roster, began the year with a loss to LSU in Atlanta. Clemson dropped out-of-conference tilts against Auburn and South Carolina while Miami fell to Ohio State.
"Obviously, we need to win more of our high-profile games against nonconference opponents," Swofford said. "That's the one thing we haven't done enough of in recent years. We've had some of it, but not enough of it. For us to gain the kind of respect we want for Atlantic Coast Conference football, those are the kind of games we need to win going forward."
The biggest problem remains the league's performance in BCS play. The last time an ACC team won a BCS game came during the 1999 season, when Florida State won the BCS national championship. In total, the ACC has just two victories in BCS games — a 2-11 all-time mark. Even the Mountain West has more (two wins by Utah, now a member of the Pac-12, and one by TCU, which will move onto the Big East after this season).
The league's nonconference games to watch this fall feature major contests on September 17, when Miami hosts Ohio State, Oklahoma visits Florida State, Maryland travels to West Virginia and Clemson battles Auburn. Is the ACC ready to reverse course and change its fortunes?
Youth at quarterback
Besides Maryland's Danny O'Brien, Duke's Sean Renfree and Florida State's EJ Manuel — who has experience starting when Christian Ponder battled injuries the last few seasons — there is a plethora of youth at the quarterback position in the ACC. While Renfree played much better in the second half of the 2010 season and Manuel has sparked the 'Noles at various times off the bench, O'Brien and new Clemson signal-caller Tajh Boyd were the only ACC quarterbacks to have thrown more touchdown passes than interceptions in 2010.
But there is reason for optimism.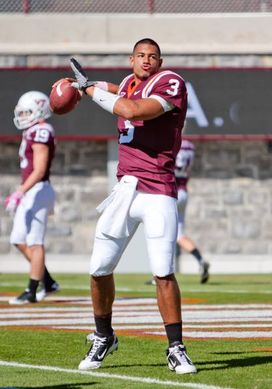 ICONLogan Thomas is an imposing presence under center.
While Tyrod Taylor had a penchant for putting his Virginia Tech teammates on his back, the Hokies are grateful to have such an intriguing talent taking over under center in Logan Thomas. While many like to compare him to last season's Heisman Trophy winner Cam Newton because of his stature — he stands 6-6 and weighs 245 pounds — Thomas is more of a pocket passer than the dual-threat Newton. But Virginia Tech opponents will find out sooner rather than later that Thomas can put his head down and run as well.
At Miami, will senior Jacory Harris be able to fend off competition from sophomore Stephen Morris with a strong camp? More importantly, if he wins the job, could the senior avoid the turnovers that really plagued his 2010 season?
Note: The league's 12 head coaches will hold their pressers on Monday. I will have highlights on Tuesday morning at the NFP.
Email dave.miller@nationalfootballpost.com or follow me on Twitter at Miller_Dave