July 26, 2011 -
Barry Dorey
ACC Media Days notes: Day 2
ACC Media Days concluded on Monday in Pinehurst, N.C., and several head coaches in the league weren't exactly in favor of some of the sweeping changes proposed for the sport by SEC commissioner Mike Slive last week.
Maryland's Randy Edsall is "dead set against" the idea of handing out multiyear scholarships. Clemson's Dabo Swinney thinks it's "crazy" to raise the minimum GPAs. And Virginia Tech's Frank Beamer wouldn't mind the cost-of-attendance increase, "but it has to be the same across the board, whichever school they go to." Florida State's Jimbo Fisher simply said, "Go fix what's wrong." Safe to say he doesn't think GPAs are the problem in recruiting.
Expect the same kind of reactions from head coaches as Media Days continue across the country.
The 'Noles are the favorites; Harris is preseason POY
Florida State is expected to occupy a high ranking in the preseason Top 25, so it should come as no surprise that the Seminoles are the media's pick to be 2011 ACC champions. FSU was the overwhelming favorite to win the Coastal division, while Virginia Tech was the prohibitive favorite to claim the Atlantic division. A total of 60 writers picked a Florida State-Virginia Tech ACC title game, with 45 picking the 'Noles to win that contest. In all, 50 writers selected FSU to win the conference title.
Who is the media's choice for ACC player of the year? Boston College running back Montel Harris took home the honors, netting 26 of the 71 votes. Florida State quarterback EJ Manuel claimed 14 votes while Harris' teammate, linebacker Luke Kuechly, received 12 votes. Harris rushed for 1,243 yards on 269 carries and scored eight touchdowns in 2010.
Davis takes responsibility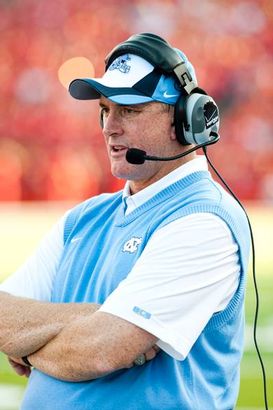 Butch Davis "fully and completely" took responsibility for the drama that has played out at UNC.
North Carolina head coach Butch Davis "fully and completely" took responsibility for the scandal in Chapel Hill that has the Tar Heels facing nine major NCAA violations.
"Anything that we can do to make sure that doesn't happen again, that's part of my responsibility," Davis said. "I regret greatly that these things have transpired, that these things have happened. And I don't take them lightly.
"This is a very, very serious issue. It's caused a tremendous amount of embarrassment and a tremendous amount of hard times, but we're going to get through this."
UNC officials will meet with the NCAA's Committee on Infractions on October 28 in Indianapolis — the day before the Tar Heels host Wake Forest. Davis, who faced a similar scenario at Miami in 1995, will be in attendance despite not being cited in the NCAA's notice of allegations last month. The Tar Heels were able to paint Davis' former associate head coach, John Blake, as the central figure in the scandal.
North Carolina has until September 19 to deliver a written response to the notice of allegations. Davis has also said that he will turn over his personal phone record, including everything that has anything to do with UNC-related business.
He's got game
Wake Forest head coach Jim Grobe shot an outstanding 1-under par 71 on Sunday at Pinehurst's No. 2 course, which was home of two U.S. Opens and will play host again in 2014.
"I don't know what happened," Grobe said. "I had balls bouncing off of trees and back into the fairway and I made a couple of putts and one thing led to another. But the course was dry so the tee balls were rolling out a little bit. That made for a good day.
"It was a 71 for 18 holes. But for my athletic director's purposes, it was a 71 for nine holes. He has to think I'm working harder on football than on my golf."
Pressure's on Swinney
Clemson head coach Dabo Swinney put together an excellent recruiting class this past February and received a vote of confidence from athletic director Terry Don Phillips a few weeks ago during a radio interview. But many Tigers fans were disappointed in the team's 6-6 regular season mark in 2010, and Swinney's coaching seat became even warmer after the Tigers fell to South Florida in the Meineke Car Care Bowl in Charlotte. Still, Swinney believes he has the confidence of his AD entering the fall.
"He hired me and I know he believes in me," Swinney said. "We've had two years working hard at this thing. We've had one good year and one not good year. He's been around a long time, and he recognizes what we're doing.
"He sees things on a day-to-day basis and is confident in how we're handling our players with discipline in our program and the big picture."
The team's outlook for 2011 will certainly improve if it can get instant production from top Class of 2011 players such as linebackers Stephone Anthony and Tony Steward as well as wide receiver Sammy Watkins. Swinney noted linebacker and wide receiver are two areas in need of immediate help.
While it seems as if he's been at Clemson forever, Swinney is entering just his third full season at the school. Of course, he feels that all head coaches should get five seasons before being judged.
"Absolutely," he said. "I think unless you just have some major issues, major problems, coaches have to have an opportunity to develop their program, recruit their guys, create their culture; there's a lot of things that go into running a program.
"But that's just a reflection of our society. We live in a microwave society where everybody wants it right now, just throw it in the microwave, you hit 'popcorn' and boom, you've got popcorn. It's the times we live in"
Email dave.miller@nationalfootballpost.com or follow me on Twitter at Miller_Dave