January 13, 2015 -
Dave Miller
Adding Miller would be a real coup for Oregon
It would be one of the most prevalent discussions in the world of college football this offseason.
How does Ohio State handle Braxton Miller, Cardale Jones and J.T. Barrett entering preseason camp on the roster with all three capable of leading a march toward a second consecutive College Football Playoff national championship?
Don't bet on all three signal-callers being in Columbus next season.
If Jones decides to bypass this spring's NFL Draft after just three career starts, expect a two-person battle between him and Barrett. Simply put, it would be stunning if Miller wasn't elsewhere.
Let's assume that Marcus Mariota has played his last down for Oregon. While he didn't say that he was officially going to make himself eligible for this spring's draft, it would be a massive upset if Mariota decided to come back to Eugene and risk an injury when he has a good shot at being the top overall pick or at least a Top 5 selection.
So Mark Helfrich, Scott Frost and Co. will need to identify a new starting quarterback in all likelihood.
Backup quarterback Jeff Lockie saw action late in the title game loss to Ohio State, as he entered the contest after Buckeyes defensive end Joey Bosa fell down hard on Mariota. But we haven't been able to see what Lockie can do on a consistent basis, as he had just 28 passing attempts in 2014. He will be the odds-on favorite to take over starting duties, though, heading into his redshirt junior season given the state of the Oregon quarterback depth chart.
The Ducks will also take a look at Georgia Tech transfer Ty Griffin, redshirt freshman Morgan Mahalak and Class of 2015 California dual-threat Travis Waller, a U.S. Army All-American Bowl participant who has been given high praise by a wide range of recruiting analysts not just for his running ability but for his accurate passing as well.
But not many quarterbacks in the nation are as talented and tested as Miller.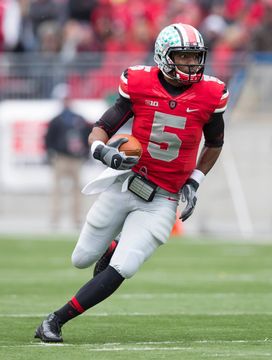 US PRESSWIREWill Braxton Miller play football outside of Columbus in 2015?
The Buckeye could come in and be a very suitable replacement for Mariota — and that's not taking anything away from the veteran's Heisman Trophy season. Miller doesn't have to match Mariota's numbers; he just has to effectively run the offense and be the big-play threat that has has proven to be throughout his career. Lockie just doesn't possess the same big-play ability.
In his Buckeyes career, Miller has recorded 8,346 total yards and 84 total touchdowns in three seasons. He was, at times, a one-man show. Pair him up with players such as running backs Royce Freeman and Thomas Tyner as well as receiving threats Byron Marshall, Bralon Addison, Darren Carrington, Devon Allen and Dwayne Stanford, and you're talking about a loaded offensive attack in Eugene next fall.
While no one offense is the same as the other, Miller is already familiar with spread tendencies and zone-read concepts. Even though the Ducks do have to re-assemble their offensive line for 2015, Miller's the type of athlete whose escapability would be very beneficial if the O-Line needs time to gel.
The one concern, however, is making sure Miller's shoulder is 100 percent healthy not just upon arrival but for an entire season. There's always risk in this sport, of course, but Miller may not be ready for spring practice. That isn't necessarily a huge deal, but getting him acclimated with the offense as soon as possible would be ideal. He would, of course, be able to at least familiarize himself with the playbook because he can transfer immediately and be eligible to play since he did already graduate from OSU.
While there are always questions when dealing with a transfer situation, bringing Miller aboard is a risk the Ducks should absolutely take if there's interest from the Buckeye. There's enough supporting talent to be Pac-12 champions once again.
And, perhaps, get another shot at that elusive national title.
Dave Miller, the college football editor for the National Football Post, is on Twitter @Miller_Dave.