June 26, 2012 -
Dave Miller
After 143 years, college football gets its playoff
Major-college football is finally getting its long-awaited playoff system.
The BCS Presidential Oversight Committee endorsed a four-team playoff within the bowl system in Washington, D.C., on Tuesday, with semifinal games each year being rotated among major bowl games. A national championship game will be bid out to a different major city every season.
A selection committee will choose four teams for the playoff each year.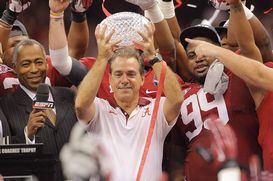 ICONNick Saban and every other head coach will have a more difficult path to claim a national title each season with the implementation of a four-team playoff.
The new system will be implemented for the 2014 campaign, with the first national championship game being held on January 12, 2015. The semifinals will be held on New Year's Eve and New Year's Day in bowl games each season.
There will be six major bowl games over this 12-year contract that will host the semifinals on a rotational basis each season. How the teams will be selected and how revenue will be distributed have yet to be determined.
Last season, the BCS contract paid out $174 million. This new three-game playoff could be pitched and sold to television partners for possibly as much as $5 billion over the course of the deal. Depending on if the semifinals and the championship game are sold separately or together, the annual payout could be roughly triple of what the BCS delivered this past season. So there is plenty of money at stake with this new format. The major question now is how that pie will be divided.
In terms of potential television partners, ESPN has an exclusive negotiating window before the bidding process is opened. But expect NBC, Fox and CBS to get in on the action as well.
While a 12-year deal would make it seem like an eight-team playoff is very far away, it will be interesting to see if this deal opens up for renegotiations in a few years, especially with two new major bowl games entering the equation as semifinal hosts. That, however, remains to be seen.
Most important is the fact that most people associated with major-college football are happy this Tuesday evening. One person who is not? Nebraska chancellor Harvey Perlman, who says the Big Ten will support a plan that was its third option. Of course, Perlman was a major proponent of a Plus-One system.
Email dave.miller@nationalfootballpost.com or follow me on Twitter at Miller_Dave