September 02, 2013 -
Dave Miller
After further review: Week 1
Although Week 1 is not quite over yet, as Florida State will battle Pittsburgh tonight at Heinz Field, let's take a look back at some of the highlights from the first weekend of the season. And be sure to check out the latest edition of the NFP Top 25 tomorrow.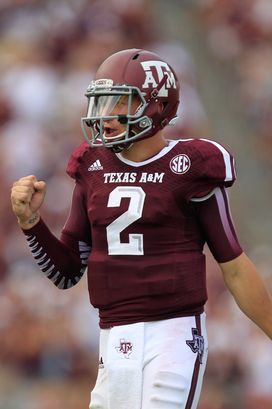 US PRESSWIREDon't expect Johnny Manziel to be disciplined by head coach Kevin Sumlin.
• I can't see Texas A&M head coach Kevin Sumlin sitting quarterback Johnny Manziel this week for his actions on Saturday against Rice, but he should. Not for Manziel's hand gestures or for his unsportsmanlike conduct penalty, either. Sumlin should sit the Heisman winner for disrespecting him while walking off of the field, bumping into him and walking away from his head coach. If no disciplinary action is taken, what does that say about who is running the show in College Station? Again, I don't see Manziel sitting, especially with the Alabama game looming. But Sumlin was embarassed on national television (the university as a whole was embarassed as well), and he is allowing the A&M program to become more of a circus than it even was leading up to the season opener. It's understandable for Manziel to have been filled with adrenaline because he had to sit out the first half against the Owls, but he showed little humility in his debut. And the Johnny Football drama has only escalated, with the school not making Manziel available to the media after Saturday's game and Sumlin being forced to answer questions about his quarterback. Sumlin can do nothing and play Manziel against Sam Houston State. That's what most expect to occur because Manziel has always had too much freedom. But while Manziel may give A&M the best chance to win every Saturday, Sumlin is actually letting an inmate run the asylum.
• Clemson established itself as a legitimate BCS national championship contender with its 38-35 win over Georgia, which was the program's second straight over an SEC squad. Dabo Swinney's team now has to stay focused and not look too far ahead because the Tigers have a friendly schedule that could allow them to be in the hunt for a spot in Pasadena. Clemson gets Florida State at home, and other than the regular season finale at South Carolina the Tigers should take care of business through their ACC slate. Chad Morris gets a ton of well-deserved credit for what he's been able to do with the offense, but Swinney brought him in and has done a wonderful job of motivating his team and becoming a better in-game coach. Tajh Boyd recorded five touchdowns and played turnover-free, and he began his Heisman Trophy campaign in brilliant fashion. Overall talent has never been the problem for the Tigers, although this is a Clemson defense that seems to be filled with more athletic and stronger players than even in the past. The major issue in the past has been notching a high-quality win and then maintaining that momentum through an entire season. We'll see if the Tigers can do just that this fall.
• Alabama failed to rush for 100 yards and only had 11 first downs in its 35-10 win over Virginia Tech. The Crimson Tide used special teams and defense to throttle the Hokies at the Georgia Dome, which was always the Hokies' method of winning. There's no question that the 'Bama offensive line, which replaced three starters from 2012, did not have a great game. But it's important to keep in mind that the Hokies' defense will be one of the better units in the country, especially up front. A cohesive offensive line was not going to be created in an offseason. The Tide's will need time to gel. However, major improvement is expected over the next few weeks. 'Bama has a bye before the A&M game, so offensive line coach Mario Cristobal has time to iron out the issues. 'Bama will be fine, and I expect a much crisper performance against the Aggies.
• Ohio State looked sloppy in its win over Buffalo, which isn't one of the MAC's better teams. The Buckeyes' front seven, which was a concern coming into the year, didn't make a strong impression as they look to get comfortable being full-time starters. Urban Meyer's squad didn't look like a Top 5 team, but keep in mind that the biggest adjustment comes from Week 1 to Week 2, so I expect a more crisp defensive game next week as well as a more finely tuned performance from quarterback Braxton Miller. Regarding Buffalo, the NFP's Greg Gabriel broke down the performance of star linebacker Khalil Mack, who had 9.5 tackles, 2.5 sacks and a Pick-6 in the contest. He was the best player on the field at the Horseshoe.
• Washington had perhaps the best overall performance of the weekend. The Huskies celebrated the renovation of Husky Stadium with a thorough beating of Boise State behind quarterback Keith Price, who very much looked like his 2011 self, going 23 of 31 for 324 yards and two touchdowns despite playing without Austin Seferian-Jenkins, the team's stud tight end. This is a big year for Steve Sarkisian, who returned a ton of talent from last year's squad. It is time the Huskies break through and become an elite program once again.
Other thoughts
• Jared Goff looked good running Cal's Bear Raid offense, and it's important to note that the two interceptions that Northwestern's Collin Ellis returned for scores came after deflected passes. Sonny Dykes' team has a chance to spring an upset in Pac-12 play. The first true freshman ever to start the season opener for the Golden Bears, Goff went 38 for 63 for 445 yards and two touchdowns.
• Oklahoma was expected to have serious issues on defense this season, but coordinator Mike Stoops and the Sooners did a nice job against Louisiana-Monroe star quarterback Kolton Browning, giving up only 161 total yards to Todd Berry's team. The Sooners were seemingly going to have issues up front, but that wasn't the case in Week 1.
• Cincinnati slaughtered Purdue in Tommy Tuberville's debut with the Bearcats, and the American Athletic Conference program will travel to Illinois this week in hopes of a two-game Big Ten sweep. As good as Louisville looked in its opener, Cincy will be a tough out for the Cardinals at the end of the year.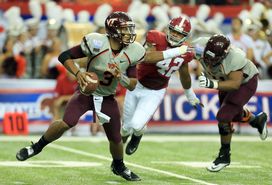 US PRESSWIRELogan Thomas is no longer a confident quarterback.
• I have maintained that Virginia Tech's offensive woes have been more systemic and attributable to a lack of playmakers surrounding Logan Thomas, but the big and mobile signal-caller has also not made his offensive teammates better. And that's concerning. Thomas was 5 of 26 for 59 yards with one interception against Alabama, and he only had two rushing yards. Scot Loeffler has a lot of work to do as offensive coordinator, but the confidence of Thomas looks shot.
• Christion Jones, my goodness.
• We know that Nebraska is going to be able to put up a lot of points this fall behind dual-threat star quarterback Taylor Martinez, but defensive woes may prevent the Cornhuskers from seriously competing for a Big Ten division title. Brett Smith and Wyoming recorded 602 total yards of offense against the Cornhuskers, losing 37-34 in Lincoln. How does such a defensive talent dropoff occur under Bo Pelini?
• Zach Mettenberger looked very comfortable in Cam Cameron's offense in LSU's win over TCU. The Tigers were very proficient on third down against a good TCU defense, and Mettenberger has weapons at receiver in Jarvis Landry, who is poised for a huge season after finishing 2012 strong, and Odell Beckham, Jr.
• Ole Miss was able to steal a road win at Vanderbilt on Thursday night, but it came at a cost. The Rebels lost star linebacker Denzel Nkemdiche for likely 4-6 weeks and offensive guard Aaron Morris for the season. Ole Miss has a brutal early schedule, with road games looming at Texas and Alabama. Top freshmen Laremy Tunsil and Austin Golson could step in for Morris and play well. But Nkemdiche is a big blow. By the way, true freshman wide receiver Laquon Treadwell is a star in the making.
• Kudos to the eight FCS teams that beat FBS squads over the weekend: Towson over UConn, Southern Utah over South Alabama, North Dakota State over Kansas State, Eastern Washington over Oregon State, McNeese State over South Florida, Northern Iowa over Iowa State, Eastern Illinois over San Diego State and Samford over FBS newcomer Georgia State.
Dave Miller, the college football editor and writer for the National Football Post, is on Twitter @Miller_Dave.