September 05, 2011 -
Barry Dorey
After further review: Week 1
Miami and Maryland close out Week 1 of the new season tonight, but let's take a look back at some of the highlights from a wild — mostly because of Mother Nature — opening weekend.
There's a fine line between winning and losing. LSU and Boise State showed that their defensive lines will once again be forces this season. But what else in new? The Tigers held Oregon to 95 rushing yards and forced Ducks quarterback Darron Thomas to throw 54 times. Just 28 rushing attempts for the Ducks? That's not Chip Kelly football. And the inexperienced offensive line looked overwhelmed against a strong SEC front four. Where have we seen that before? Meanwhile, if you take away Georgia's 80-yard touchdown by Brandon Boykin in the first quarter, the Broncos held the Bulldogs to just 57 yards on the ground. The Boise front four remains one of the more underrated units in the nation, but it's been a big part of the program's success over the last decade or so.
Note: Tigers fans may want to buy this t-shirt.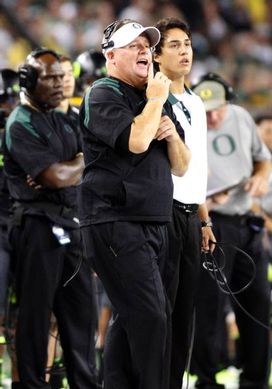 ICONChip Kelly still hasn't notched his signature win at Oregon.
Chip Kelly has yet to win his signature game at Oregon. While the third-year head coach has taken the Ducks to back-to-back BCS contests in his first two seasons, Kelly's teams have been unable to beat Boise State, Ohio State, Auburn and now LSU in his tenure. There's no shame in losing to those teams, but Kelly's squad was uncharacteristically sloppy in the 40-27 loss to the Tigers on Saturday night. No matter how many skill-position players have a chance to shine in that frenetic offense, turnovers will kill even the best of teams.
The Big East is no longer Least. Even though four of the wins came against FCS opponents, the Big East enjoyed an undefeated 8-0 opening weekend, highlighted by South Florida's victory over No. 16 Notre Dame. Syracuse's impressive comeback overtime win over Wake Forest — the Orange faced a 15-point fourth-quarter deficit — went under the radar last Thursday, but that was a big nonconference victory for Doug Marrone's squad especially after his defense didn't play well for most of the game. And while he only had 32 yards on 10 carries, highly touted true freshman running back Savon Huggins had two touchdowns in his debut.
The kid can play. Besides the off-the-field drama surrounding the dismissal of head coach Butch Davis and the NCAA investigation in Chapel Hill, the major question facing North Carolina heading into this fall was under center. T.J. Yates put together his finest season last year, so new starting quarterback Bryn Renner had some good shoes to fill. All Renner did in UNC's opener against James Madison was tie a school record with 14 straight completions and set an ACC record for completion percentage in a single game. He completed 22 of 23 passes, and interim head coach Everett Withers' squad could be a real sleeper in the ACC if Renner can play well all season.
The ACC can't help itself. Yes, an ACC member suffered another bad loss to an FCS squad. Duke lost to Richmond, making it the third straight year that the league lost to an FCS opponent. Head coach David Cutcliffe, known for his offensive mind, is running out of time to turn things around in Durham. Sneaking into a minor bowl game at 6-6 should have been the expectation this season for the Blue Devils. Can they bounce back from this defeat?
Does Notre Dame have a quarterback? Head coach Brian Kelly never imagined he would have to reassess his team's options at quarterback, but that's exactly what he and his staff had to do after the Irish fell to South Florida on Saturday. I expect Tommy Rees to start the game against Michigan next weekend and keep the job throughout the season because the offense just seems to be in better sync when he's at the helm. Dayne Crist certainly didn't get helped by his teammates, but Rees gets the ball out of his hand quicker and the game is never too fast for him despite his limited experience.
No Persa, no problem. Despite the fact that he was arguably the Big Ten's MVP last season, Dan Persa wasn't missed too much against Boston College in Northwestern's opener. The Wildcats faced a tough challenge on the road against a team that historically is tough to play against because the Eagles are fundamentally sound. But NU backup signal-caller Kain Colter directed his team to victory as the Wildcats received strong play from their offensive line against a good rush defense. Now the only question is how long it will take for Persa to get back to 100 percent strength.
Wisconsin has a scary offense. The Badgers have been scoring points in bunches the last few seasons under coordinator Paul Chryst, but having a dynamic dual-threat quarterback in Russell Wilson definitely makes this offense even more electric. He recorded 317 total yards of offense, including 255 yards and two touchdowns through the air. He also added a 46-yard touchdown run. Scary good offense indeed.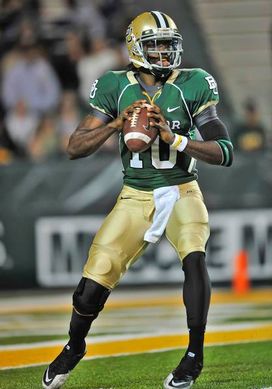 ICONRobert Griffin III delivered a studly performance against TCU on Friday night.
RG III finally gets some love. It's been tough for Robert Griffin III to get some recognition nationally because he's been playing at Baylor. But with the team's wild win over TCU on Friday night, the attention finally came Griffin's way. Griffin took advantage of a young TCU secondary to throw for 327 yards and a career-high five touchdowns. He also caught a 15-yard pass on third down on the game-winning drive. The first Heisman moment of the season?
Mike Riley could be in for a rough season at Oregon State. The Beavers fell to FCS member Sacramento State in overtime, the worst loss for the school since falling to Montana in 1996. The defensive depth is really lacking, which is partly a result of underwhelming recruiting classes. With Wisconsin on the schedule this week, the Beavers are staring at an 0-2 start.
Is Rick Neuheisel on even thinner ice at UCLA following his team's loss to Houston? While I don't think athletic director Dan Guerrero would buy him out unless the team's suffers through another disastrous season, the Bruins just can't lose nonconference games such as the one against the Cougars. I like Kevin Sumlin and Case Keenum, but Neuheisel gets paid to handsomely to win those games.
Ted Roof has some work to do. The Auburn defensive coordinator will have to work extra hard with his unit this week after it allowed Utah State to rack up 27 first downs and 448 yards of total offense in the Aggies' near-upset bid, which was directed by true freshman quarterback Chuckie Keeton. This unit is very young, but it is talented. How will they look against Dan Mullen's high-powered Mississippi State offense next week?
Email dave.miller@nationalfootba llpost.com or follow me on Twitter at Miller_Dave