November 03, 2014 -
Dave Miller
After further review: Week 10
Week 10 of the 2014 college football season is in the books, and Ole Miss more than likely saw its College Football Playoff hopes get extinguished in a heartbreaking loss to Auburn.
Despite strong play from quarterback Bo Wallace, the Rebels' stout defense could not quite contain the Auburn offense, as the Tigers continued to put together an impressive one-loss resume. Meanwhile, Power Five unbeatens Mississippi State and Florida State survived scares to remain unblemished.
Plenty of storylines played out across the country by the end of Saturday evening. Here are my biggest takeways from the weekend's action.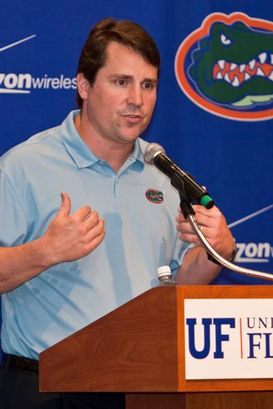 ICONWill Muschamp led the Gators to a huge win over Georgia this past Saturday.
• Job-saver for Muschamp? Florida head coach Will Muschamp was on his way out. There's no question about it. The Gators' brutal home loss to Missouri set the stage for what seemingly looked to be a downward spiral for the rest of 2014, and athletic director Jeremy Foley essentially wasn't going to have any other choice but to dismiss Muschamp at the end of this year. So what happened on Saturday given the climate surrounding the UF program was incredible. The Gators dominated Georgia in the World's Largest Outdoor Cocktail Party, 38-20, which has at least temporarily breathed life back into UF's season. Freshman quarterback Treon Harris attempted only six passes, which was possible because the Gators dominated on the ground. They ran the football 60 times, with Matt Jones and Kelvin Taylor each carrying it 25 times and rushing for over 190 yards and two scores each. Keep in mind that the Georgia defense had entered the week ranked 11th in the country in rushing defense. It was incredible to watch the Bulldogs' defensive front struggle so much. There is still a long way to go for Muschamp and Co., and we'll find out if the Gators can finally be a consistent outfit on offense. But it certainly was a huge win for Muschamp — at least in the very short term. Florida is now 18-1 under Muschamp when holding a lead of at least 14 points at any point in the game.
• Marshall essentially controls its own destiny. The Thundering Herd didn't even play this past weekend, yet they came out of Saturday as big winners after East Carolina fell on the road 20-10 to Temple. Because the Pirates were ranked No. 23 in last week's initial College Football Playoff Top 25 poll, the assumption was that ECU was in line to grab that automatic Group of Five 'New Year's Six' bowl slot if it won out. Now, Marshall would figure to be the top dog in line for that spot if it runs the table. Colorado State may actually be the best Group of Five team in the country, but the Rams need Boise State to suffer a Mountain West loss to have any chance at a big bowl spot as the selection committee's top-rated conference champion from the Group of Five leagues. We will see if Marshall is in this week's Top 25. If the Herd aren't, we won't know exactly where they or any other team from the Group of Five stand. The committee will unveil 25 teams and 25 teams only on Tuesday night. Back to Temple for a moment. Head coach Matt Rhule is one of the best young program-builders in America, and he's doing it in front of sleepy, small crowds in Philadelphia. After going 1-11 a season ago, the Owls are a win away from bowl eligibility.
• Heartbreak City for Ole Miss. The Rebels' matchup with Auburn did not fail to live up to expectations, as the Tigers won 35-31 and swatted away a tough opponent on their tough road to Atlanta and a potential SEC title game appearance. For Ole Miss, it was a second straight week with a brutal ending to its game. Quarterback Bo Wallace played very well, putting his last-minute interception against LSU behind him and completing 28-of-40 passes for 241 yards and two touchdowns with no interceptions and adding 61 yards and a score on the ground. And he had help from his talented group of playmakers surrounding him as the offense looked in sync. The obvious awful part of the game was the injury to Laquon Treadwell, who had 10 catches for 103 yards and a touchdown before suffering the gruesome injury on what appeared to be a touchdown. However, he fumbled before breaking the plane and was tackled from behind and ended up fracturing his left fibula and dislocating his ankle. He will miss the rest of the season. Here's hoping he has a very successful recovery. Quick note on Auburn: Ole Miss hadn't allowed more than 20 points in its past 10 games, so Gus Malzahn should be proud of his offense for putting up 35 points and gaining 507 yards. Malzahn, by the way, has a 12-1 record in one-score games during his head-coaching career, including a 9-1 mark at Auburn.
• Oregon finally solved its Stanford problem. The Ducks hammered the Cardinal 45-16 in Eugene behind the strong play of quarterback Marcus Mariota, who went 19-of-30 passing for 258 yards and two touchdowns while adding 85 yards and two scores on the ground. Mark Helfrich's team is in firm control of the Pac-12 North and remain firmly in the mix for a College Football Playoff spot. Freshman running back Royce Freeman is a special player, rushing for 98 yards and adding 52 receiving yards, while Thomas Tyner averaged 6.3 yards per carry and had two touchdowns. After scoring a total of 34 points in their losses the last two seasons against Stanford, the Ducks racked up 30 first downs and only punted twice against the Cardinal. No matter who comes out of the Pac-12 South division, the team will have to face an offensive juggernaut that now has an offensive line protecting its QB. O-Line coach Steve Greatwood has done a nice job with this unit, though the return of left tackle Jake Fischer has made the biggest impact. Stanford sacked Mariota only once on Saturday, as the Cardinal lost their fifth straight game vs. an AP Top 25 team after winning 10 straight previously. In terms of that South division, Arizona State has just one loss and seemingly would be the biggest threat to Oregon in the league title game. The Sun Devils have a fairly manageable schedule. The only question is whether ASU could be a real player for the four-team playoff if it can beat Notre Dame.
Other thoughts
• It appears that Josh Dobbs is ready to grab the quarterback job and run with it in Knoxville. The Tennessee signal-caller helped the Vols secure an overtime win against South Carolina and get closer to a bowl game. Down 42-28 with 4:52 remaining, Dobbs had a 3-yard touchdown run and a tying 9-yard scoring pass to Jason Croom with 11 seconds left before an Aaron Medley 32-yard field goal in overtime won it for the Vols. Butch Jones gave Dobbs his first start this season, and it paid off. He ran for 166 yards and three touchdowns, going 23-of-40 passing for 301 yards with two touchdowns and one interception. He set the school mark for single-game rushing by a quarterback, breaking the record of 106 yards by Jimmy Streater in 1979. Dobbs was an intriguing talent coming out of high school, and I thought he had the talent to win the s tarting job in the preseason. But it appears he is finally starting to blossom, which bodes well for future Tennessee offenses. Meanwhile, the Gamecocks dropped to 4-5 on the year (2-5 in SEC play), and head coach Steve Spurrier didn't feel like taking any questions afterward.
Of course, it's understandable that Head Ball Coach was frustrated. But answering postgame questions from reporters is part of the job when a coach makes about $4 million per year. By the way, the Gamecocks' blown fourth-quarter leads this season: 13 (Missouri), 14 (Kentucky) & 14 (Tennessee). At 4-5, they have games left at Florida, vs. South Alabama and at Clemson. There is a chance the 'Cocks won't even go bowling this year. Stunning.
• Cal has a chance to sneak into a bowl game in Year Two of the Sonny Dykes era. Running back Daniel Lasco was the star of the show on Saturday for the Golden Bears with quarterback Jared Goff struggling. Lasco had 198 yards and three touchdowns to help Cal beat Oregon State, and the Bears are one win away from being bowl eligible one year after losing 11 games.
• Perhaps the best performance from the weekend that went unnoticed was UCLA's 17-7 win over Arizona. The Bruins received a strong game from Brett Hundley, who went 19-of-26 passing for 189 yards and had 131 yards on the ground. But perhaps most impressive was the defensive effort. Jim L. Mora's 'D' limited Rich Rodriguez's offense to under 3.0 yards per rush and just over 3.5 yards per pass.
• A lot has been made of the dramatic improvement of TCU's offense under coordinators Doug Meacham and Sonny Cumbie. But the Horned Frogs' 31-30 win over West Virginia on Saturday had a lot to do with the defense, which had always been the calling card under head coach Gary Patterson. Coordinator Dick Bumpas' unit forced five turnovers and held receiving weapon Kevin White to three catches for 28 yards. It was a big performance on the road considering quarterback Trevone Boykin didn't have a great game. Of course, the weather conditions probably helped stymie the WVU offense a bit, but the Frogs' defense deserves a lot of credit for their play in a tough environment. Kansas State travels to TCU this week for a huge Big 12 showdown with major playoff implications.
• Oklahoma needs more of the Trevor Knight we saw this past Saturday. The dual-threat signal-caller threw for 230 yards and three touchdowns while adding 146 yards and three scores on the ground in the team's 59-14 win over Iowa State.
• One week after his 249-yard rushing effort at Virginia Tech, Miami (FL) RB Duke Johnson had another strong day at the office, as he rushed for 177 yards and two touchdowns and added a receiving score in the team's win over North Carolina. Tar Heels head coach Larry Fedora needs to make fixing that defense a priority.
• It was tough to watch the career of Washington State quarterback Connor Halliday come to an end. The veteran Cougars signal-caller, who earlier in the year threw for a Division I record 734 yards against Cal, broke his leg in a loss to USC. He finished his career with 11,308 passing yards, including four games with at least 500 yards.
• It appears that the knee injury suffered by Nebraska star running back Ameer Abdullah isn't too severe. The Heisman Trophy candidate left the Cornhuskers' 35-14 win over Purdue with what has been diagnosed as a sprained MCL. The Huskers have a bye coming up, so there is a chance he can be ready to go for the contest against Wisconsin on November 15.
• Kudos to Western Michigan head coach P.J. Fleck, as the Broncos are bowl eligible after winning just one game last season. Could they actually win the MAC West division?
• With Marshall (8-0) having a bye, Florida State (8-0) storming back against Louisville and Mississippi State (8-0) surviving its test against Arkansas, three undefeated FBS teams remain.
• Washington linebacker Shaq Thompson had 174 rushing yards and 41 receiving yards in the Huskies' 38-23 win over Colorado. A linebacker!
• My College Football Playoff projections have not changed from last week. As of today, I have No. 1 Florida State vs. No. 4 Michigan State in the Sugar Bowl and No. 2 Alabama vs. No. 3 Oregon in the Rose Bowl. I still have not dismissed Notre Dame for that No. 4 slot, though. Remember, these are projections — how I think things will play out. Here are the rest of my bowl projections.
Dave Miller, the college football editor for the National Football Post, is on Twitter @Miller_Dave