November 10, 2014 -
Dave Miller
After further review: Week 11
Week 11 of the 2014 college football season is in the books, and Separation Saturday allowed us to see a clearer picture of the road to the inaugural College Football Playoff.
Four teams in the CFP Top 10 fell on Saturday, as Auburn, Kansas State, Michigan State and Notre Dame all suffered setbacks, essentially ending their hopes to make it into the four-team playoff.
Plenty of storylines played out across the country by the end of Saturday evening. Here are my biggest takeways from the weekend's action.
• Barrett's ascent. A lot of credit has to be given to Ohio State offensive coordinator Tom Herman, who is one of the rising assistants in the country. The Buckeyes destroyed the Michigan State defense in their 49-37 win. We knew that the Spartans were not as dominant on that side of the ball as they were in 2013, but they still entered the contest as one of the best units in college football. But it was no match for a Buckeyes offense that put together eight drives that included seven touchdowns and a missed field goal. The Buckeyes punted just twice, with one of them coming as they were trying to run out the clock. It was quite the show, and there's no way that OSU quarterback J.T. Barrett is riding the bench next year in Columbus. The redshirt freshman helped lead his team to 568 yards of total offense and a 10-for-14 mark on third down. Barrett finished 16-of-26 passing with three touchdowns and zero turnovers, as it was a rough night for Pat Narduzzi's Spartans defense. Barrett has dramatically improved week to week throughout the year, and it will be very interesting to see how the selection committee views the Buckeyes now. As I mentioned on Twitter Saturday night, the committee must take into consideration Barrett's youth and the team's offensive line issues in the Buckeyes' Week 2 loss to Virginia Tech. Since the loss to the Hokies, Barrett has thrown 23 touchdowns and just three interceptions while also running for seven scores.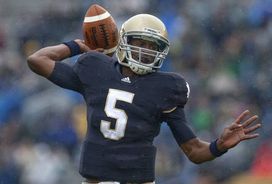 Notre Dame QB Everett Golson has 17 turnovers in his last six games.
• Angry BK. Brian Kelly was not happy after his team's atrocious play in the desert against Arizona State. Notre Dame was thrashed in Tempe, 55-31, as quarterback Everett Golson played his worst game as the leader of the Fighting Irish offense since arriving in South Bend. He tossed four interceptions, two of which were returned for touchdowns (though two of the picks weren't his fault), and Kelly called his play "sloppy" and "ridiculous." The team's College Football Playoff hopes are over, and it has to be a bitter pill for Kelly and the Irish to swallow because the team had a legitimate shot to get that No. 4 spot if it caught a few breaks. Now we have to wonder how ND bounces back from the debacle, with tests against Louisville and USC among games still to play. How will this meltdown affect Golson, who also lost an inexcusable fumble and now has 17 turnovers in six games? There is no question he had entered this season with improved passing mechanics and a stronger body ready for the rigors of a full season, but he has had major ball-security issues now for the last several weeks. While he seemingly gives the Fighting Irish their best chance to win, would Kelly have to consider giving Malik Zaire a shot? It's going to be an interesting week in South Bend, especially because Kelly maintained that the Arizona State defense ran "pretty standard stuff" and did not do anything that surprised the Irish. The ND head coach said that Golson must be more consistent, noting that he did some really good things in the second half after such a disastrous first 30 minutes. And this is still the same player that was outstanding at Florida State and still managed to throw for 446 yards against the Sun Devils. But he must play much cleaner contests. Meanwhile, just as Herman called a great game in the Buckeyes' beatdown of Michigan State, Arizona State offensive coordinator Mike Norvell was outstanding in the Sun Devils' takedown of ND. The five turnovers certainly helped, but Arizona State's offense scored 27 points in the first half, and the unit had a clutch 75-yard touchdown drive in the fourth quarter that helped ASU pull away when things became close. Norvell will be a hot commodity this offseason. And while Kelly may not have been impressed by the ASU defense, it grew up in a hurry after breaking in almost an entire new unit of starters in 2014.
• Heisman love. Trevone Boykin is putting serious pressure on Marcus Mariota in the race for the Heisman Trophy. Boykin may have surged ahead of Mississippi State's Dak Prescott up to this point, although the Bulldogs' signal-caller is very much in the mix and could make a real impact in the team's upcoming showdown with Alabama. Kansas State was unable to slow the new and improved Horned Frogs offense, as Gary Patterson's team put up 41 points, 553 total yards and went turnover-free in a 41-20 win over the Wildcats. Boykin went 23-of-34 passing and averaged over 7.0 yards per carry to help the Frogs pass a huge test as they try to get into the College Football Playoff. By the way, TCU is 71-4 under Patterson when rushing for 200 or more yards. And the Horned Frogs did it without leading rusher B.J. Catalon.
Other thoughts
• It was very surprising that Alabama quarterback Blake Sims attempted 37 passes in the team's 20-13 overtime win over LSU in Death Valley, but Crimson Tide offensive coordinator Lane Kiffin called a great series on the Tide's game-tying drive that resulted in a 27-yard field goal to force extra time. Sims completed only 16 passes, but he went 4-of-6 through the air as 'Bama went 55 yards over nine plays with less than a minute to play. Nick Saban's squad was only in position for that drive because the defense held the Bayou Bengals to a field goal before that series after Tide tailback T.J. Yeldon fumbled and twisted his ankle. Meanwhile, LSU had a chance to possibly enter the CFP discussion as a strong two-loss team, but those hopes were dashed with the loss.
• In one game, Auburn went from No. 3 in the CFP standings to third in the SEC West. The Tigers fell 41-38 to Texas A&M at Jordan-Hare Stadium, as Aggies true freshman signal-caller Kyle Allen had four touchdowns and the team averaged 5.0 yards per carry. It was a huge effort and quite a surprise considering the win came one week after A&M struggled against UL-Monroe following three straight losses. Gus Malzahn's team, which had two terrible fumbles late to aid the A&M win, is reflective of a conference that will likely struggle to get two teams into the playoff, although I didn't foresee that anyway because of the committee's conference champ criterion. The weekly cannibalization of the league is incredible — only Mississippi State and Alabama in the league have fewer than two defeats. So it is likely that the SEC will land only its conference champion in the top four, unless all hell further breaks loose. There is at least a chance that the playoff could feature Florida State, Oregon, TCU and Ohio State if those teams win out and the SEC becomes a further mess.
• Baylor owns Oklahoma. It's that simple. The Bears have won three of their past four games against the Sooners, the latest being a 48-14 effort in Norman. Baylor didn't turn t he football over and scored in all seven of its red zone trips, including finding the end zone five times. Wide receiver Corey Coleman had 15 receptions for 224 yards as well as a rushing touchdown, as the Bears knocked OU out of the AP Top 25 poll for the first time since the final rankings of the 2009 season.
• In his first career start, Washington State quarterback Luke Falk threw for 471 yards and five scores without an interception in the team's win against Oregon State. The former walk-on and redshirt freshman is the new starter with Connor Halliday done due to injury.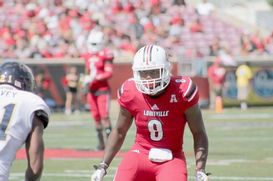 Louisville S Gerod Holliman had three interceptions against Boston College.
• Louisville's Gerod Holliman is awfully good. The safety's three-interception game against Boston College gave the Cardinal defender 13 on the season, which is one off of the FBS single-season record. Bobby Petrino's team has ND on its schedule, so there could be more picks on the horizon if Golson's turnover issues continue.
• Texas defensive end Cedric Reed's four tackles for loss helped lead the Longhorns' strong defensive effort in their win over West Virginia. The 'Horns held the Mountaineers to 3-for-17 on third down and forced two turnovers in the 33-16 win. A bowl berth would be huge for this team, as slowly but surely the Longhorns are buying into first-year head coach Charlie Strong. That's a great sign for Texas fans.
• Georgia bounced back nicely from its awful offensive effort against Florida in the World's Largest Outdoor Cocktail Party. Mike Bobo's unit put up 63 points in a win at Kentucky, jumping out to a 21-0 lead after the first quarter and finishing with 559 total yards. If Georgia can beat Auburn and if Missouri loses at Texas A&M, the Bulldogs will earn a spot in the SEC title game at the Georgia Dome. Meanwhile, the Wildcats have lost four in a row and need to beat either Tennessee or Louisville on the road to become bowl-eligible.
• I'm still stunned that we see players drop the football before being squarely in the end zone. Utah's Kaelin Clay, who struck the Heisman pose in the win over Michigan earlier in the year, dropped the ball on the one-yard line while celebrating what would have been a 79-yard touchdown to give the Utes a two-touchdown lead over Oregon. Instead, the Ducks recovered the ball and returned it 99 yards for a score, and Mark Helfrich's squad never looked back.
• Minnesota absolutely destroyed Iowa, as the Golden Gophers dominated the line of scrimmage in a 51-14 win. The Gophers ran 59 times and averaged nearly 5.0 yards per carry. Very strange loss for Kirk Ferentz's squad, and a really good win for Jerry Kill and Co.
• Arizona linebacker Scooby Wright is ridiculous. He has 12 sacks through nine games for the Wildcats.
• Memphis now has six wins, and the Tigers' administration better hope that Justin Fuente sticks around for awhile. The former TCU assistant is one of the best young program-builders in the nation, as the Tigers are tied for first place in the AAC after a 16-13 win at Temple on Friday night.
• North Dakota State's 33-game winning streak was snapped in a loss to Northern Iowa. It was the sixth-longest winning streak in Division I history.
• Here is the new NFP Top 25 for the week.
Dave Miller, the college football editor for the National Football Post, is on Twitter @Miller_Dave.