November 17, 2014 -
Dave Miller
After further review: Week 12
Week 12 of the 2014 college football season is in the books, and the race for a spot in the inaugural College Football Playoff is heating up.
Arizona State was stunned by Oregon State late Saturday night, all but eliminating the Sun Devils from a shot at the four-team dance. Meanwhile, No. 1 Mississippi State fell to Alabama in Tuscaloosa. How far will the Bulldogs fall in the CFP rankings?
Plenty of storylines played out across the country by the end of Saturday evening. Here are my biggest takeways from the weekend's action.
• Book that trip to NYC. Running back Melvin Gordon made history by the end of the third quarter of Wisconsin's thorough 59-24 beating of Big Ten West division rival Nebraska in Madison on Saturday, breaking the FBS rushing record. He carried the football 25 times for 408 yards and four touchdowns to break LaDainian Tomlinson's single-game record of 406 for TCU back in 1999. Not even two fumbles in the first half could ruin the historic performance, as he accomplished the feat in just three quarters of play. Simpy an incredible accomplishment against a Cornhuskers squad that entered the key clash with just the lone loss to Michigan State and possessed a defense that ranked No. 19 in the country against the run. It was a performance that absolutely should have clinched Gordon's ticket to the Heisman Trophy ceremony in New York, and he managed to even take some of the spotlight off of the Top 5 clash that was happening in Tuscaloosa between Mississippi State and Alabama. Entering the game as the nation's leading rusher, Gordon ripped off six runs of 39 yards or more to leave him just 91 yards away from 2,000 on the year. He is averaging over 8.5 yards per carry and has 23 rushing touchdowns. The scary part is that the Badgers could still have four more games left if they make it to the Big Ten title game. There is no doubt that he is a serious threat to Oregon quarterback Marcus Mariota's chase for the Heisman.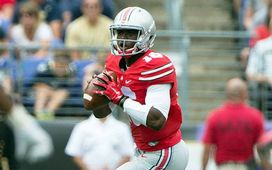 J.T. Barrett and the Buckeyes are surging.
• Don't discount the Buckeyes. One week after thoroughly picking apart the Michigan State defense in East Lansing, J.T. Barrett picked up where he left off and continued his surge up the Heisman Trophy rankings and continued to make Ohio State one of the more intriguing teams vying for a spot in the College Football Playoff. The No. 8 Buckeyes had a chance to notch a win over a CFP Top 25 team in Minnesota, which it did because of strong play from Barrett, who threw for 200 yards and three touchdowns while also running for a school quarterback-record 189 yards and a score. The strong performance in the 31-24 victory came one week after he recorded five touchdowns against the Spartans. It may not have scored points in the beauty contest that is the College Football Playoff race, but the win came in snowy conditions. It also helped OSU that Virginia Tech, which handed Urban Meyer's squad its only loss of the year, upset a one-loss Duke team. The Buckeyes still need help to reach the four-team dance, but they certainly continued their ascent.
• From No. 1 to...Mississippi State's loss to Alabama certainly hurt in the Bulldogs' quest to make the inaugural College Football Playoff. But Dan Mullen's squad still has a chance to reach the four-team dance even if it does not win the SEC West division and advance to the conference title game. We will see how the committee slots the Bulldogs on Tuesday night, but I have MSU at No. 5 in my latest Top 25. We clearly didn't see the Mississippi State offense that has looked so good at times throughout the season, and quarterback Dak Prescott likely fell out of the Heisman Trophy race. But the Bulldogs' late score makes the loss more respectable. However, their non-conference schedule will be a detriment, and there are several teams playing better football right now. That hurts the Bulldogs' case. One of those squads playing better football is Alabama, which never went anywhere despite some questioning whether it was still the king of the SEC mountain. The Crimson Tide received another clutch fourth-quarter drive from quarterback Blake Sims, whose scrambling ability has been a big boost to this offense. The Tide held a 19-13 lead early in the fourth quarter, and Sims led a 15-play, 76-yard drive one week after he drove 55 yards in the final 50 seconds to force overtime against LSU. Two scrambles on third and long kept the drive alive, and T.J. Yeldon put the finishing touches on it with a seven-yard touchdown run. Sims finished with 211 yards on 19-of-31 passing, and the offense didn't turn the ball over against MSU.
Other thoughts
• The Will Muschamp era has come to an end in Gainesville, as Florida lost a heartbreaker at home to Steve Spurrier's struggling South Carolina squad, the Gators' sixth loss in their last eight games at The Swamp. That's tough to digest if you're a UF fan and, most importantly, it was tough on the eyes of athletic director Jeremy Foley. Just like against LSU earlier in the year, the team found a way to lose a game that it should have won. And when a head coach was on a seat as warm as the one that Muschamp occupied, losses are losses — no matter how close the final score. The Gators played the way they needed to play to win. They effectively ran the football and played good defense, but there were too many miscues: a holding penalty on a potential game-clinching touchdown run as well as having a field goal and a punt blocked in the final four minutes of regulation as UF blew a late lead. Muschamp and Co. weren't able to expose the weak link of South Carolina — its secondary — as Treon Harris attempted only 11 passes. The Gators are 5-4 (4-4 in SEC) and have a chance to go 6-5 assuming they take care of business against Eastern Kentucky and can't upset Florida State. But even the possibility of an upset of the Seminoles was not enough to stave off a firing for Muschamp. He had one very good season, but also had marks of 7-6 and 4-8 along with this season's tough outing. That just wasn't enough at a school such as Florida. Muschamp knows defense. And while the power offense isn't flashy, fans wouldn't have hated it if UF actually won a majority of games. But not enough winning is being done in Gainesville right now. Foley already has or will reach out to representatives of nearly every big-name coach in America for sure. Bob Stoops, Hugh Freeze and Gus Malzahn likely top the list. But keep an eye on Mike Gundy and Jim McElwain as well.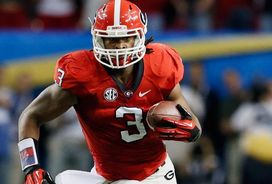 Todd Gurley suffered a torn ACL in his return to the Georgia backfield.
• Todd Gurley returned to the Georgia lineup and teamed with Nick Chubb to combine for 282 yards on 48 carries with three touchdowns in the Bulldogs' surprisingly very easy 34-7 win over Auburn in Athens. But Gurley, who came back after serving a four-game NCAA suspension, left in the fourth quarter with a left knee injury. And we unfortunately found out on Sunday that he indeed suffer ed a torn ACL and will require surgery. Gurley only played in six games this season but ran for over 130 yards in five of them and 78 yards on just six carries in the other. Undoubtedly one of the most talented running backs we have seen in recent memory.
• According to ESPN Stats & Info, Florida State is the first FBS team since UCLA in 2005 to win three games in a season in which it trailed by at least 15 points. The Seminoles are unbeaten when trailing by 15-plus points, and no other team has more than one such win this year. I'm convinced that the Seminoles can overcome just about anything thrown their way, as they have all year. Clemson, NC State, Notre Dame, Louisville and Miami (FL) on Saturday have all given Jimbo Fisher's squad major trouble, but the 'Noles are the lone Power Five unbeaten team after rallying from a 23-7 deficit in front of a lively crowd, which was great to see for an old rivalry game. The question is whether the 'Noles can overcome adversity once again. I'd actually bet on it.
• Arizona State blew a golden opportunity to remain in the College Football Playoff mix, as the Sun Devils entered their road test against Oregon State controlling their own destiny in the Pac-12 South division and ranked No. 6 in the latest CFP rankings. But the Beavers are a tough "out" in Corvallis, and Mike Riley's squad notched a huge win for its bowl hopes with a 35-27 victory. Michael Doctor's late Pick-Six doomed ASU, which was trying to get into potential game-winning field goal territory. Sun Devils quarterback Taylor Kelly completed only 50 percent of his throws and had two interceptions, and star wide receiver Jaelen Strong may have suffered a concussion. Now, UCLA could be the team to beat in the Pac-12 South because the Bruins hold the tiebreaker over ASU.
• Penn State is bowl eligible, which is a nice treat for Nittany Lions players in James Franklin's first season. But that offense is certainly undergoing some growing pains, as it again struggled in a close win over Temple at home. Quarterback Christian Hackenberg certainly possesses a ton of talent and is expected to be one of the top quarterbacks selected in the NFL Draft when he eventually comes out, but he still needs a ton of seasoning. Penn State fans hope that Hackenberg will be able to take a huge jump in Year Two of the Franklin era in 2015.
• Is Georgia Tech the nation's quietest 9-2 team? The Yellow Jackets put together a complete team win against Clemson, which lost true freshman quarterback Deshaun Watson once again to injury (luckily the signal-caller avoided a major injury). GT still needs some help to make the ACC title game, but it's been quite the season even if it is unable to win the Coastal division. There was a lot of uncertainty around Paul Johnson and this program heading into the season, but the Jackets have put together a really nice campaign.
• There doesn't appear to be a New Year's Day bowl game in Notre Dame's future, as the Fighting Irish blew an 11-point fourth-quarter lead and failed to score in overtime in a loss to Northwestern in South Bend. There's no other way around the fact that this was a horrible loss for ND. Northwestern came into the game on a four-game losing streak without a postseason future in sight, and the fact remains that Notre Dame should never lose to Northwestern. Bottom line. The Irish are officially spiraling downhill after failing to beat Florida State in Tallahassee, with three losses in the last four weeks. We weren't sure just how good the Irish would be this year, but the team that played on Saturday did not resemble the one that was one play away from knocking off the Seminoles on the road.
• Stanford sits at 5-5 after appearing in four straight BCS games, and David Shaw's squad has yet to clinch bowl eligibility with two games remaining. Cal and UCLA remain on the schedule, both of which are tough outs. The Cardinal have been one of the nation's bigger disappointments in 2014.
• Congratulations to Arkansas, which broke its 17-game SEC losing skid with a 17-0 win over LSU on Saturday night. The Razorbacks had several gut-wrenching losses during that streak, but the victory over the rival Tigers was never really in doubt. Second-year head coach Bret Bielema had lost his first 13 SEC games since leaving Wisconsin, although his team has played better than its record has indicated. The Razorbacks defense earned its first shutout since 2006 and first in SEC play since 2002. Meanwhile, LSU had just 123 total yards and 36 rushing yards on 32 carries. Very ugly. That offense has so many young players, so the future is bright. But it's tough to develop and win at the same time in the SEC.
• Texas Tech fell to 1-14 in its last 15 November Big 12 games dating back to 2010. The lone win in that stretch came in 2012 when the Red Raiders beat Kansas in double overtime.
• Here is the new NFP Top 25 for the week.
• My College Football Playoff projections have not changed from last week. As of today, I have No. 1 Oregon vs. No. 4 TCU in the Rose Bowl and No. 2 Alabama vs. No. 3 Florida State in the Sugar Bowl. Remember, these are projections — how I think things will play out.
Dave Miller, the college football editor for the National Football Post, is on Twitter @Miller_Dave.