November 21, 2011 -
Dave Miller
After further review: Week 12
Let's take a look back at some of the highlights from Week 12 of the college football season. And, in case you missed it on Sunday, check out the latest edition of the NFP Top 25.
To listen to a recap of this weekend's games and a preview of Arkansas-LSU, check out my weekly appearance with John Harris on Yahoo! Sports Radio.
1. The BCS mess/SEC West is best. It looks very likely that the BCS national championship game will be an SEC West affair. If we don't get any more upsets — considering the weekend of carnage we just saw, you can never dismiss the possibilities — LSU and Alabama are primed to meet in New Orleans for the crystal football. While there are scenarios where Arkansas and even Oklahoma State could find their way into the BCS title game, it's been clear that the Tigers and Crimson Tide are a cut above the rest of the national pack. Now we wait to see if the Hogs can knock off the Tigers in Baton Rouge and whether Auburn can stun the Tide in the Iron Bowl. And even if LSU advances to the SEC title game and happens to fall to Georgia, I'm not sure the voters and computers would drop Les Miles' squad out of the title game.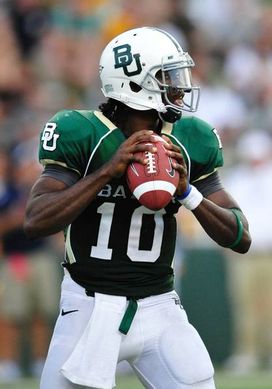 ICONRobert Griffin III delivered a Heisman performance against Oklahoma.
2. Who's the Heisman favorite? As always, the NFP Heisman Watch will be released on Tuesday. While I agonize over my list each and every week, it's hard not to see Baylor's Robert Griffin III and USC's Matt Barkley being mentioned with the best players in college football. Griffin had a hand in 551 of his team's 616 total yards of offense in its upset of Oklahoma, while Barkley threw for 323 yards and four touchdowns in the upset win at Oregon. Stanford's Andrew Luck and Alabama's Trent Richardson remain near the top of the list, while Houston's Case Keenum and Boise State's Kellen Moore are in the discussion as well. For me, it's stunning that Virginia Tech's David Wilson continues to go under the radar when the Hokies have been so reliant on his legs all season — and the junior has done nothing but been as consistent as any player in the nation. There's no question that the race for the Heisman hardware has never been closer, so the next two weeks will be very interesting to watch.
3. Paul Rhoads does it again. The Iowa State head coach loves to put his stamp on the BCS race. Remember in 2007 when Rhoads, as defensive coordinator at Pittsburgh, put together the game plan that stopped Pat White and West Virginia, derailing the Mountaineers' BCS national championship path? Rhoads did it again on Friday evening, as Iowa State held Oklahoma State quarterback Brandon Weeden to the quietest 476 yards ever. This week's Heisman darling threw three interceptions as the Cyclones — four-touchdown underdogs — sent shockwaves across the country before Saturday even arrived. Iowa State has weathered a four-game midseason skid to become bowl eligible, and freshman quarterback Jared Barnett has a moxie that can't be taught.
4. Oregon gets blitzed at Autzen. Oregon's inexperienced secondary was exposed Saturday night by USC's Matt Barkley and the best receiver duo in the country — Marqise Lee and Robert Woods, who combined for 15 catches for 240 and 3 touchdowns against Nick Aliotti's defense. It was 38-14 Trojans before De'Anthony Thomas' kick return sparked a comeback, but a missed field goal as time expired allowed the Trojans to escape with a win. But, once again, the Ducks suffered through another slow start offensively, and their running backs never could break off consistent big runs on the perimeter. This was really the first time I can remember the Ducks failing to break off big plays on the edge in Pac-12 play during the Chip Kelly era. Kudos to Lane Kiffin and his father, defensive coordinator Monte Kiffin, who are coaching a BCS-level team right now. And you have to wonder whether the Trojans would have been eligible for postseason play this year if they had self-imposed their own bowl ban (like Miami did on Sunday) a few years ago when they accepted a bid to the Emerald Bowl.
5. Clemson really is Clemson. There's really no excuse for Dabo Swinney's squad to lay the egg that it did against N.C. State. Despite the Tigers wrapping up the Atlantic division, they could have remained in the race for a BCS at-large berth if they happened to slip up in the ACC title game. Instead, their defense could not stop Wolfpack quarterback Mike Glennon. Sammy Watkins' absence hurt, but this offense still should not have had as much trouble moving the football as it did. Four turnovers and 34 rushing yards? A disastrous showing for this Chad Morris offense, and Clemson is playing its worst football of the season as it enters arguably its two toughest matchups — against in-state rival South Carolina and Virginia or Virginia Tech in the league title game.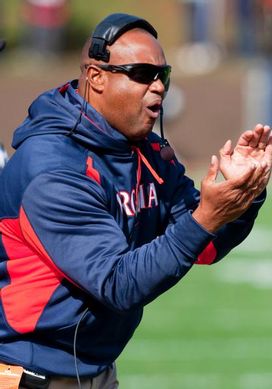 ICONMike London has Virginia competing for an ACC title.
6. The most underrated head coach in the nation. What a season for Virginia. The Cavaliers are enjoying a rebirth — a year earlier than I expected — under head coach Mike London. The Cavs enter the regular-season finale against Virginia Tech with the Coastal division at stake in Charlottesville after knocking off Florida State in Tallahassee. It was the team's fourth win in a row, and London certainly should be considered as a legitimate ACC coach of the year candidate. Not bad for a former police officer and detective.
7. Rutgers can actually run the football. Greg Schiano's Scarlet Knights have played a strong brand of defense all season long, one year after being one of the worst units in the nation. But their offense has left a lot to be desired, especially on the ground. The Scarlet Knights averaged just 90 yards per game — third-worst in the nation — entering the weekend. No matter if it's been Savon Huggins, Jawan Jamison or Jeremy Deering, a consistent rushing threat has been nonexistent. But Jamison had a huge day in a crucial win over Cincinnati, logging a career-high 200 yards against the Bearcats. My Orange Bowl pick is still alive in the Big East race, and an effective ground game could go a long way toward securing that BCS dream because the defense has been so stout.
8. The Big Ten could get that elusive BCS at-large bid after all. There was a thought just a week ago that the Big Ten would only get one representative into the BCS — the winner of the league's championship game. But with the chaos this weekend and Michigan's thorough beating of Nebraska, the Wolverines are positioned as a solid at-large candidate if they can beat Ohio State this week. Brady Hoke has the Maize and Blue at 9-2 in his first season as head coach, led by a resurgent rushing attack, better play from Denard Robinson and a defense that has played consistent under Greg Mattison. The Sugar or Fiesta Bowl for the Wolverines? It's not out of the realm of possibility.
9. Zook's days are likely numbered. Just days after walking ou t of his news conference when he was asked by a reporter about his future, Ron Zook and Illinois had an extra pep in their step early at home against Wisconsin. But that didn't last for long, as the Illini blew a 17-7 halftime lead en route to dropping their fifth game in a row. They were outscored 21-0 in the second half, committed four turnovers and now must win at Minnesota next week to finish the regular season with a winning record. The play under Zook certainly cannot have inspired confidence in new athletic director Mike Thomas, who sees empty seats in Champaign.
10. What's wrong with the Huskies? I questioned why Washington extended defensive coordinator Nick Holt's contract last season, and that unit continues to let down the Huskies. Once 5-1, Steve Sarkisian's squad has now lost four of its last five and three in a row after dropping a 38-21 decision to a 2-8 Oregon State squad. The Beavers racked up 484 yards and 38 points — gaudy numbers for the Pac-12's lowest scoring offense which had scored a combined 27 points in their previous three games.
Email dave.miller@nationalfootballpost.com or follow me on Twitter at Miller_Dave