November 24, 2014 -
Dave Miller
After further review: Week 13
Week 13 of the 2014 college football season is in the books, which means we are very close to finding out which teams will comprise the inaugural College Football Playoff.
Florida State remained undefeated with a nail-biting win over Boston College, while Alabama and Oregon cruised to victories. But can Mississippi State hold off others and maintain that No. 4 spot in the CFP Top 25?
Plenty of storylines played out across the country by the end of Saturday evening. Here are my biggest takeways from the weekend's action.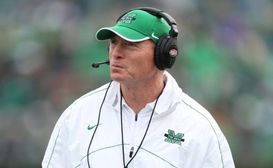 Will Doc Holliday's squad earn a 'New Year's Six' bowl berth?
• What can Marshall do to get into the College Football Playoff Top 25? And are the Thundering Herd going to get the 'New Year's Six' bowl berth promised to one of the Group of Five's conference champions? Marshall beat UAB in Birmingham on Saturday, but it was a less-than-impressive 23-18 victory to keep it as one of just two undefeated teams left in the FBS. It has to be frustrating for Group of Five athletic directors, coaches and players because it's uncertain how non-Power Five teams fit into the postseason mix after East Carolina fell from No. 23 in the very first rankings. Marshall entered its game against UAB ranked No. 18 in the AP poll, but the Herd is on the outside looking in when it comes to the CFP Top 25. And the Herd could be behind teams such as Boise State and Colorado State in the committee's collective mind. Doc Holliday's squad won't really have an opportunity to notch a strong win the rest of the way, so it's all about style points right now, fair or not. Will it be a repeat of 1999, when Marshall went 13-0 and played in the Motor City Bowl? Or is a top-tier team on tap? We likely won't know until December 7 which Group of Five team gets rewarded. But it's a shame that we weren't able to get treated to Marshall-Louisville this season, as the game was on the schedule but 'Ville had to move it to 2016 because of its obligation to play partial ACC member Notre Dame. The Peach Bowl president was on hand to see Marshall play on Saturday. Will the Herd get a chance to compete in Atlanta this postseason?
• Florida State, as expected, did it again. The Seminoles continued to play with fire, as they were in a dogfight with Boston College until a late field goal gave them a 20-17 win at home. Jimbo Fisher's squad has now won 27 games in a row. I don't care how sloppy or ugly some of those wins have been (most of them coming this fall), what FSU is doing is impressive. There are a few very good teams, some good teams and a lot of average teams littered across the college football landscape this season. The fact that FSU is the lone remaining unbeaten team from a Power Five conference makes it a team that deserves to be No. 1. All the 'Noles do is win, and it appears that they are going to have a chance to defend last year's national championship.
• Owning Los Angeles. UCLA looked like the best two-loss team in the country in its thorough 38-20 win over USC, which was the Bruins' third straight victory over the Trojans. Quarterback Brett Hundley, who has never lost to 'SC, went 22-of-31 passing for 426 yards and one touchdown while also running for another score. But perhaps even more impressive was the play of UCLA's defense, which held the USC offense to just 276 total yards. All the Bruins need to do now is beat Stanford and they'll get a date with Oregon in the Pac-12 championship game. Of course, the Ducks handled the Bruins at the Rose Bowl earlier this season, but we should expect a better game if they meet again because this looks like a different UCLA outfit than the one that fell to the Ducks. It's amazing how much better Hundley looks when he is being protected by his O-Line, isn't it?
Other thoughts
• Oklahoma trounced Kansas 44-7, and the story was Samaje Perine, who broke Wisconsin running back Melvin Gordon's FBS single-game rushing record that was just set last week against Nebraska. The freshman had 427 yards (and five touchdowns) on the ground in sloppy conditions, and the Sooners kept feeding him the football because the Jayhawks' defense had no answer. The OU O-Line did a great job of blocking and opening lanes for its star back, who is primed to go over the 1,500-yard mark against Oklahoma State. He is averaging 6.7 yards per carry, and he's made OU fans forget about Joe Mixon. The performance came at a great time for the Sooners because they were without quarterback Trevor Knight, who was out while Cody Thomas received the start. In the rain, Thomas completed just three passes for 39 yards.
• Jalin Marshall is ridiculous. The Ohio State freshman helped his team shake out a few cobwebs in a sluggish home win over Indiana, as he returned a punt 54 yards for a touchdown and added three touchdown catches in the fourth quarter alone in the Buckeyes' 42-27 victory. OSU is headed to the Big Ten title game against the winner of this upcoming week's Wisconsin-Minnesota game. But can the Buckeyes jump into the College Football Playoff mix?
• That was a nice character win for Arizona on Saturday. The Wildcats went into a tough environment and beat Utah by 32 points behind freshman running back Nick Wilson, who rushed for 218 yards and three touchdowns. Arizona lost starting quarterback Anu Solomon, who injured his ankle and was placed in a walking boot. Will he be able to play next game against Arizona State? That remains a big game in case UCLA loses to Stanford. Even if the Wildcats or Sun Devils don't make it to the conference title game, a berth in the Fiesta Bowl is likely as a 10-2 team.
• The SEC West has a 28-0 nonconference mark, which includes wins over Kansas State, Wisconsin, Boise State and Memphis. Not too shabby. Also, for the first time in league history, an entire division in the SEC will advance to the postseason. #SECbias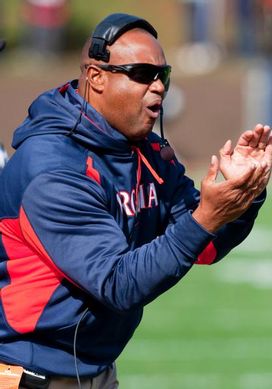 Mike London may be assured of a 2015 return with a win against Virginia Tech.
• Mike London notched a huge win on Saturday night over Miami (FL), setting up a showdown this coming week against Virginia Tech, which lost to Wake Forest in arguably the worst game of the entire season. The Cavaliers and the Hokies are both 5-6, which means the winner of their in-state rivalry game will go bowling. And one would have to think London is back in 2015 if the Hoos beat the Hokies. Meanwhile, the future of Al Golden is a little less certain. While a lot of fans and former Hurricane players have voiced frustration with the direction of the program, I don't think Golden has done a bad job. He hasn't forgotten how to coach. But he's on his third AD now, and he could be a candidate at Michigan. Perhaps he isn't long for Coral Gables.
• TCU was on a bye, which means that Baylor had a chance to stand out a bit more. The Bears passed the Horned Frogs in the AP Top 25 poll after a 49-28 win over Oklahoma State. Is the selection committee ready to move up the Bears in the CFP Top 25?
< p> • Speaking of TCU, the Horned Frogs (as well as Ohio State) continue to get helped by the strong season of Minnesota, which went into Lincoln and beat Nebraska, keeping its Big Ten West title hopes alive. Jerry Kill is doing one hell of a coaching job with the Golden Gophers in the Twin Cities. But it will be a tough task this week against Wisconsin, as the Gophers have lost 10 straight in the series and haven't won in Madison since 1994. But who would bet against Kill and Co. at this point? Meanwhile, a lot of Nebraska fans are probably cursing that contract extension of Bo Pelini. Even in a college football world of parity that has seen a lot of traditional powers trying to reclaim their space, this has been a rough two weeks for the Cornhuskers. The loss to Minnesota dropped Nebraska to 7-17 against ranked teams under Pelini.
• Michigan fell to both Big Ten newcomers this year, Maryland and Rutgers. The Wolverines now must beat Ohio State to get bowl eligible. On Campus Insiders I recently gave my thoughts on some early candidates for the impending head-coaching vacancy in Ann Arbor. You can watch it HERE.
• Stewart Mandel made a great point on Twitter yesterday. Is Arkansas the best last place team we have ever seen? The Razorbacks shut out Ole Miss and LSU, lost by one point to Alabama and by seven to Mississippi State. Bret Bielema is doing his thing with the Hogs, and the SEC has better take notice. The Razorbacks forced six turnovers in a 30-0 win over Ole Miss, making it back-to-back shutouts after going 17 games without a conference win.
• Missouri lost to Indiana and was blown out by Georgia. And the Tigers don't play in the brutal SEC West. But the team's run to a potential second consecutive SEC title game in Atlanta should not be diminished. Gary Pinkel has done a tremendous job since Mizzou moved into its new league. It would be quite an accomplishment to make it back to the SEC's grand stage in a few weeks.
• Remember when Notre Dame was one play away from beating Florida State in Tallahassee and being a legitimate College Football Playoff contender? That seems like eons ago for Brian Kelly's squad. The Fighting Irish have lost four of their last five games and are 7-4 heading into their finale at USC.
• Here is the new NFP Top 25 for the week.
• As of today, here are my College Football Playoff projections: No. 1 Alabama vs. No. 4 TCU in the Sugar Bowl and No. 2 Oregon vs. No. 3 Florida State in the Rose Bowl. But I think Texas has a decent chance of upsetting the Horned Frogs on Thanksgiving. I also think Kansas State has a chance to beat Baylor, so Ohio State is trending upward in my opinion and could ultimately get that No. 4 spot. Remember, these are projections — how I think things will play out.
Dave Miller, the college football editor for the National Football Post, is on Twitter @Miller_Dave.