December 05, 2011 -
Dave Miller
After further review: Week 14
Let's take a look back at some of the highlights from Week 14 of the college football season. And, in case you missed it on Sunday, check out the 2011-12 Bowl Matchups & Schedule.
To listen to a recap of this weekend's games, a preview of the BCS title game, Heisman Trophy discussion and more, check out my weekly appearance with John Harris on Yahoo! Sports Radio.
1. The Honey Badger. Tyrann Mathieu continues to prove that he is one of the best players in America — no matter the position. LSU's sophomore defender/return specialist was named the MVP of the SEC championship game after he ran back a punt 62 yards for a touchdown, set up another score after recovering a fumble and had an incredible return that led to another TD in LSU's 42-10 victory over Georgia in Atlanta. There's a reason why Mathieu is on some people's Heisman Trophy watch lists (the NFP's Heisman Watch will be posted at 1:30 p.m. ET Tuesday), as he sparked the Tigers to victory just as he did in the regular season finale against Arkansas. LSU will play for the BCS national championship against Alabama, and Mathieu is a big reason why the Tigers will play for the crystal football in New Orleans.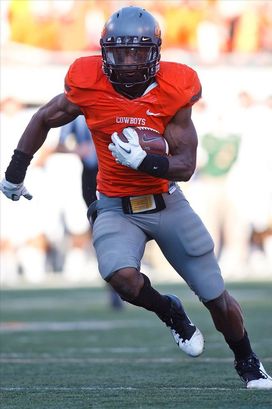 ICONWhen Joseph Randle gets a chance to carry the football, the Pokes are even more dangerous on offense.
2. The Pokes dismantle the Cowboys. It would have been great for college football fans to see Oklahoma State get a shot at LSU, but the Pokes will have to settle for a chance to knock off Andrew Luck and Stanford after snapping an eight-game losing streak in the Bedlam rivalry to win their first outright conference title since 1948 with a thorough smashing of Oklahoma. The Cowboys utilized Joseph Randle, who ran for 151 yards and two touchdowns, and the much-maligned defense continued to make big plays by forcing five turnovers as the unit continues to lead the nation in takeaways. The Fiesta Bowl may not have been the destination head coach Mike Gundy was hoping for at the end, but the Cowboys' snub could further spur the "Plus One" movement. And that would be great for college football.
3. Fedora can coach. No matter which sideline he is roaming in 2012, Southern Miss head coach Larry Fedora proved once again how much of a rising talent he is in the coaching ranks by leading the Golden Eagles to the C-USA championship with an emphatic win over previously unbeaten Houston. Fedora's squad played its characteristic aggressive defense, and it looked as if the unit really knew what Case Keenum and the Cougars wanted to do offensively. Houston could not get its running game going, and the entire offense looked out of sync. Defensively, Kevin Sumlin's squad was killed on third down and on the ground. Meanwhile, Austin Davis proved once again why he is one of the best dual-threat quarterbacks in the nation. Members of C-USA and the league as a whole lost a big pay day because of Houston's inability to clinch a BCS berth, but Fedora certainly raised his profile even higher with the victory.
4. Montee is Barry-esque. Montee Ball truly had a dominant offensive regular season despite going under the radar nationally in comparison to Alabama's Trent Richardson and Oregon's LaMichael James. But it's hard not to become a household name when you are chasing former Oklahoma State star Barry Sanders' FBS record for single-season total touchdowns — Ball's four scores against Michigan State in the Big Ten title game put him within one of breaking the mark of 39. While Ball has played in more games this season than Sanders did in 1988 (and they didn't count bowl stats back then), his season has been nothing short of amazing especially because backup James White is still getting his share of carries. Without Ball and quarterback Russell Wilson, Wisconsin is not a Rose Bowl team.
CONTINUE TO PAGE 2 FOR MORE OF AFTER FURTHER REVIEW: WEEK 14