September 09, 2013 -
Dave Miller
After further review: Week 2
Week 2 of the 2013 college football season is in the books, so let's take a look back at some of the highlights from the second weekend of the season. And, in case you missed it, be sure to check out the latest edition of the NFP Top 25.
• First it was Clemson. Then it was Miami (FL). For the second straight week, an ACC team knocked off an SEC team in a spotlight game, and both were quite impressive performances. Of course, the Hurricanes were helped out by a Gators offense that turned the football over five times, including a Jeff Driskel interception and fumble in the final seven minutes of the game, as well as their incompetence in the red zone. However, while it may be a little too early to conclude that The U. is back, Al Golden's squad remains one of the most dangerous teams in the nation. The Hurricanes received an uneven performance from quarterback Stephen Morris, who went just 12 of 25 passing for 163 yards. And star tailback Duke Johnson was kept under wraps for the most part, rushing for only 57 yards on 21 carries. But Miami, which recorded its first win over a Top 12 team in eight seasons, was still able to knock off the Gators at Sun Life Stadium because coordinator Mark D'Onofrio's defense played its best game in recent memory. Florida was in Miami territory eight times but was only able to come away with 16 points. Players such as Denzel Perryman, Rayshawn Jenkins, Jimmy Gaines, Tracy Howard and Tyriq McCord all made key contributions for a defense that just made play after play when it mattered most. A year removed from allowing both the most rushing yards and passing yards in school history, the 'Canes were aggressive defensively behind a surprisingly raucous crowd that often rattled Driskel and the Florida offense. While Miami did give up some plays down the field and allowed the Gators to throw for 291 yards, the junior linebacker Perryman led a strong effort against the run. The Gators managed just 122 yards on the ground, and they did not find great success between the tackles. Defensive tackle Olsen Pierre led the charge up front with seven stops. Meanwhile, the undersized Perryman is more of a playmaker now that he is on the outside, as he recorded nine solo tackles, had a quarterback hurry and forced a fumble. If D'Onofrio can consistently get this kind of play against conference foes such as Georgia Tech and North Carolina, the lone major test remaining would be Florida State on November 2 because the 'Canes do not play Clemson this season. The offense will be fine. But can the defense keep up its ball-hawking ways?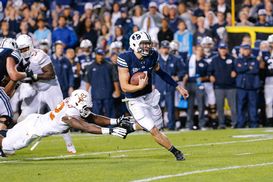 US PRESSWIRETaysom Hill rushed for 259 yards, which was the second-most in BYU history, against Texas.
• Texas and USC were never BCS darkhorse national championship contenders, and they proved why on Saturday night with two terrible losses to BYU and Washington State, respectively. The Longhorns allowed Cougars dual-threat signal-caller Taysom Hill to rush for 259 yards, which was the second-most in school history, and three touchdowns. Hill was one of my players to watch in Week 2 because of his subpar performance through the air in the opener against Virginia, but he was absolutely unstoppable against the Longhorns, and he single-handedly spurred the end of the Manny Diaz era in Austin. The sophomore led an efficient read-option offense that recorded 550 rushing yards. It was also the most rushing yards Texas has ever allowed in a game. Longhorns head coach Mack Brown had never demoted or relieved an assistant of his duties during the season since taking over in Austin, and I'm not sure that change for the sake of change will net much better results under Greg Robinson, who had recently been hired as an analyst for the program. Robinson, of course, was DC in Austin before becoming head coach at Syracuse. But Texas failed to make adjustments on defense against BYU, and that falls on Diaz. As for the Trojans, how in the world does Lane Kiffin not have a quarterback ready to lead an even average offense in Los Angeles? This is USC, and it's unacceptable — scholarship reductions or not — to not have a better offensive product on the field. The Trojans' longest pass play against the Cougars was for eight yards. Eight yards. Colorado now has a better record than USC. Let that sink in for a minute. Never once have I written that Kiffin should be on the hot seat. That being said, you can't lose to Wazzu at home. And athletic director Pat Haden knows as much, and he undoubtedly heard the boos raining down on the team as it left the field. He also heard the repeated chants of "Fire Kiffin!" We'll see how 'SC responds from this disaster, but suddenly the contest this week against Boston College doesn't look so easy. Kiffin's two-quarterback offense led by Cody Kessler and Max Wittek recorded just 193 yards on 63 plays, as a dominant defensive effort went to waste. It was probably wise for Kiffin to turn over play-calling duties before the season, as the game plan remains overly cautious and vanilla. Would he do it now?
• Georgia's season was salvaged in Athens on Saturday night, as the Bulldogs received an outstanding performance from veteran quarterback Aaron Murray, who did his best to shed his label of a QB who can't win the big game. Remember, Murray had just one win in his career against Top 12 teams. Murray torched the South Carolina defense through the air even without star receiver Malcolm Mitchell, who was lost for the season. His performance helped the Bulldogs salvage their SEC and national title hopes, as the 'Dawgs have established themselves as the frontrunners in the SEC East. Murray went 17 of 23 through the air for 309 yards and four touchdowns. He distributed the ball to a variety of weapons and excelled on third downs. And he received a strong game from Todd Gurley, who is the best running back in the country. Mark Richt's team, which is off this week, now essentially controls its own destiny in the SEC East. And it makes the team's home contest against LSU later this month a huge game for both teams. The 'Dawgs still have to play Florida, of course, but the Gators have to travel to Baton Rouge for their tilt against LSU. Certainly Richt and Co. are positioned to go after a third straight East division championship.
• Michigan's Jeremy Gallon has really become a top option for quarterback Devin Gardner, as the receiver has seven touchdowns in seven games with Gardner under center. Gardner and Gallon were almost unstoppable on Saturday night at the Big House against Notre Dame, as Gardner caused the Irish problems with his legs as well. He passed for 294 yards and four touchdowns while adding 82 yards and a score on the ground. Gallon, meanwhile, had 184 receiving yards and three scores on eight receptions. On the other side, Fighting Irish signal-caller Tommy Rees completed 29 of 51 passes for 314 yards and two touchdowns, but he also threw two interceptions to Blake Countess. The Irish also had just 96 rushing yards against the Wolverines. But the major concern was the play of the Irish defense, which did not pressure Gardner into mistakes and allowed the Wolverines to make big plays through the air against a secondary that was supposed to be improved. It will be interesting to see how Brian Kelly's team battles back from this adversity.
Other thoughts
• Illinois is off to a fast start in Tim Beckman's second season, and a lot of that has to do with veteran quarterback Nathan Scheelhaase in new coordinator Bill Cubit's pass-happy offense. Scheelhaase threw for 312 yards and four touchdowns to lead the Illini to a thorough 45-17 win over Cincinnati, which had throttled Purdue the previous week. The QB threw to 11 different receivers, and the win sets up a big showdown on Saturday against Washington at Chicago's Soldier Field.
• In that loss to Illinois, Cincinnati quarterback Munchie Legaux suffered what appeared to be a serious leg injury when he was hit low while trying to pass and his left leg bent awkwardly. The school has not released many details on the injury, but he was transferred to UC Medical Center with what is suspected to be a left knee injury. Thoughts and prayers go out to the QB during his recovery.
• More thoughts and prayers are extended to TCU quarterback Casey Pachall, who was felled by a fractured arm on Saturday. Bruce Feldman of CBSSports.com reported Saturday night that Pachall had surgery on his left (non-throwing) arm and could miss up to eight weeks. Trevone Boykin will now take over starting duties with Pachall sidelined. While Boykin brings a bit more athleticism to the position, it's a shame that Pachall's season has been marred by this injury after working so hard to come back from off-the-field issues. The Horned Frogs have a very difficult test on Thursday night when they play Kliff Kingsbury, Baker Mayfield and Texas Tech.
• As I have discussed in this space for awhile, LSU's passing attack is in good hands with offensive coordinator Cam Cameron and quarterback Zach Mettenberger. After a nice start to the new season last week against TCU, Mettenberger set a single-game school record with five touchdown passes against UAB. And don't expect the Tigers to stop airing it out anytime soon. While Les Miles and Co. will still feature a power run game, the Tigers will maximize the talents of receivers Odell Beckham Jr. and Jarvis Landry as well as Mettenberger's big arm. LSU remains the top obstacle for Alabama in the SEC West.
• It appears that Oklahoma quarterback Trevor Knight will miss the team's game this week against Tulsa because of sprained knee ligaments, according to SoonerScoop.com. Sooners head coach Bob Stoops was already facing questions about the quarterback position following a lackluster win over West Virginia because the team's passing game was not up to the team's expectations. Stoops made the switch to Blake Bell in the fourth quarter of the win over the Mountaineers after Knight threw a pair of third-quarter interceptions, so we'll see more of the big, mobile QB against the Golden Hurricane. While Knight was impressive in preseason camp, Bell has a big arm. He is more than just the Bell-Dozer, and he now has a chance to steal the job away from Knight with a strong effort this week.
• Oregon is a ridiculously well-oiled machine offensively. The Ducks' speed was a mismatch for Virginia this past weekend, as Mark Helfrich's squad recorded 557 total yards in just 69 plays that took up 21:25 in a 59-10 win in Charlottesville. Combining the speedy players with the fast-paced tempo is just not something that teams can practice against on a regular basis, which works to the Ducks' advantage. Good luck to Butch Jones and Tennessee, which has to travel to Eugene this week. Seven of the Ducks' eight touchdown drives against the Cavaliers were performed in under two minutes.
Dave Miller, the college football editor and writer for the National Football Post, is on Twitter @Miller_Dave.