September 08, 2014 -
Dave Miller
After further review: Week 2
Week 2 of the 2014 college football season is in the books, and it would be an understatement to say that it was not a great weekend for the Big Ten.
Plenty of storylines played out across the country by the end of Saturday evening. Here are my biggest takeways from the weekend's action.
• Virginia Tech's defense is filthy. Frank Beamer's Hokies became the first team to beat Urban Meyer at Ohio State during the regular season, and Bud Foster's defense was a big reason for the win. Buckeyes redshirt freshman quarterback J.T. Barrett took a beating, getting sacked seven times, as OSU lost at home to an unranked opponent for the first time since 1982. Barrett rushed for 70 yards and a touchdown but was just 9-of-29 passing for 219 yards with one score and three interceptions, including Donovan Riley's pick-six to ice the win for the Hokies. Meanwhile, VT signal-caller Michael Brewer played well under heavy pressure, completing 23-of-36 passes for 199 yards with two touchdowns and two interceptions. The numbers don't tell the whole story, though. The Texas Tech transfer made some tough throws at key moments to give the Buckeyes their third loss in their last four games. I believed the Buckeyes had a chance to overcome the loss of Braxton Miller because of the team's surplus of offensive playmakers and an improved secondary, but the offensive line is below average, which is something that Miller possibly could have overcome but not Barrett.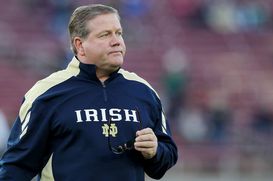 Brian Kelly and the Irish are 2-0 and have looked sharp thus far.
• Notre Dame was well-prepared for the new season. The Fighting Irish throttled Michigan 31-0 in South Bend, handing the Wolverines their first shutout since 1984. Defensive coordinator Brian VanGorder's unit forced four turnovers, all from Wolverines quarterback Devin Gardner in the second half. Meanwhile, Fighting Irish quarterback Everett Golson's stock continues to rise. As I mentioned in this space throughout the offseason, his extensive work in San Diego with quarterback instructor George Whitfield Jr. and his staff has dramatically improved his game. Kevin O'Connell, a former quarterback at San Diego State who went on to back up Tom Brady with the New England Patriots, worked with Whitfield a bit this offseason and told me that he was very impressed with Golson's overall skill set. The QB is bigger and stronger this season, has very good velocity on his throws and has really improved his footwork and overall mechanics. He has five TD passes and no interceptions and is completing 66 percent of his throws on the young season. A lot of credit should be given to head coach Brian Kelly for his work the first two weeks considering the team's academic scandal came so close to the start of the season. Kelly's coaching staff was also altered this past offseason but the team looks very cohesive and has looked like a legitimate Top 15 program.
• Oregon is dangerous. In the biggest nonconference game of the season, the Ducks struggled in the first half before racing to 28 points in the second half of their 46-27 win over Michigan State behind star quarterback Marcus Mariota and a defense that held the Spartans to 37 yards on 15 carries in the second half and intercepted Connor Cook twice. Mariota was 17-of-28 through the air for 318 yards and three touchdowns, and he added 42 yards on the ground. New playmakers emerged in running back Royce Freeman (89 yards and two touchdowns on the ground a week after he had two rushing scores) and speedy wide receiver Devon Allen (three catches for 110 yards and two touchdowns). The Ducks were down in the third quarter before exploding for three touchdowns in less than six minutes. In the third and fourth quarters, Mariota essentially picked up his Heisman Trophy run where he left off last year before injuring his knee. The pace of the Ducks' offense combined with the high temperature in Eugene seemingly wilted the MSU defense as the game wore on, and the Big Ten failed to register a marquee nonconference win.
• Sark notches huge win. In only his second game since returning to Los Angeles, Steve Sarkisian registered a 13-10 road victory to snap Stanford's 17-game home winning streak, which was the longest active streak in the country. While the offense was unable to run 105 plays as it did in Week 1 against Fresno State, the defense forced two turnovers and stymied the Cardinal at the most critical times. Stanford reached at least the USC 35-yard line on all nine of its drives but was only able to come up with 10 points. The Cardinal also committed eight penalties, and kicker Jordan Williamson missed two field goals. It was just the kind of tough, ugly win that is beautiful and character-defining for a team under a new head coach. It was also defined by running back Javorius Allen's 154 yards against a tough Cardinal defense. He earned every one of those yards.
Other thoughts
• Speedy Baylor true freshman wide receiver KD Cannon is the truth. He had six catches for 223 yards and three scores in one half of play against Northwestern State. He is a big play waiting to happen and should be a consistent target for Bryce Petty and the Bears all season. In the win Saturday, backup quarterback Seth Russell threw for 438 yards and five touchdowns in the first half despite playing without Antwan Goodley (quad), Levi Norwood (wrist) and Clay Fuller (collarbone). Even when those receivers come back, Cannon will put up big numbers this fall.
• It should not have come down to one play, but the ending of the Nebraska-McNeese State game was awesome. The run-after-catch heroics by Huskers running back Ameer Abdullah may end up being the play of the month.
• After two games, 339-pound Washington defensive lineman Danny Shelton has six sacks. He had two against Hawaii and four this past weekend against Eastern Washington. Big men who can rush the passer can only rise up NFL Draft boards.
• Lane Kiffin is no fool. The new Alabama OC has made getting the football to star wide receiver Amari Cooper a priority. He dominated Florida Atlantic to the tune of 189 yards and a touchdown on 13 catches. He is healthy and looks like the top receiver prospect in the 2015 NFL Draft.
• In case you missed it, during the USC-Stanford game Trojans head coach Steve Sarkisian was called for an unsportsmanlike conduct penalty in the third quarter for standing on the white part of the sideline during a play. A USC staff member apparently sent a text message to AD Pat Haden and told him to come down to the sideline to speak with the officials. Because Haden is a member of the College Football Playoff committee, some wondered if he should resign from the panel. Haden absolutely should not have come down to the sideline, and Sarkisian shouldn't have made the request either. But the committee has a policy that prevents sitting ADs from voting on his or her school, so I don't think it's a major issue in relation to the CFP. However, I'm not a fan of the selection process as it stands, but that's a matter for another time.
• With the exception of Notre Dame's traditional home outfit, Wyoming's combination of white helmet, brown jersey and gold pants is the best in college football. I'm not even kidding. It's a sharp look.
&bu ll; The Derek Mason era at Vanderbilt is ugly just two weeks into his first season. The Commodores lost to Ole Miss 41-3 one week after losing to Temple 37-7. That's not a good look in Nashville. I wrote before the hire that Mason would be a great replacement for James Franklin. They are polar opposites, sure, but Mason deserved a head-coaching gig. It's absolutely too early to start wondering about the hire, but that Vandy program is in a serious soul-searching spot right now. How the 'Dores come out of it will tell the tale of Mason's tenure.
Dave Miller, the college football editor for the National Football Post, is on Twitter @Miller_Dave.