September 10, 2012 -
Dave Miller
After further review: Week 2
Let's take a look back at some of the highlights from the second weekend of the season. And, in case you missed it on Sunday, check out the latest edition of the NFP Top 25.
• A rough weekend for the Big Ten. Even if you're a die-hard fan of Midwestern football, it's tough to make a case for the Big Ten as the second-best conference in America behind the SEC. Wisconsin, Penn State, Purdue, Iowa, Nebraska and Illinois all lost nonconference tests as the league took a major hit in its national perception. It appears that Michigan State is the lone BCS title contender after just two weeks of football, while probation-ridden Ohio State looks to be the second-best squad. And by the end of the year, the Buckeyes could be the league's best team and they won't even be playing in the postseason. However, Buckeyes head coach Urban Meyer needs to find ways to keep star dual-threat quarterback Braxton Miller off of the training table. The run game could be an issue with Jordan Hall still out with an injured foot and Carlos Hyde leaving Saturday's game with a knee injury, leaving Miller as the lone legit run threat. If Miller takes one hard hit and gets shelved, who would run the ball on this team? Meanwhile, the Spartans have the defense and strong rushing attack to be in every one of their games. The problem is that they have a tough schedule, including next week's game against Notre Dame. But if quarterback Andrew Maxwell and the offense grow together, a trip to Pasadena could be on the horizon.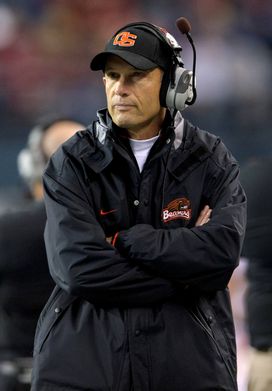 US PRESSWIREMike Riley's Beavers notched a huge nonconference win over Wisconsin in their season opener.
• New depth in the Pac-12. While Cal and Utah have suffered bad losses to non-AQ schools, the league did see three major victors emerge against ranked nonconference foes. Oregon State knocked off Wisconsin, UCLA defeated Nebraska and Arizona knocked off high-powered Oklahoma State. These were huge games for a league that really is known for USC, Oregon and Stanford. And that's pretty much it. While Utah and Cal were looked to be those next teams in the pecking order, the Beavers, Bruins and Wildcats are intriguing squads to watch. Oregon State's Mike Riley is looking to rebound after a couple of rough seasons, while Jim L. Mora and Rich Rodriguez are reviving their respective programs. Keep in mind that Oregon State lost 35-0 at Wisconsin last year, and the Beavers were dominated on both sides of the ball. Not the case this past weekend. So early on the Pac-12 is deeper and stronger than many had first anticipated. The Bruins' defense has come alive, while the Wildcats gave the Pokes and Todd Monken's prolific offense fits.
• Can Arkansas rebound? You have to feel for John L. Smith. The Arkansas head coach is now unquestionably coaching a one-and-only season with the Hogs after their disastrous loss to Louisiana-Monroe on Saturday. And while there's no question that playing without star quarterback Tyler Wilson contributed mightily to the loss, championship teams have to overcome injuries in close contests. Even to their star players. And blowing a 21-point lead to a non-AQ just won't get it done. With Alabama coming to town this week, the Razorbacks will be playing arguably the best team in the nation. That would be a chore even with Wilson healthy. Without Wilson, the game -- and the rest of the Razorbacks' season -- could get ugly.
• SEC debuts. Florida looked about as bad as it could look early in its road tilt at Texas A&M in the SEC debut for the Aggies. The Gators defense was physically dominated by the Texas A&M offensive line as young quarterback Johnny Manziel helped A&M to a 17-7 lead midway through the second quarter. But Florida's defense eventually clamped down and the offense settled in. Will Muschamp made the right second-half adjustments as the Aggies offense recorded just 49 second-half yards. Gators quarterback Jeff Driskel and running back Mike Gillislee paced the offense, handing the Aggies a loss in their SEC debut. Meanwhile, Missouri was also unsuccessful playing its first game in a new league, falling to Georgia. But the Tigers look like they will compete in this league all season. The game just seemed to get away from the Tigers when Gary Pinkel called for a fake punt that was unsuccessful. Bulldogs linebacker Jarvis Jones was beastly, returning an interception to the 1 midway through the fourth quarter to set up a Todd Gurley score, then three plays later he forced a fumble on a sack that set up a 6-yard scoring run by Ken Malcome. The 'Dawgs outscored Missouri 32-10 in the second half despite missing three defensive starters due to suspensions. It was a big SEC East win for Georgia, which has a favorable schedule.
• How good is NC State? With Tom O'Brien's crew looking to notch their first win of the season after their opening loss to Tennessee at the Georgia Dome, the Wolfpack were held to just 54 rushing yards in a 10-7 road win over UConn. And that's the one aspect of this offense that was questionable coming into the season. In addition, quarterback Mike Glennon completed just 15 of 30 passes and was sacked six times. NC State had just 258 yards of offense against the Huskies. The good news is that the defense, picking itself up from a rough opener, intercepted Whitmer three times and forced four Huskies turnovers. But if NC State is going to compete for an ACC division title, it will need more balance on offense, and Glennon will need to start playing like a high NFL draft pick, which many NFL personnel believe he can be by the end of the season.
CONTINUE TO PAGE 2 FOR MORE AFTER FURTHER REVIEW: WEEK 2