September 16, 2013 -
Dave Miller
After further review: Week 3
Week 3 of the 2013 college football season is in the books, so let's take a look back at some of the highlights from the third weekend of the season. And, in case you missed it, be sure to check out the latest edition of the NFP Top 25.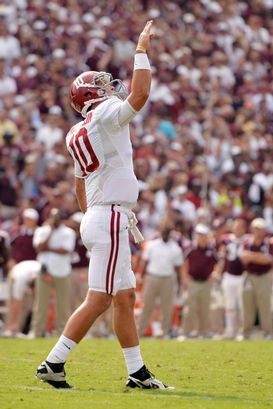 US PRESSWIREAJ McCarron helped Alabama score 35 consecutive points after it fell behind 14-0.
• AJ McCarron, welcome to the 2013 Heisman Trophy race. The Alabama quarterback played a nearly flawless game on Saturday afternoon in College Station, helping his team to a 49-42 victory over Texas A&M. McCarron threw four touchdown passes and helped the team score 35 consecutive points after it fell behind 14-0 one year after falling behind 20-0 to the Aggies. And the play-action game remained deadly for 'Bama, as McCarron went 7 of 10 passing with 12.9 yards per attempt and two touchdowns on such plays. Overall, McCarron was 20 of 29 through the air for 334 yards.
Remember when the Tide's offensive line was the weak link of the team? Yeah, that didn't last long. Mario Cristobal's unit paved the way for the Tide to rush for 6.3 yards per carry and it protected McCarron all day long, as it allowed zero sacks. The boys up front controlled the line of scrimmage all day.
Meanwhile, Johnny Manziel recorded his fourth career game with 500-plus total yards of offense. And wide receiver Mike Evans is proving to be just a dominant performer. Nick Saban and Kirby Smart's defense was torched for 628 yards, the most Alabama has surrendered in 119 years. Manziel, however, did throw two interceptions -- but one was due to a mix-up with a young receiver in the end zone and the other was on a deflected pass. Those mistakes ultimately did the Aggies in, but Johnny Football has shredded 'Bama in his two career contests. He is completing over 70 percent of his throws for over 700 passing yards and seven scores in the two games against the Tide. It was a wild game on Saturday afternoon, highlighted by an A&M offense that is nearly unstoppable.
• There were two wild endings involving Big Ten teams on Saturday. First, Akron had first and goal at the Michigan 1-yard line with 24 seconds left but could not pull out what would have been a stunning victory. The Zips have not won a road game since October 18, 2008, as their upset bid was foiled. After Zips receiver L.T. Smith caught a pass and was tackled at the one-yard line, the umpire spotted the ball and the Zips lined up with the clock starting to run. With the clock at 15 seconds, the official in the booth wanted to review the previous play to verify the first down. The ball was moved back and it was called third down. But instead of resetting the game clock back to 24 seconds, the referee let the clock stay at 15 seconds. The Zips failed to score on their next two plays, and Michigan won 28-24. With more time on the clock I wonder if Terry Bowden's team would have called for a sneak on third down.
Meanwhile, Wisconsin wanted to center the football for a field goal attempt and then spike it in the closing seconds of its 32-30 loss to Arizona State, but that was a questionable move with no timeouts. It was unclear whether or not quarterback Joel Stave's knee was down in his attempt to center the ball, which really prompted the confusion. It was a head's up play for ASU to jump on the ball, but whistles were audible immediately after Stave set down the ball. Sun Devils linebacker Anthony Jones jumped on the ball with 13 seconds left and stayed down until four seconds remained. Badgers head coach Gary Andersen may have over-thought things in terms of centering the football; the Badgers should have just kicked the field goal. Or Stave should have completely kneeled, kept the ball and handed it directly to the official. Nonetheless, it was a disappointing way to see a game end, especially with no explanation from the officials. It just seems that when the ball touched the ground with Stave's hand on the ball, it should have been ruled down. And Andersen told reporters after the game that he didn't receive a satisfactory explanation why the final 15 seconds ticked off the clock after Stave "knelt" down. "It was a shame it went down the way it went down at the end," Andersen said, "and that's really all I want to say about it. It is a shame it went down that way. We [knee] it with 15 seconds left and never even got a chance to snap it again. I don't know how that happens." It should be noted that a new rule was put in place that there must be three or more seconds left on the clock to spike it.
• Nebraska let UCLA go on a 35-0 run in Lincoln after the Bruins were sleepwalking through most of the first half. Cornhuskers head coach Bo Pelini admitted in his postgame presser that the team "played a horrendous second half" en route to a 41-21 loss to Jim L. Mora's team. Pelini said the team is "capable of a lot more offensively," noting that the unit is not playing up to its potential. There's no question that this defense is the weak spot of the team, but the Huskers need their offense to fully execute to offset the youth and inexperience on the other side of the ball. The offense ranks 95th nationally in passing, and fourth-year starting quarterback Taylor Martinez is averaging just 6.6 yards per pass attempt this season. He was also held to minus-13 yards rushing on Saturday. The Huskers have a fairly easy slate until November with a couple of bye weeks as well, so they'll have a chance to iron things out as they try to win a Big Ten division title. It's a big season for Pelini, who can't seem to elevate the Huskers past being a 9-4 type of team.
• Things are not getting any easier for embattled Texas head coach Mack Brown. Firing Manny Diaz did not do anything to solve the Longhorns' defensive woes, as Greg Robinson's unit allowed Ole Miss tailback Jeff Scott to run for a career-high 163 yards in a 44-23 Longhorns loss. Scott also had a 73-yard punt return for a score. Perhaps the biggest indictment of the program occured after the game, though. First, Rebels head coach Hugh Freeze said that the Longhorns ran the same defense (with the exception of a goal-line wrinkle) it had last week when BYU ran up and down the field. Second, Brown said he hopes fans show up next week. "Forget the coaches," Brown said "Come for the kids." Brown said things can get turned around and that the team could still win the Big 12. But it's a tough scene in Austin indeed.
Other thoughts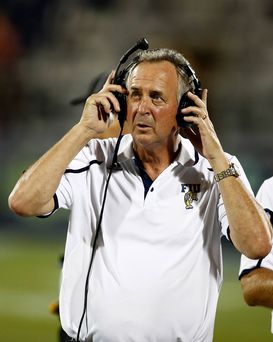 US PRESSWIRERon Turner is 0-3 at FIU.
• Florida International, which fired Mario Cristobal after he built the program up from ruins, is now 0-3 under new head coach Ron Turner following its 34-13 loss to FCS foe Bethune-Cookman. The Golden Panthers have given up 115 points in the losses and head to Louisville this week. Expect huge numbers from Cardinals quarterback Teddy Bridgewater.
• The struggles continue for Charlie Weis at Kansas, as he has now lost 16 games in a row to FBS opponents since arriving in Lawrence. The Jayhawks fell to Rice 23-14, and Weis has not been able to field an even solid offense during his tenure. It was the second straight season that Kansas has lost to Rice.
• Trevor Knight must have had a tremendous preseason camp to have initially won the starting job over Blake Bell because Oklahoma looked like a different football team this past weekend against Tulsa with Bell starting. He threw for 413 yards and four touchdowns in the 51-20 win, and he proved that he is a far better passer than people gave him credit for entering the season.
• Rutgers' Paul James continues to be the go-to RB over Savon Huggins for Kyle Flood and the Scarlet Knights. James had a big coming-out party in the opener at Fresno State, and the former walk-on had 192 rushing yards and three touchdowns in a win over Eastern Michigan. The balanced offense takes a lot of pressure off of quarterback Gary Nova.
• Oregon has scored at least eight touchdowns in three consecutive weeks, as the Ducks gave Tennessee its worst loss in 108 years. How many points will they be able to score against Cal's young and inexperienced defense?
• Alex Collins had 115 rushing yards on 25 attempts as Arkansas scored a 24-3 win over Southern Miss. The Florida native became the first freshman in SEC history to top the 100-yard mark in his first three games and the first player overall since Oklahoma's Adrian Peterson in 2004. He was the gem of Bret Bielema's recruiting haul this past February, and he will be a big part of Bielema's offense in Fayetteville for the next few years.
• Mark Friday, October 18, on your calendar. That is the date of UCF at Louisville. The Knights proved in their win over Penn State that they can be a legit threat to the Cardinals in the American Athletic Conference. They have the offense, but can that 'D' contain Teddy Bridgewater?
Dave Miller, the college football editor and writer for the National Football Post, is on Twitter @Miller_Dave.