September 17, 2012 -
Dave Miller
After further review: Week 3
Let's take a look back at some of the highlights from the third weekend of the season. And, in case you missed it on Sunday, check out the latest edition of the NFP Top 25.
• Brian Kelly's signature win at Notre Dame. It's been a long time since the Fighting Irish had such an impressive win as the one Saturday night in East Lansing against Michigan State. The Irish held the Spartans to just 237 total yards, including a mere 50 on the ground. And out of 33 Michigan State second half plays, only one occurred in Notre Dame territory. The last time a Top 10 team scored fewer than Michigan State did at home against the Irish was in 1966 when they shut out USC 51-0. All of the work that Kelly, defensive coordinator Bob Diaco and the rest of the staff have done getting top-notch defensive linemen and linebackers on the recruiting trail is paying off big time. Notre Dame had four sacks against a team that hadn't given up one, and they added two more tackles for losses and broke up eight passes on the night. Stephon Tuitt, Louis Nix, Sheldon Day, Ishaq Williams and Ben Councell help comprise a talented, young front seven that will be the strength of this team all season long. And they'll continue to get better offensively each week. All of a sudden, the games against Oklahoma and USC look a little less daunting. The only concern for the Irish is their secondary has yet to be really tested, and that young corps became even weaker when Jamoris Slaughter was lost for the season with an Achilles injury. A team that can test the Irish down the field will expose that major weakness.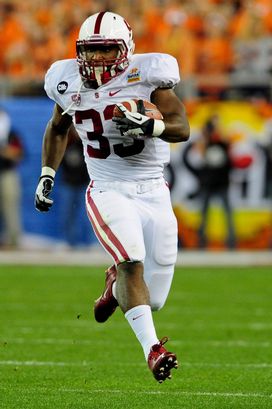 US PRESSWIREStepfan Taylor and the Cardinal outmuscled USC in Palo Alto.
• USC's struggles up front. The Trojans were completely exposed on Saturday night in Palo Alto against Stanford. We really saw how much 'SC misses left tackle Ryan Kalil, who was a top draft pick this past April by the Minnesota Vikings, as well as starting center Khaled Holmes. It was shocking how much pressure Chase Thomas and the Stanford defense was able to put on Matt Barkley. The Trojans quarterback had to continually settle for short passes because he didn't have time to make plays down the field. And when Stanford had the football, running back Stepfan Taylor looked like the best overall player in that contest. Cardinal head coach David Shaw has seamlessly picked up where Jim Harbaugh left off, and Stanford showed that it should not be forgotten in a Pac-12 that everyone was ready to hand to either USC or Oregon.
• The Arkansas disaster. The Razorbacks' home loss to SEC West rival Alabama was nothing short of embarassing. It was so bad that many wondered if head coach John L. Smith would even have a job Monday morning. So bad that star quarterback Tyler Wilson, who missed the game after getting a concussion last week, called out his teammates for quitting. It was that bad. The Hogs were held to just 44 yards of total offense in the first half and 137 for the game, and they turned the football over five times. Neither redshirt freshman Brandon Allen nor junior Brandon Mitchell could do anything at quarterback, and none of the gimmicky option or lateral/throwback pass worked against a defense that extended its shutout streak to nine quarters. Allen was 10 of 18 passing for 60 yards, while Mitchell was 1 of 7 passing for 19 yards. And star running back Knile Davis had just 59 yards on 20 carries. Where do the Hogs go from here? A home game with Rutgers next week looms, and you wonder if this team can pick itself up off of the ground.
• Quarterback development. David Ash and Jeff Driskel were considered huge keys to whether Texas and Florida, respectively, could make their way back to conference contenders. As we enter the fourth week of the season, the development of the two signal-callers has been huge to the success of the Longhorns and the Gators. Ash threw for a career-high 326 yards and four touchdowns in the road romp at Ole Miss, connecting on scores of 46 and 55 yards while completing 19 of 23 passes. He looked like the steady the veteran that the 'Horns have missed the last few seasons. Meanwhile, Driskel threw two touchdown passes, including a 23-yard score to Jordan Reed to break a 20-20 tie and put the Gators ahead for good with 30 seconds left in the third quarter on the road against Tennessee. The Gators scored the game's final 24 points, and for the second straight week head coach Will Muschamp made top-notch second-half adjustsments. UF looks ready to battle Georgia and South Carolina now for SEC East supremacy, and that's a big step following a season in which the Gators lacked toughness.
CONTINUE TO PAGE 2 FOR MORE AFTER FURTHER REVIEW: WEEK 3