September 26, 2011 -
Dave Miller
After further review: Week 4
Let's take a look back at some of the highlights from the fourth weekend of the season. And, in case you missed it earlier today, check out the latest edition of the NFP Top 25.
LSU and Alabama are on a collision course. With Mississippi State and Arkansas failing their early season tests against LSU and Alabama, respectively, it's clear that Les Miles' Tigers and Nick Saban's Crimson Tide are the best teams in the SEC West.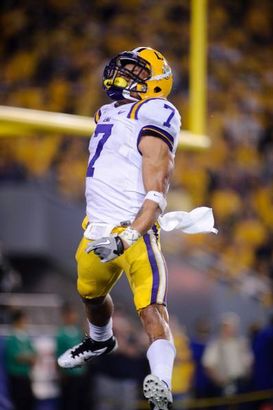 ICONDon't let LSU CB Tyrann Mathieu's size fool you. He packs quite the punch.
A lot is being made of the fact that LSU allowed West Virginia quarterback Geno Smith to throw for 463 passing yards without getting sacked. Certainly, it wasn't the typical dominant defensive effort we are used to seeing from the Tigers. But quarterbacks like Smith in a spread offense are going to pick up yards against any defense, especially when a signal-caller throws the ball 65 times. Keep in mind that Oregon's Darron Thomas had a career night against Auburn in the BCS national championship game, but the Ducks were out of sync offensively all night — big numbers don't always mean big victories. At the end of the day, LSU received dynamite play from cornerbacks Morris Claiborne, who had the kickoff return for a touchdown that really deflated WVU, and Tyrann Mathieu, who was involved in two turnovers, had a pass deflection and six total tackles — and has quickly become one of my favorite players in the country to watch week after week. Throw in a studly effort from punter Brad Wing, whose six punts all were downed inside the 20-yard line, and the Tigers once again outplayed a team on special teams.
The Tide, meanwhile, received another big game from running back Trent Richardson, who rushed for 126 yards on 17 carries in the team's 38-14 domination of Arkansas. He also caught three passes for 85 yards, including a 61-yard score, and finished with 235 all-purpose yards. A.J. McCarron also played well under center, and the 'Bama defense really gave Arkansas quarterback Tyler Wilson problems. Not only was he under constant pressure, but not much worked when he was standing upright. The screens and quick slants didn't turn into big gains, and overall the Razorbacks recorded just 17 yards on 19 rushes. Ronnie Wingo, coming off of a strong effort against Troy, gained just 14 yards on nine carries. And it's not likely that Knile Davis would have had a lot more luck going up against that 'Bama front seven.
It's going to be fun to see Alabama head down to The Swamp this weekend to take on a Florida squad that has been impressive early on as the Gators try to bounce back from a disappointing 2010 campaign. Just a few years ago this Alabama-Florida rivalry was considered one of the best in the game. The only thing certain this fall is that Alabama and LSU will be playing in the SEC's game of the year on Nov. 5.
Texas A&M's epic meltdown. The Oklahoma State-Texas A&M showdown was hard to watch at times. I mean, it was often sloppy and at one point turned into a turnover fest. But the star of the show was Cowboys quarterback Brandon Weeden, who was able to overcome a slow start to throw for a school-record 438 yards in the 30-29 win. OSU scored 27 consecutive points, including a pair of touchdown passes in the third quarter to give Oklahoma State the lead. On the day he connected on 47 of 60 passes, setting school marks for both completions and pass attempts in a game.
However, the story in this one wasn't Weeden. It was A&M blowing the huge halftime lead because of three turnovers and numerous penalties. The question now is how Mike Sherman can get this bunch to bounce back quickly. Next up is Arkansas, a squad that will unquestionably be looking to get the bad taste out of its mouth after the pounding it received from Alabama. The most concerning thing for A&M is the fact that it led Oklahoma State 21-7 at halftime last season before turnovers and mistakes handed the game to the Cowboys in Stillwater. Sherman's squad suffered the same fate on Saturday as it did in 2010, and Ryan Tannehill channeled his inner Jerrod Johnson by tossing three interceptions. In all, A&M had four turnovers and could not control the clock with offensive balance — something that is necessary for any team if it wants to beat the Pokes.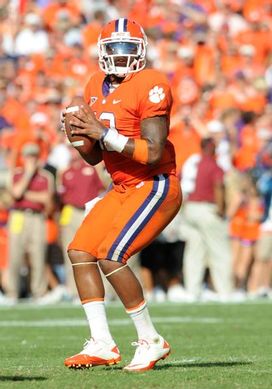 ICONClemson QB Tajh Boyd is becoming more comfortable in Chad Morris' new offense.
Clemson's Tajh Boyd is comfortable — and that's a scary thought. I talked last week about the instant impact Sammy Watkins is making at Clemson at the receiver position and how it was vital for the Tigers because of their lack of big plays last season. But how about quarterback Tajh Boyd? The first-year starter looks very comfortable running Chad Morris' new up-tempo scheme, and while he still has a lot of room for improvement, Death Valley will continue to see a lot of points being put on the scoreboard this fall. It's not easy beating ranked opponents in back-to-back weeks, but that's exactly what Boyd helped the Tigers do by throwing three touchdowns and running for another as the Tigers opened 4-0 for the first time since 2007. It was Clemson's fourth game this season with 455 yards or better and Boyd's second straight with 300-plus passing yards. Are they legitimate Atlantic division contenders? It sure looks like it.
What the hell happened to Maryland? We knew that Al Golden left Steve Addazio a pretty solid team in Philadelphia. But did anyone expect the pounding that Temple delivered to Maryland on Saturday? The Owls arguably cold have beaten Penn State the previous week, but running back Bernard Pierce made sure there was no doubt about this one as he rushed for 149 yards and five touchdowns in the 38-7 win. Maybe the Big East should consider letting the Owls back into the league.
Meanwhile, what happened to Randy Edsall's Terps? A hangover from the West Virginia game the previous week? Whatever it was, it needs to be fixed — and fast. Danny O'Brien had another rough outing, the rushing attack was nonexistent, the defense was soft and the special teams play was terrible as well. To be down 31-0 at halftime and 38-0 before recording a meaningless touchdown is inexcusable, especially after the impressive effort in Week 1. Granted, it was a wounded Miami team, but the Terps have seemingly regressed, and that's a concern.
Other notes
• The extra-point fiasco in the Toledo-Syracuse game was obviously disastrous — and it led to another tough loss for the Rockets. But it's asinine for Toledo to think that a win should be coming its way. You have to give Toledo athletic director Mike O'Brien credit for at least trying, though.
• Has there been a more laughable end to a coaching era as the one that just came to a close at New Mexico with the dismissal of Mike Locksley?
• The struggles continued in Corvallis as Oregon State fell again, this time to UCLA 27-19. The return of dynamic receiver/returner James Rodgers and tight end Joe Halahuni could not prevent the worst start for Mike Riley in his Beavers tenure. Two turnovers proved costly, and the defense just isn't going to be up to par week after week against the more explo sive Pac-12 offenses — and the Bruins don't even fall into that category. A tough year is in store for Riley, whose coaching seat is growing a little warmer.
• Not a good loss for N.C. State last Thursday night against Cincinnati. The offensive line didn't play well, but new quarterback Mike Glennon really made some poor decisions — and that's the most concerning aspect to come out of this one. We knew the defense was hurting, but the Wolfpack expected better play out of Russell Wilson's replacement.
• If you haven't watched Georgia Tech receiver Stephen Hill play at all, you must make a point to do so. The 6-5 emerging star is having fun being a big part of a Georgia Tech offense that now features a feared aerial attack.
Email dave.miller@nationalfootballpost.com or follow me on Twitter at Miller_Dave