September 22, 2014 -
Dave Miller
After further review: Week 4
Week 4 of the 2014 college football season is in the books, as we saw Florida State sneak by ACC rival Clemson in overtime without the services of defending Heisman Trophy winner Jameis Winston.
We also witnessed Oregon struggle in a close win over Washington State, Mississippi State continue its ascent and notch a signature win for Dan Mulllen and Missouri get stunned at home by Indiana.
Plenty of storylines played out across the country by the end of Saturday evening. Here are my biggest takeways from the weekend's action.
• A new SEC West contender? We waited for it. Mississippi State returned a boatload of talent from its 2013 squad, and we knew the Bulldogs had a talented quarterback and a defense with NFL talent. But could they put it all together and elevate themselves into the upper-echelon of the SEC West? Well, it's still early. And the LSU offense is young. But Dan Mullen's team delivered him a signature win in Death Valley behind the impressive performance of quarterback Dak Prescott, a Louisiana native, who racked up 373 total yards and three touchdowns — including a 56-yard scoring run — and led three scoring drives of at least 75 yards each against a defense that hadn't allowed any points in the previous nine quarters. MSU dominated LSU for much of the game, outgaining the Tigers on the ground 302-89, and it was the first time the program beat a ranked opponent on the road since 1986. Mullen was dogged by his record against Top 25 teams during his tenure in Starkville, but the reality was that the competition in the SEC has been brutal for a program that was still building. Finally, it appears that the pieces are in place for the Bulldogs to be legitimate SEC West competitors. Prescott, who has an 11-2 TD-to-INT ratio and has run for over 100 yards the past three games, is a star. And coordinator Geoff Collins' defense gave problems to the Tigers' offense throughout the evening. Things get really interesting for Mississippi State, though, after its bye this week. The Bulldogs have home games against Texas A&M and Auburn to start October. The tests just keep coming in the rugged SEC.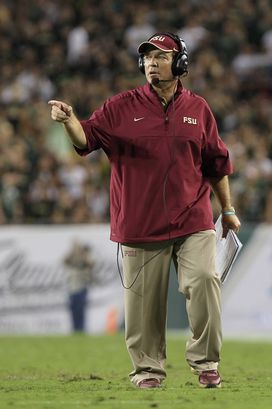 US PRESSWIREJimbo Fisher and FSU remained unbeaten with a win over ACC rival Clemson.
• The 'Noles survive. Florida State was able to squeak by Clemson in overtime with some gritty play by backup quarterback Sean Maguire. The redshirt sophomore was effective in the second half when looking for tight end Nick O'Leary and wide receiver Rashad Greene, going 12-of-18 through the air when targeting those veterans. I had mentioned last week that those two pass-catchers would need to play big roles for Maguire, and they helped the 'Noles force overtime and eventually pull out the victory in Tallahassee. But things looked bleak for FSU after Maguire had thrown an interception that gave Clemson the ball in FSU territory late in the fourth. However, the Tigers gave it right back and the 'Noles ultimately survived. It was a brutal loss for Dabo Swinney's squad, which held the 'Noles to 13 rushing yards. That Clemson defensive front was nasty all night, and it would have been interesting to see how Jameis Winston would have fared if he was able to play. Tigers DC Brent Venables has gone a bit under the radar, but he will be a popular name for athletic directors looking for new head coaches this offseason. One other note: Swinney said on Sunday that Deshaun Watson will start this week against North Carolina.
• Blake Sims can air it out. Alabama offensive coordinator Lane Kiffin took advantage of a vulnerable Florida secondary by allowing Sims to test his vertical passing skills, and it worked to perfection. The Crimson Tide's starting quarterback threw for the most yards ever at Bryant-Denny Stadium (445 yards) and had four touchdown passes (including scores covering 87 and 79 yards in the first quarter) en route to 645 yards of total offense as 'Bama crushed the Gators. Amari Cooper continued to make his case for Heisman Trophy consideration by catching 10 passes for 201 yards and three touchdowns, and the Tide were able to shred Will Muschamp's Gators defense despite turning the ball over four times. UF yielded more total yards than when Steve Spurrier's squad was smoked by Nebraska in the 1996 Fiesta Bowl, and it even allowed 'Bama to convert on a 3rd-and-23 screen pass. The Tide were 12 of 16 on third downs and won at the point of attack, and they are now averaging 588 yards of offense per game. The Gators, meanwhile, may need to consider an alternative to quarterback Jeff Driskel, who completed just 9 of 28 passes for 93 yards and threw interceptions to Jabriel Washington and Landon Collins. Muschamp said he considered bringing in true freshman backup Treon Harris, but he felt that Driskel gave the team the best chance to win.
Other thoughts
• There are truly no words to describe the fourth quarter of the Cal-Arizona game. The Wildcats scored 36 points in the final frame (19 in the game's final three minutes), ending the contest with a 47-yard Hail Mary touchdown pass to Austin Hill on the final play to defeat the Bears 49-45 in Tucson. Quarterback Anu Soloman attempted 73 passes and recorded 520 passing yards and five touchdowns as Rich Rodriguez's squad thwarted the upset bid of Sonny Dykes' team, which squandered a 22-point halftime lead and allowed 'Zona to recover a much-needed onside kick as well.
• Brutal news came out Sunday when Rutgers head coach Kyle Flood announced that running back Paul James had a torn ACL and would miss the rest of the season. The Scarlet Knights' star offensive player was injured in the team's 31-24 win over Navy on Saturday, rushing for 96 yards on seven carries before getting hurt. Justin Goodwin stepped in and ran for 104 yards on 26 carries, but James is a difference-making talent who averaged 5.6 yards per carry last year and already had five scores on the ground and two receiving touchdowns this season. Goodwin is a capable runner who averaged 4.7 yards per carry on 111 rushes last season, but James finally appeared prime to remain healthy in 2014. Desmon Peoples and possibly freshmen Josh Hicks and Robert Martin will see more carries, but there's only one James. Quarterback Gary Nova's play will also have to improve with James on the shelf. The team will find it more difficult to overcome performances such as Nova's five-interception effort against Penn State without James moving forward.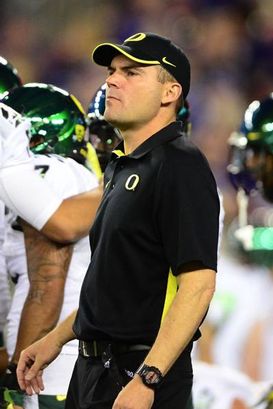 US PRESSWIREMark Helfrich and the Ducks survived a Week 4 scare against Wazzu.
• Washington State's Air Raid offense presented a lot of problems for Oregon this past weekend, as the Ducks were on the ropes defensively throughout their close win. Mike Leach's Cougars were actually tied with Mark Helfrich's Ducks at 31 in the final quarter before Heisman T rophy contender Marcus Mariota led the Ducks on a 79-yard drive for the eventual game-winning touchdown. Mariota was sacked seven times (senior Jake Fisher and junior Andre Yruretagoyena didn't play on Saturday, as true freshman Tyrell Crosby started at left tackle and Matt Pierson made his first start at right tackle), and the Ducks allowed Wazzu quarterback Connor Halliday to throw for 436 yards and four touchdowns. It certainly didn't look like a team suited for a College Football Playoff run, but all championship-caliber teams face adversity. Certainly Oregon is not a finished product, but I believe the issues on the O-Line and defense trend more toward the aberration side of things.
• In its last two games, victories over USC and Maine, Boston College has rushed for 865 yards. Florida transfer quarterback Tyler Murphy has not developed into a polished passer, but he remains a real threat on the ground. He has rushed for at least 92 yards in all four games and has five rushing scores.
• Kevin Wilson wasn't in trouble at Indiana, but the win at Missouri on Saturday was certainly a huge boost for a program that has slowly become more competitive in the Big Ten despite the team's loss last week to a Bowling Green squad that can put up its share of points. For the Tigers, it is quite possible that they were caught looking ahead to the team's next game against South Carolina.
• It may be time for Les Miles and Cam Cameron to turn the offense over to true freshman Brandon Harris, who tried to rally LSU in its loss to Mississippi State. Harris completed 6 of 9 passes for 140 yards and two touchdowns, and the Bayou Bengals had more pep in their step when he was in the game. Starter Anthony Jennings finished just 13-of-26 passing for 157 yards, and a coach told me this offseason that Harris has the complete skill set to be effective as a starter even as a true freshman.
• The most exciting thing that's happened to Vanderbilt thus far this season has been the performance of Darrius Sims, who returned two kickoffs for touchdowns (91 and 100 yards) in a losing effort to South Carolina.
• East Carolina offensive coordinator Lincoln Riley's stock continues to soar, as his Pirates offense racked up 789 total yards in a 70-41 win over North Carolina. ECU has wins against Virginia Tech and UNC, and Ruffin McNeill's squad had a chance to beat South Carolina as well. The Pirates seriously could compete in the ACC Coastal division, and they've proven to be a real nice addition to the American Athletic Conference. In addition, Shane Carden should be mentioned in early Heisman discussions. The quarterback threw for 438 yards and four touchdowns against the Tar Heels after throwing for 427 yards against Virginia Tech and 321 against South Carolina.
• I'm very intrigued by Arkansas, which played a clean game in a 52-14 bashing of Northern Illinois. But I want to see how the Hogs play when they get back into SEC play, starting this week against Texas A&M. There were signs of life, though, even in the season-opening loss to Auburn.
• How about Samaje Perine? Oklahoma's 243-pound freshman running back was a workhorse on Saturday night against West Virginia, rushing 34 times for 242 yards and four touchdowns in the 45-33 win. It was a big effort from the young Sooner, as he stepped in for starter Keith Ford, who was out with a hairline fracture in his right fibula. Perine became the first Sooner to surpass 200 rushing yards since DeMarco Murray in 2010.
• It may not be quite as appealing as last year's Oklahoma-Baylor and Oregon-Stanford doubleheader, but the Texas Tech-Oklahoma State and UCLA-Arizona State combo this Thursday night is very solid — especially for the month of September.
Dave Miller, the college football editor for the National Football Post, is on Twitter @Miller_Dave