September 30, 2013 -
Dave Miller
After further review: Week 5
Week 5 of the 2013 college football season is in the books, so let's take a look back at some of the highlights from the fifth weekend of the season.
LSU and Georgia stole the show on Saturday, but there were plenty of other storylines playing out across the country. Here are my biggest takeways from the weekend's action.
• Lane Kiffin was given his pink slip at USC following the team's 62-41 blowout loss at Arizona State on Saturday night. Athletic director Pat Haden relieved Kiffin of his duties after the team arrived back in Los Angeles early Sunday morning after the loss in Tempe, which was the team's seventh defeat in its last 11 games going back to last year. The Trojans, sitting at 0-2 in the Pac-12, will be run by assistant Ed Orgeron for the rest of the season. Kiffin, meanwhile, finished his four-year stint at USC with a 28-15 mark. There's no question that the environment in Los Angeles was too toxic for Kiffin to overcome. However, that environment was predominantly created by him. NCAA sanctions and injuries plagued the Trojans, causing a lack of depth that would be difficult for a lot of coaches to overcome. The impact of those sanctions has, in my opinion, been underestimated. But for whatever reason, Kiffin had lost his team. And once that happens, rarely if ever can a coach reclaim his team's trust. Moving forward, Haden will have plenty of time to find the right leader for a program that continues to work through tough sanctions. Perhaps the biggest indictment of Kiffin's tenure was a rather high level of giddiness among recruits after the firing, and there's no question that the Trojans were struggling to compile a strong Class of 2014. While the new head coach will inherit some scholarship sanctions, this is still a top job. The team has its beautiful McKay Center as well as a fertile recruiting backyard. Names such as Jack Del Rio, Chris Petersen, Steve Sarkisian and James Franklin will continue to get tossed around, but USC would be smart to go hard after Greg Roman, who is the San Francisco 49ers offensive coordinator. Roman was integral to Stanford's success when Jim Harbaugh was in Palo Alto. However, he doesn't have the head-coaching experience.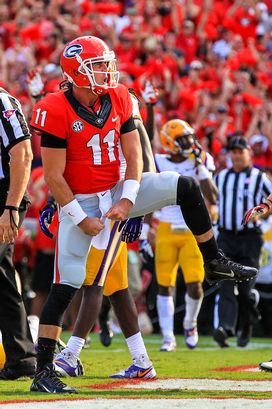 US PRESSWIREAaron Murray has thrown eight TDs and just one INT in his last two games against Top 10 teams.
• When a game turns into a shootout with pretty evenly matched teams such as the showdown in Athens on Saturday between LSU and Georgia, numbers don't usually tell the whole story. We saw two very good offenses take advantage of two talented yet still young and inexperienced defenses. Two very good signal-callers seemingly trying to will their teams to victory. In the end, it was the pressure that 'Dawgs defensive coordinator Todd Grantham dialed up on Tigers quarterback Zach Mettenberger that made the difference. I was a little surprised that Tigers DC John Chavis did not have his unit attack Georgia quarterback Aaron Murray more often. Murray, by the way, has thrown eight touchdowns and just one interception in his last two games against Top 10 teams.
• Notre Dame is finally missing Everett Golson. All three of the interceptions that Tommy Rees threw on Saturday led to Oklahoma touchdowns, although the first pick was off of a bust on the offensive line and the second was a tipped ball off the hands of TJ Jones in good coverage. The third one, however, was a badly forced ball on an Under route when the Irish were driving. Rees sometimes struggles to get off of his first read, and that was a problem on the last pick. He played well last season, but that was primarily in shorter spurts in relief of Golson. The last two weeks we have seen aggressive man-to-man defenses give ND problems in the passing game. One thing is certain about this Irish offense: they need to be dedicated to the run. George Atkinson III and Amir Carlisle just have too much speed to not get the football more, and we saw Atkinson's blinding speed on his 80-yard touchdown run. They are well-suited for a downhill attack because they have good size, and Carlisle plays bigger than his frame. Meanwhile, I was so impressed with how improved the Oklahoma front has been this year, as the 3-3 front is playing speedy and very active. It was the biggest question mark for the Sooners, and they have answered their critics thus far. Mechanically, though, I still have concerns about Blake Bell in the passing game. He has the arm to keep defenses honest, but his footwork is often poor, which affects his accuracy.
Other thoughts
• I am still amazed by the performance of West Virginia this past weekend. Head coach Dana Holgorsen completely shuffled his two-deep before the team's game against Oklahoma State, and in turn he received an inspired effort from his Mountaineers coming off of the previous week's shutout loss to Maryland. The 'Neers actually played defense and held the Cowboys in check, as quarterback J.W. Walsh had 27 incompletions and threw two interceptions. The game wasn't pretty. But this was the kind of gutsy effort that WVU fans should be proud of after the embarassment from the previous week.
• Ohio State cornerback Bradley Roby didn't exactly help his NFL Draft stock on Saturday night in Columbus, as he was schooled by Wisconsin receiver Jared Abbrederis, who had 10 catches for 207 yards and a touchdown. I was impressed, however, with the play of the Buckeyes' front seven against the Badgers' prolific ground attack.
• East Carolina is going to be a nice addition to the American Athletic Conference next year. Ruffin McNeill is one of the better head coaches not often mentioned in the discussion, but his Pirates pounded a North Carolina team that many thought was an ACC sleeper. The 55-31 victory featured ECU recording 603 yards of offense, led by quarterback Shane Carden (three rushing and three passing scores) and running back Vintavious Cooper (career-high 186 yards).
• Barry J. Sanders, ladies and gentlemen. As Joe Tessitore said on the ESPN broadcast, "Just like dad."
• Has there been a more impressive defensive performance this season than the one displayed by Virginia Tech last Thursday against Georgia Tech? Bud Foster's unit held Yellow Jackets quarterback Vad Lee to just 7-of-24 passing with two interceptions and a lost fumble. And GT had a mere 129 yards on the ground.
• San Jose State linebacker Keith Smith is a tackling machine. Smith, who leads the nation in tackles per game, had 20 tackles (10 solo) in the team's loss to Utah State on Friday night.
• It's a nice luxury for South Carolina's Steve Spurrier to have a capable backup quarterback in Dylan Thompson, who will take over starting duties with Connor Shaw expected to miss a few weeks after spraining his right shoulder early in the team's 28-25 win over Central Florida on Saturday. But while Thompson saw a lot of time spelling Shaw last year and has appeared in three of four games this year, the Gamecocks' offense is much different without Shaw. They lose his running ability and hard-nosed mentality, and Spurrier seems to lean a bit too much on Thompson's arm.
• N athan Scheelhaase is fun to watch running the Illinois offense. The quarterback threw for 278 yards and five touchdowns and Illinois used a 29-point second quarter to blow out Miami (OH) 50-14 on Saturday. There is no question that new OC Bill Cubit has done a great job with the veteran signal-caller, but Washington defensive coordinator Justin Wilcox really did a good job of getting Scheelhaase out of his comfort zone a few weeks ago in the contest at Soldier Field. Will the Illini get exposed in Big Ten play?
• Jordan Lynch and NIU continue to roll, as the Huskies dismantled Purdue 55-24 and became the first MAC team to beat two Big Ten foes in the same season. NIU also tied the MAC record for victory margin over a Big Ten school (Toledo beat Minnesota by 31 in 2001). Lynch became the 26th player in FBS history to top 4,000 yards passing and 2,000 rushing in his career, and all eyes are on the Huskies as they try to crash the BCS party for a second year in a row.
Dave Miller, the college football editor and writer for the National Football Post, is on Twitter @Miller_Dave.