September 29, 2014 -
Dave Miller
After further review: Week 5
Week 5 of the 2014 college football season is in the books, which means we are ready to head into October as the attention turns to conference races.
Florida State survived another scare in Raleigh, Arkansas could not close out Texas A&M and the SEC East is as crazy as ever.
Plenty of storylines played out across the country by the end of Saturday evening. Here are my biggest takeways from the weekend's action.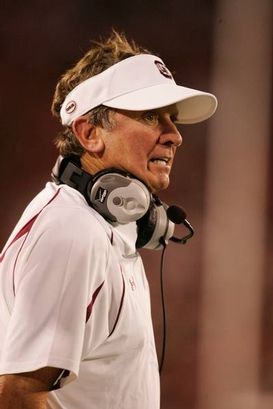 ICONSteve Spurrier's Gamecocks collapsed in the fourth quarter against Mizzou.
• That SEC East though. South Carolina head coach Steve Spurrier admitted that he made a mistake by not going for a two-point conversion on the team's final touchdown against Missouri on Saturday night in a game that shook up the SEC East. The Gamecocks fell 21-20, collapsing in the fourth quarter after it appeared the team was in a great position in the East following its win over Georgia. Had the Gamecocks successfully converted a two-point try after Pharaoh Cooper's touchdown, the game hypothetically would have been tied at 21 at the end of regulation unless the Tigers decided to try a two-point conversion for the win. Gary Pinkel's squad is now in good position to return to Atlanta for the SEC title game if the Tigers beat Georgia in Columbia on October 11. Not bad for a team that one week ago lost at home to Indiana.
• The Brady Hoke-Shane Morris situation. I wasn't tuned into the Minnesota-Michigan game at the time, so I didn't see the helmet-to-helmet hit by Minnesota's Theiren Cockran on Michigan quarterback Shane Morris. But after watching the video, it's obvious that Wolverines head coach Brady Hoke should have immediately pulled his starting signal-caller. I don't in any way think Hoke overlooked Morris' state of health, but the statement released Sunday night that said Morris was evaluated and okay to re-enter the game after eventually coming off of the field was odd. Backup Devin Gardner had to leave the game because his helmet came off during a play, so third-stringer Russell Bellomy should have come on. However, he couldn't find his helmet, so Morris was put back in before being removed after a handoff. The statement released on Sunday said that Morris was removed after further aggravating an injury to his leg that occured earlier in the game. It also noted that he was evaluated by trainers and team physicians. But how much evaluation really occured, and why were coaches trying to get Bellomy into the game? It is quite possible that Hoke didn't see the hit, as he stated, and thought that Morris stumbling around afterward was because of his leg injury. Morris waving off the coaching staff could be interpreted as him just trying to tough things out. But with the ever-increasing concern over head trauma, someone on that sideline had to have seen the hit. And Morris should have been done for the day. In terms of the Wolverines' on-field product, the team has lost six consecutive games against Power Five teams and nine of their last 11. Hoke is unquestionably in trouble.
Other thoughts
• Butch Jones has Tennessee trending in the right direction earlier than many had anticipated, as the Vols look like a bowl squad in its close loss to Georgia in Athens. Two weeks ago Tennessee was overwhelmed at Oklahoma, but it looked like a different outfit against Mark Richt's Bulldogs. If quarterback Justin Worley had not injured his elbow and get knocked out for part of the second half, the Vols could have handed the 'Dawgs a second loss before the end of September and dial up the heat on Richt within the Georgia fan base. Jones has been able to field a competent team despite having to replace every offensive line and defensive line starter from last season. Florida comes to Neyland Stadium on Saturday, which is a tougher game than Will Muschamp and the Gators may have first imagined.
• Washington head coach Chris Petersen fell in his first Pac-12 game, and the game ultimately turned when he called for a fake punt on fourth-and-nine from the Huskies' 47-yard line in the fourth quarter of a tied game against Stanford. The Huskies failed to convert, and Stanford ended up with a short field and an eventual touchdown to win 20-13. The Washington defense had been playing well, too, so it was a curious move.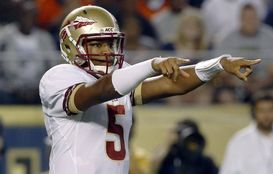 Jameis Winston and the 'Noles escaped from Raleigh with a win.
• While Florida State thus far hasn't looked like the dominant team that it was in 2013, sometimes games like the one against N.C. State over the weekend bring a group closer together. Keep in mind that each year, no matter how many talented starters return, a team has a new identity and new chemistry. The 'Noles certainly did lose a lot of talent, as well, but there is still Top Four talent on the roster. And FSU still plays in the ACC, so the schedule is manageable. It showed a lot of grit coming back from a 24-7 first-quarter deficit on the road. FSU was down ten points with just over 20 minutes to play, but the 'Noles closed on a 28-3 run. Meanwhile, Wolfpack quarterback Jacoby Brissett is a legitimate talent, as he threw for 359 yards and three touchdowns. Dave Doeren's team is much improved, and it starts with the Florida transfer signal-caller.
• Arkansas should have finished off Texas A&M. Instead, the Razorbacks fell 35-28 in overtime after blowing a 10-point lead in the fourth quarter. Bret Bielema has the power run game working, as the Hogs rushed for 285 yards against the Aggies, which was the team's fourth straight game passing the 200-yard rushing mark. The offensive line is arguably the best in the country, the team has backfield depth and quarterback Brandon Allen is solid. However, the A&M defense is much improved, as the Myles Garrett and Armani Watts-led unit stiffened and held the Hogs to zero points on their final six drives.
• Brandon Harris is ready to start fulltime at LSU. The true freshman went 11 of 14 through the air for 178 yards and three touchdowns (with two rushing scores) in a rout of New Mexico State. This week presents a huge test, as the Bayou Bengals travel to Auburn. But Harris gives Les Miles and Co. the best chance to win.
• Charlie Weis was fired at Kansas early Sunday morning. I wrote about some possible candidates that Jayhawks athletic director Sheahon Zenger could approach about the opening.
• TCU is intriguing, and it's going to be interesting to see how the Horned Frogs fare as their schedule toughens up, starting this week with their game against Oklahoma. Quarterback Trevone Boykin threw four touchdown passes and ran for two more in their blowout of SMU on Saturday.
• After a rough nonconference slate and a terrible start against Utah, Washington State notched a huge win for its bowl hopes with a 28-27 victory at Utah. The Cougars were down 21-0 in the first quarter and 24-7 in the second half, but Connor Halliday tossed four touchdown passes to rally Wazzu, which held Utah to two field goals after the f irst quarter.
• We'll be seeing a lot of Clemson true freshman quarterback Deshaun Watson over the next three seasons. He made his first career start on Saturday and threw a school-record six touchdown passes in a 50-35 win over North Carolina.
• Virginia Tech freshman running back Shai McKenzie will miss the rest of the season with a torn ACL. That's a big loss for the Hokies, as McKenzie had 269 yards and three rushing touchdowns and would have continued to be a big piece of the team's ground game.
• He's been dogged a lot during his tenure, but Mark D'onofrio's Miami (FL) defense held Duke to just 260 yards in a win on Saturday night. Last year, David Cutcliffe's Blue Devils beat the 'Canes 48-30. It was a big win for Al Golden.
Dave Miller, the college football editor for the National Football Post, is on Twitter @Miller_Dave