October 01, 2012 -
Dave Miller
After further review: Week 5
Let's take a look back at some of the highlights from the fifth weekend of the season. And, in case you missed it on Sunday, check out the latest edition of the NFP Top 25.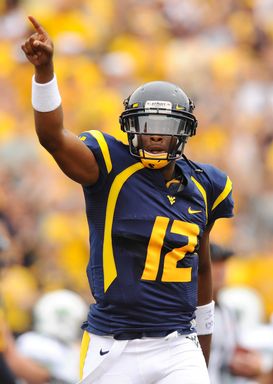 US PRESSWIRESince his last interception, West Virginia QB Geno Smith has thrown 26 touchdowns.
• The ridiculousness of Geno Smith. The West Virginia quarterback was 45 of 51 for 656 yards with 8 touchdowns and no interceptions against Baylor on Saturday in Morgantown, highlighting an offensive explosion that saw the Mountaineers roll up 807 yards of total offense. Smith has mastered Dana Holgorsen's complex up-tempo scheme. In my initial Heisman rankings released last week, I didn't have Smith No. 1 because of the pass-happy offense he plays in. However, seeing him consistently make the right reads and great throws on Saturday against the Bears was special. And I know Baylor's defense is atrocious, but no one can deny the talent of Smith and the touch he puts on some of his throws, whether they are short, intermediate or deep routes. He has thrown 26 scoring passes since his last interception. Ridiculous. However, if WVU is to be a legit BCS title contender, its defense will need to drastically improve after allowing Baylor to gain 700 yards of total offense. Next week at Texas is when the Mountaineers' real season begins. We know what we'll see from Smith, although he'll have to navigate a tough Manny Diaz defense. Can the Longhorns thwart Smith in his Heisman Trophy bid? And can the signal-caller get help from his defense?
• Urban's successful Big Ten debut. Ohio State head coach Urban Meyer was filled with emotion last week leading up to his first Big Ten game as head coach, and he showed it in his exuberance after the Buckeyes' win over Michigan State in East Lansing. The Buckeyes finally delivered a defensive effort that Meyer had been looking for all season, holding Spartans star running back Le'Veon Bell to just 45 yards on 17 carries and holding MSU to just 1.5 yards per carry. Buckeyes quarterback Braxton Miller was beat up all day, but he remained in the game and managed to throw for 179 yards and run for 136. Meyer's squad will host Nebraska under the lights this week, and there are some Buckeye fans dreaming of a 12-0 campaign and wondering if AP votes would turn in their final ballots at the end of the year with OSU No. 1.
• The magic is back in Lincoln. Nebraska quarterback Taylor Martinez could have easily wilted under the pressure of trying to get his team to come back from a 17-point deficit at home against Wisconsin. Instead, "T-Magic" led the Cornhuskers on five scoring drives over six possessions, including four straight, to claim a 30-27 win over the Badgers. Martinez ran for 107 yards and threw for 181 more along with two touchdowns, and the Blackshirts held Bret Bielema's team to just 295 total yards, including 90 yards in the second half and just 56 yards rushing in the contest. Martinez and the Huskers offense wore out the Badgers defense and broke their back with big plays. All eyes now turn to Nebraska's contest with Ohio State next week. Could the Huskers claim Big Ten supremacy with a statement road win?
• If you haven't already, it's time to buy into David Ash. I was a late arrival to the party, but the sophomore proved this weekend that he can deliver in the crucial moments of a big game, leading the Longhorns to victory at Oklahoma State. He was able to put together the game-winning 75-yard scoring drive and was very good on third and fourth downs. The Longhorns converted on 50 percent of their third downs and were a perfect 3 of 3 on fourth downs, including the 29-yard strike to tight end D.J. Grant on fourth-and-6 to keep the GW-drive going. Ash's 32-yard strike to a leaping Mike Davis then set up Joe Bergeron's winning touchdown. Ash threw three touchdown passes to Jaxon Shipley, and it looks as if the 'Horns are positioned to be a legit BCS title contender.
CONTINUE TO PAGE 2 FOR MORE AFTER FURTHER REVIEW: WEEK 5