October 07, 2013 -
Dave Miller
After further review: Week 6
Week 6 of the 2013 college football season is in the books, so let's take a look back at some of the highlights from the sixth weekend of the season.
• Northwestern was unable to put away Ohio State on Saturday night, but it's not because the moment was "too big" for the Wildcats. It was because they were unable to contain Buckeyes running back Carlos Hyde. The 6-foot, 242-pound senior rushed for a career-high 168 yards and three touchdowns to help rally the Buckeyes over Northwestern 40-30 and extend the nation's longest win streak to 18 games. Urban Meyer's squad outrushed the 'Cats 248 to 94 in the game at Ryan Field in Evanston. But while Hyde certainly was able to pound his way through the Wildcats' defense, I was impressed with the fact that NU was not exposed in space, was quick to the edges for the most part and didn't allow quarterback Braxton Miller to beat the defense with his legs. In fact, this NU defense is one of the more harder-hitting units I have seen since Pat Fitzgerald's been head coach. But Hyde certainly was the difference Saturday night. His third touchdown gave the Buckeyes a 34-30 lead with 5:22 left, and the final drive really featured Miller's athleticism and Hyde's power, which ultimately seemed to overmatch the Northwestern 'D.' Hyde also had a 4-yard touchdown run late in the third quarter to pull the Buckeyes within 23-20, and then he scored on a 2-yard run to make give them a 27-23 lead with 11:29 to go. While Meyer won't want to hear any such talk, the Buckeyes' last major real test is their November 30 regular-season finale against Michigan. The question is whether an unbeaten mark after the Big Ten title game will be enough to make it into the BCS national title contest.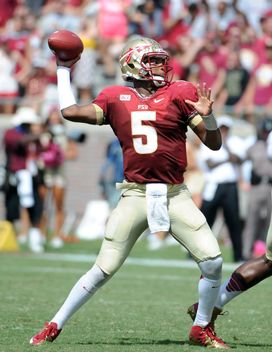 US PRESSWIREJameis Winston threw for 393 yards and five touchdowns on 23-of-32 passing in the team's 63-0 shutout of the Terps.
• Maryland was down 21-0 at the half to Florida State, but the Terps' defense had actually played pretty well up to that point, specifically up front. The dam broke in the second half, however, and the Terps really missed quarterback C.J. Brown, who was knocked out of the game by 'Noles defensive tackle Jacobbi McDaniel. While the race for the Heisman Trophy is still in its early stages and the competition remains quarterback heavy, Florida State's Jameis Winston put on another incredible show that certainly further positioned himself as a legit contender. The redshirt freshman had a career day in Tallahassee, throwing for 393 yards and five touchdowns on 23-of-32 passing in the team's shutout. Through five games this season, "Famous Jameis" has thrown for 1,441 yards with 17 scores against just two interceptions. In all three ACC games this year, he has at least 300 passing yards and four touchdowns. FSU has a bye next week before heading to Clemson, and it's arguable as to which team will have the better quarterback, the Tigers or the 'Noles. That's how good Winston has been in his first year as the starter. That FSU-Clemson game on October 19 could be the ACC's biggest game since the 1997 clash between No. 2 FSU and No. 5 North Carolina, a game won by the Seminoles 20-3 in Chapel Hill. Oh, and not to be outdone by Winston, Tajh Boyd destroyed Syracuse at the Carrier Dome, throwing for a school-record 455 yards and a record-tying five touchdowns in just three quarters. That 'Noles-Tigers clash should be fun.
• Georgia survived a major scare in Knoxville on Saturday afternoon, blowing a 17-3 halftime lead and a fourth-quarter advantage before rallying to force overtime and winning in the extra frame. The Bulldogs did so despite being without their top offensive weapons, making quarterback Aaron Murray's play even more impressive. The 'Dawgs already were playing without receiver Malcolm Mitchell, who was lost for the season, as well as Todd Gurley, who sat with an ankle injury. But the Bulldogs would lose running back Keith Marshall to a knee injury early in the contest against the Vols before also seeing receivers Michael Bennett and Justin Scott-Wesley getting knocked out. Murray was without his best playmakers for the remainder of the game, but that didn't stop him from having a Heisman Trophy moment. He managed to complete 19 of 35 passes for 196 yards with three touchdowns and became the SEC's all-time leader in career passing yards, breaking the record held by David Greene. But it was his 57-yard scamper late in the game that symbolized the position the Georgia offense was in for a lot of the game against the Vols. Murray had to put the unit on his back, and he did on that run. Tennesseee, meanwhile, has lost 19 straight games against ranked opponents. But Vols head coach Butch Jones coached a whale of a game, going for it on fourth down three times and being successful on all three tries. And quarterback Justin Worley gave a gutsy effort. The major question coming out of this game is how many more injuries can Georgia actually sustain before it becomes too overwhelming? Marshall and Scott-Wesley were lost for the season, while Bennett's return is unknown.
• Stanford is no longer a team which is dependent upon its tight ends to make plays in the passing game. Along with the continued development of quarterback Kevin Hogan, receiver Ty Montgomery has really had the chance to show that he is a true difference-maker. Montgomery, who opened the showdown game against Washington with a 99-yard kickoff return, has great agility and electric speed, and he is a very good blocker as well. He can do so many things very well for an offense that gets overlooked because of the team's defense, which made it 29 games in a row with at least one takeaway. But Hogan truly has a special player to work with in Montgomery in the passing game. David Shaw's squad remains my pick to come out of the Pac-12 and play Alabama in the BCS title game. As for Washington, like Northwestern, the program proved that it can play on the national stage. I won't quite put the Huskies in the same class as Stanford and Oregon, but it seems to be getting there. However, they need a strong performance next week at home against Oregon. And that starts with eliminating the penalties, which has plagued the Huskies this season. What does defensive coordinator Justin Wilcox have in store for that Ducks offense?
Other thoughts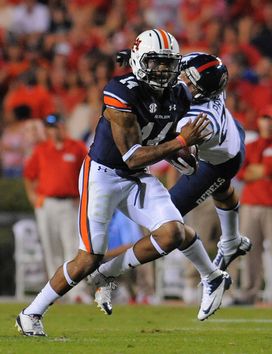 US PRESSWIRENick Marshall is getting more comfortable on the read-option for the Tigers.
• Auburn is a dangerous team in the SEC, proving that the hire of Gus Malzahn was one of the best this past offseason. Quarterback Nick Marshall is getting more comfortable on the read-option, but Ellis Johnson's defense is what's realy been impressive. The Tigers' front really gave Ole Miss problems, registering six sacks (Carl Lawson, Gabe Wright and Dee Ford each had two apiece). Johnson has some real nice pieces to work with on that side of the ball. And that offense will only continue to get better.
• Can Oregon and Baylor just play? Like, right now? Oregon is averaging 630 yards per game in its first year with Mark Helfri ch and Scott Frost running the offensive show. Baylor, meanwhile, is putting up 779 yards per contest. 779! The Bears have recorded 19 plays of 40 yards or more in four games, and their offense does not appear to be slowing down anytime soon despite facing better competition in the Big 12.
• Pete Lembo is about to get paid. The Ball State head coach led his team to a 48-27 win at Virginia, led by quarterback Keith Wenning's 346 passing yards as well as 155 yards and three scores from running back Jahwan Edwards. Lembo has led the Cardinals to four victories against BCS-conference teams during his tenure, and the 43-year-old will get a bigger head gig soon. As for Cavaliers head coach Mike London, this was a make-or-break year for him in Charlottesville. But London, who has a pair of 4-8 records wrapped around an 8-5 mark at the school, can't seem to get the program stabilized in a league that will welcome Louisville and partial member Notre Dame next year. Class of 2014 stars Andrew Brown and Quin Blanding are currently committed to Virginia. But will London be there to coach them if they indeed head to Charlottesville?
• Thoughts and prayers once again go out to Minnesota head coach Jerry Kill, who suffered yet another seizure on Saturday and did not coach the Golden Gophers against Michigan. I understand most coaches know just one thing: coaching. But I really hope Kill thinks long and hard about walking away from the game he loves if living a more laid-back life would be beneficial to his health.
• Jadeveon Clowney claimed after South Carolina's loss to Georgia that he wasn't being used correctly. Since then, the Gamecocks defensive end has seemingly checked out of the Gamecocks program. He's been affected by various issues this season, such as a stomach virus, a bone spur in his foot and a strained rib cage. But there has to be more to the story. Head coach Steve Spurrier had this to say to reporters after the Kentucky game on Saturday: "If he wants to play, we'll welcome him to come play for the team if he wants to. If he doesn't want to play, he doesn't have to." Spurrier said on a teleconference Sunday that he was surprised by the timing of Clowney taking himself out of the lineup against the Wildcats. When he was asked if he thought Clowney was focused and committed, he had this to say: "You'll have to ask him about that. I can't speak for Jadeveon." Of course, that is typical Head Ball Coach. But there is something going on in Columbia, and it has less to do with Clowney being banged-up.
• Oklahoma suffered a big loss when linebacker Corey Nelson suffered a torn pectoral muscle against TCU, and he is likely out for the rest of season. The Sooners' new 3-3 front had really been playing great this year, so that's a big loss for OU.
• Notre Dame's defense has not resembled its 2012 form for much of this season, but there were glimpses on Saturday night against Arizona State. While Manti Te'o was a big part of that front seven, there is still plenty of elite talent remaining, and that was on display against the Sun Devils. Coordinator Bob Diaco's unit sacked Sun Devils quarterback Taylor Kelly six times and also stifled the team's ground attack, holding ASU to just 65 rushing yards. The Irish also forced three turnovers in the 37-34 win.
• After suffering losses to Navy and Missouri, Indiana needed a signature win against a good Big Ten opponent if it had any designs on eventually getting to six wins and going bowling. Kevin Wilson's squad notched that victory against Penn State this past weekend, its first over the Nittany Lions in program history. When I talked to Wilson before the season, he was optimistic about improvement on defense this year. The Hoosiers held Penn State to just 70 yards on 38 rushes after entering the game with a porous run defense.
Dave Miller, the college football editor and writer for the National Football Post, is on Twitter @Miller_Dave.